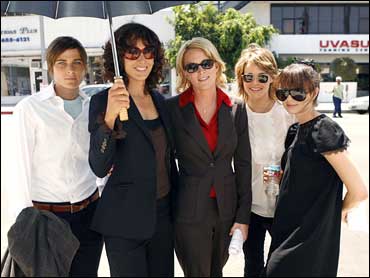 More Melodrama For This Season's 'L Word'
A clutch of stylish-looking women are gathered around a sleek SUV that has pulled up to the curb on a trendy avenue.
Just another location shoot in La-La Land; nothing too unusual about that. So why does a woman passerby suddenly scream with joy and tear across the street to get a closer look?
Because she's just realized the femme bunch is the cast of "The L Word," which usually doesn't film in Los Angeles.
Showtime's series about a diverse group of L.A. lesbians shoots mainly on soundstages and locations in Vancouver, Canada. But how many palm trees can one show fake?
So production for the series' fourth season, which debuts Sunday at 10 p.m. EST, moved to Southern California for several days of shooting at places where the characters live, love, work and play.
Series co-creator Ilene Chaiken hesitates to dub Los Angeles a "character in the story." There are, after all, at least 12 main women characters whose stories she's got to fit into this season's dozen episodes.
But she acknowledges "the cultural dynamics of L.A. are embedded in our show. The characters do have L.A. values and are affected by L.A. values to some extent, so I think the series has the specificity of a unique culture and environment but it is dominated by universal emotional experiences that everybody can relate to."
Among the series' leading women are Jennifer Beals as Bette Porter, Laurel Holloman as Tina Kennard, Leisha Hailey as Alice Pieszecki and Daniela Sea as Max Sweeney.
Newcomers this season include Cybill Shepherd as Bette's boss, Phyllis, who comes out later in life after a conventional heterosexual marriage; Marlee Matlin as Jodi, a deaf artist who has a relationship with Bette, and Rose Rollins as Tasha, who has served a tour of duty in Iraq.
Serious issues - such as the military's "don't ask, don't tell" policy, the legality of same-sex marriages and the challenges of transgender transition - underscore story lines, but "Sex and the City" style wit and laughter also hold sway.
"In the sense that we deal with the issues of the moment, we deal with them because they affect all of our lives," says Chaiken, who doesn't presume that her show will necessarily change people's attitudes, but does hope that depicting lesbian stories in all their human variety may shift opinion.
Talking briefly on the West Hollywood location, Chaiken notes that her aim this year was to "slightly notch up the melodrama while trying to keep it real ... and to keep the humor, not get too dark, too heavy." She wants the series to show "happy lesbians" at least a good portion of the time.
In a later phone chat, Chaiken elaborated on the new season and how she works hard to avoid becoming hidebound, which is something she feels too often happens to long-running series.
"Every time I go back to it, I treat it as if I'm doing a new show ... we really do try to shake it up ... and I think that it's much more true to life in that this is a show about a group of friends, and one's friends change all the time, romances change, and where people are in their lives changes," she explains.
To help sort out who has loved or does love whom, the plot line has always included Alice Pieszecki's wall chart, which chronicles all the romantic hookups. This season, the chart goes online and interactive.
That concept also has moved from fiction to reality, as Chaiken has just announced the formation of a company, OurChart.com. It's an online social space for lesbians and their friends. Beals, Moennig and Hailey are among the founding partners.
Chaiken is pleased the series has "a larger audience than we assumed it would have." Much of that audience is, naturally, gay and lesbian, a fan base that she says is "loyal and passionate and watches the show devotedly," but also "rips it to shreds and rants and raves about it."
Chaiken is "amused and intrigued" by such highly charged response. She respects what she hears from those fans, but she knows "there's no way on Earth that we could please everyone."
Women, both gay and straight, are the core audience, but, Chaiken says, "we seem to have more and more men, who watch the show. I love that. And straight men as well as gay - and not just for lascivious reasons."
"Yes, the show has very hot sex scenes in it, but why not!" exclaims Rachel Shelley, who plays heiress Helena Peabody. "But there are a lot of other story lines that are poignant and relevant to all our lives. It's got great scope."
By Bridget Byrne
Thanks for reading CBS NEWS.
Create your free account or log in
for more features.