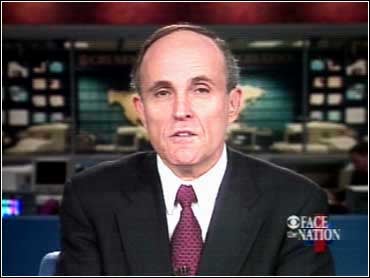 Mayor Rudolph Giuliani's approval rating among city voters has dropped precipitously during the past two years, and a poll released Wednesday shows the mayor's rating is now at the lowest level ever.
A new Quinnipiac College Poll shows that just 37 percent of city voters approve of Giuliani's performance while 57 percent disapprove and six percent are undecided. Only a bare majority of 51 percent approve of his handling of crime and just 31 percent agree with his performance on education.
The news is especially troubling for the Republican mayor because Giuliani, who is running for the U.S. Senate against first lady Hillary Rodham Clinton, needs a relatively strong showing in the heavily Democratic city in order to have a chance to win.
"The numbers say people don't think he's doing a good job, even among the issues he's made a big deal about, and that can't be good news for him as mayor or as a candidate," said Maurice Carroll, the poll's director. "He's in the pits."
For the past two years, Giuliani has watched his poll numbers slide as his administration has become embroiled in a series of controversial police shootings of unarmed black men.
The most recent incident occurred in March, when an undercover officer fatally shot Patrick Dorismond, an unarmed black man. Afterward, Giuliani released details of Dorismond's juvenile record, suggested that the victim had been responsible for his own death and refused to offer condolences to Dorismond's family.
Only 16 percent of voters in the Quinnipiac poll approved of the mayor's handling of the shooting.
The poll reflects a continued racial divide when it comes to evaluating Giuliani's performance: While white voters approve of the mayor 57 percent to 36 percent, black voters disapprove of him 91 percent to 6 percent and Latinos disapprove 69 percent to 27 percent.
Sixty-three percent of all voters said race relations in the city are "generally bad," including 58 percent of whites, 71 percent of blacks and 70 percent of Latinos.
Giuliani's highest approval rating came in February 1998 shortly after his November 1997 re-election, when 74 percent of voters approved and only 23 percent disapproved of his performance.
On Wednesday, Giuliani, as is his habit, brushed aside the numbers.
"It'll change," he told reporters at a City Hall press conference. "Don't worry about it."
When asked if he was concerned by the results on race relations, Giuliani said: "No, it doesn't trouble me," and said reporters were to blame for such perceptions because of their inability to accurately report news events.
The poll showed that the men vying to succeed Giuliani as mayor in 2001 all had generally positive approval numbers, though Public Advocate Mark Green, Comptroller Alan Hevesi, the Rev. Floyd Flake, City Council Speaker Peter Vallone and Bronx Borough President Fernando Ferrer are al relatively unknown to voters.
If Giuliani wins the Senate race, Green would serve the remainder of his term until the November 2001 elections.
The poll surveyed 816 registered voters with a margin of error of 3.4 percent.
Thanks for reading CBS NEWS.
Create your free account or log in
for more features.