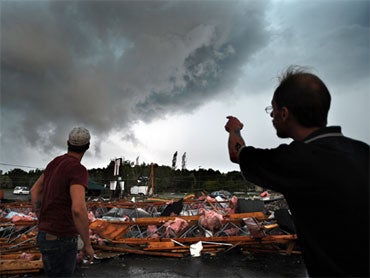 Montana Tornado Rips Roof off Sports Arena
Billings city and Yellowstone County officials declared a state of emergency Monday, a day after the largest tornado to hit the city in more than 50 years peeled the roof off of a sports arena, causing millions of dollars in damage.
Billings Police Sgt. Kevin Iffland said the commissioners gave verbal approval to the declaration Sunday evening, allowing the Montana Army National Guard to help provide security to the city's most damaged areas overnight.
Gov. Brian Schweitzer was scheduled to visit Billings on Monday for briefings and a tour of the damage. No deaths or major injuries were reported, other than a person getting struck on the head by a large hailstone.
City Commissioner Bill Kennedy said two people were on the MetraPark grounds when the tornado hit, but neither was hurt. A day earlier, thousands of people were inside the arena for an Indoor Football League game.
"The big guy was looking out after us," Kennedy said. "It would have been tough if that (tornado) came up and people were inside to get everybody in the basement safely."
While no one was badly injured, the economic damage could be severe.
The 35-year-old, 12,000-seat Metra - the state's largest arena - draws crowds that pump millions of dollars into the local economy. It's the home stadium of the Billings Outlaws football team and hosts dozens of high school sporting events, rodeos, concerts, high school graduations and other events. Many bookings have been arranged through 2012.
The twister hovered for about 15 minutes over the arena.
"It would touch down and suck back up and touch down and touch down again," said Trooper Toman Baukema of the Montana Highway Patrol, who saw the tornado from a patrol station about a mile away.
Engineers were to start looking at the county-owned structure Monday to see if it can be gutted and rebuilt, or if it will have to be demolished.
Wind speeds from Sunday's tornado were estimated at 111 to 135 mph, National Weather Service meteorologist Keith Meier said. The last time Yellowstone County had that scale of a tornado was July 2, 1958, he said.
The winds damaged homes, snapped trees and telephone poles and left tangles of insulation and metal roofing strewn for hundreds of yards - some of it hanging from power lines.
Early Monday, shop owners emerged to comb through the wreckage. At the Billings Dance Academy, owner Nicolle Ament and a half-dozen students and teachers pulled soggy dance costumes, boxed ballet shoes and photographs of young dancers from piles of broken wood and shattered glass.
"Has anyone seen my tiara?" student Jenson Frangevic asked.
Ament said the business was a total loss and there is little likelihood of reopening by the start of fall classes.
"We're just getting all the stuff we can save out," Ament said. "I'll wait to hear from my insurance guy to see what we can do."
The tornado severely damaged a coin-operated laundry and hair salon in the same building as the dance academy, and ripped most of the roof off at a marina and motorcycle shop, while causing minor damage at a bar and several other businesses.
Just the walls of Fas-Break Auto Glass were left standing. Much of the roof could be seen in a nearby creek.
"I'm in a total daze," owner Kevin Massick said Sunday, as he looked through the rubble, tears welling up in his eyes. "It's a total loss, I don't know what I'm going to do. Start over, I guess."
Thanks for reading CBS NEWS.
Create your free account or log in
for more features.