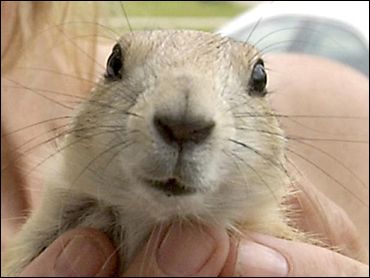 Monkeypox From Human Contact?
Health officials in Wisconsin said Thursday that a health care worker may have contracted monkeypox from a human patient in what would be the first case of the disease spreading from person to person in this country.
Wisconsin state epidemiologist Jeff Davis said monkeypox virus had not yet been confirmed in the worker, but it was suspected and experts were testing tissue specimens. The worker is ill and has been isolated, state health officials said.
Monkeypox is typically transmitted from animal to animal, but in rare cases it can pass from human to human, Davis said. A monkeypox outbreak in the Congo in 1996 and 1997, for example, grew through person-to-person transmission, he said.
"In this case, there was no animal exposure," Davis said of the health care worker. "The only contact was with a human."
The announcement came a day after U.S. government moved aggressively to contain the first outbreak of monkeypox in the Western Hemisphere by prohibiting imports of African rodents, banning the sale of prairie dogs — believed to have spread the virus to humans — and recommending smallpox shots for people exposed to monkeypox. The government also expanded its search for infected prairie dogs to 15 states.
The smallpox vaccine can prevent monkeypox, an exotic African disease, up to two weeks after exposure to the virus but is most effective in the first four days.
"We're optimistic we can deliver the vaccine to these people in time to do good," said Dr. David Fleming, the Center for Disease Control and Prevention's deputy director for Public Health and Science.
As of Wednesday, health officials had confirmed a total of nine human cases of the disease — four in Wisconsin, four in Indiana and one in Illinois. Fifty-four possible cases had been reported — 25 in Indiana, 17 in Wisconsin, 11 in Illinois and one in New Jersey, CDC spokesman Tom Skinner said. No one in the United States has died of the disease.
Fleming said he is confident the outbreak will be controlled.
"Monkeypox is a disease that is potentially transmissible from person to person but at a fairly low level," he said. "I don't anticipate the same kind of problem that we anticipate from SARS."
The smallpox vaccine is 85 percent effective against monkeypox, Fleming said. The vaccine is widely available because states stocked up on it out of fear of bioterrorism. More than 37,000 health workers in the United States have been vaccinated.
"State health departments have been actively involved in planning and preparing for the possibility of a bioterrorist event," Health and Human Services Secretary Tommy Thompson said. "We are now seeing that this level of preparation can also assist in unexpected, natural outbreaks."
The CDC said health care workers, veterinarians and family members who have cared for or had close contact with infected people or animals should get vaccinations. The agency also warned veterinarians and doctors to be on the lookout for the symptoms, especially in owners of prairie dogs or exotic rodents from Africa.
CDC officials didn't know how many people would have to be vaccinated, but Fleming said he expected the number to be modest.
About 40 out of every million people given the smallpox vaccine for the first time will face a life-threatening injury, and one or two will die. Still, the CDC is recommending vaccinations even for pregnant women, children and people with eczema — for whom the vaccine is usually discouraged — who have been exposed to infected prairie dogs.
"Because of the real risk here ... we're recommending a somewhat aggressive approach of who should get the vaccine," Fleming said.
Monkeypox-infected prairie dogs distributed from Phil's Pocket Pets of Villa Park, Ill., may have been sold to numerous buyers in 15 states since April 15, according to a Department of Agriculture emergency warning issued Wednesday.
Monkeypox, which produces pus-filled blisters, fever, rash, chills and aches, is a milder relative of smallpox. It has a mortality rate of 1 percent to 10 percent in Africa, but U.S. officials believe better nutrition and medical treatment here probably will prevent deaths.
By Daniel Yee
Thanks for reading CBS NEWS.
Create your free account or log in
for more features.