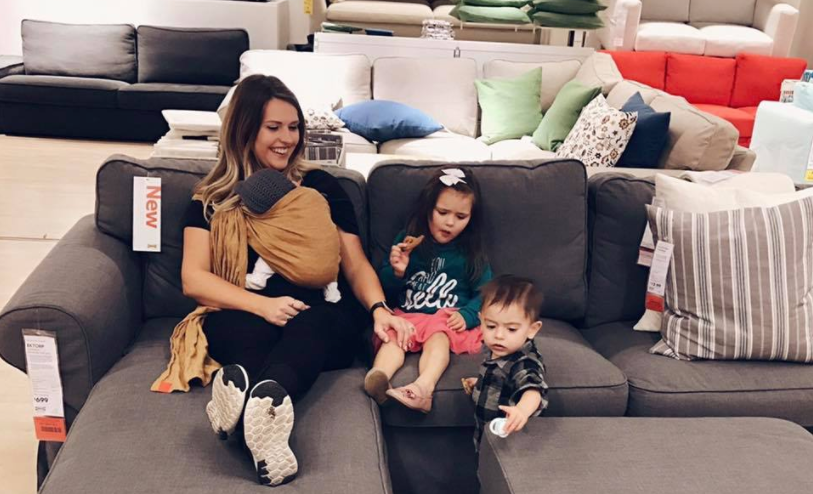 Mom's warning about "human trafficking" at IKEA goes viral; what you need to know
Diandra Toyos was casually browsing for a new couch with her mother and three children at IKEA last week when she felt a suspicious set of eyes staring at her.
The mom from Covina, California, said a middle-aged man was circling the area, getting closer and closer to her 4-year-old daughter and 1-year-old son, who were "testing out" the furniture.
"This was someone who was clearly watching and following me and my children," Toyos told CBS News. "I know to some a 'gut feeling' doesn't mean anything, but that coupled with what we actually saw occurring was very unsettling."
Toyos says as she moved throughout the store, the man followed close behind. Then another man, who appeared to be in his 20s, joined in. He also appeared to be circling the family, occasionally picking up items and putting them down as he walked through the showrooms.
"We had a gut feeling something was going on, but we hoped we were wrong and they would move on," Toyos said.
The family decided to take a 30-minute break on a couch in one of the store's display rooms. The problem, Toyos said: They sat down on a couch right across from us the entire time. As soon as Toyos stood up, she grabbed a store employee and that's when she says she lost them.
"Something wasn't right. I am almost sure that we were the targets of human trafficking," Toyos claimed in a Facebook post detailing the creepy encounter.
The post went viral with more than 105,000 shares — mostly from concerned parents.
Before leaving the store, Toyos stopped by IKEA's security desk to report the incident. Though IKEA has not yet returned CBS News' request for comment, Toyos says officials at the store told her they would review the footage and take any necessary steps from there. She hasn't heard any updates since.
The Covina Police Department said they only heard about incident through social media.
"I saw this when it came out, but I am not sure if we were notified by the woman," Gregg Peterson, public information officer for the department, told CBS News. "It definitely appears to be a stretch to consider this a human trafficking issue, but that is just my opinion."
Human trafficking expert witness Dr. Kimberly Mehlman-Orozco agreed.
"Anything is possible," Mehlman-Orozco told CBS News. "It's just highly improbable."
If you look at evidence in cases of convicted human traffickers, kidnapping is very rare, Mehlman-Orozco explained.
In 2016, human trafficking activist group Polaris reported learning about 8,042 cases of human trafficking in the U.S. — a 35 percent increase from the previous year. More than 31,650 total cases of human trafficking have been reported to the National Human Trafficking Hotline in the past decade.
It's clearly a growing threat, which Mehlman-Orozco believes should be addressed through fact-based education — not viral posts on social media.
"These types of stories perpetuate misinformation, which leads to people being misinformed about how human trafficking happens in real life," she said. "It's not like a Hollywood movie. People aren't coming up and kidnapping victims like in the movie 'Taken.'"
Human traffickers generally appear extremely kind and knowledgeable, Mehlman-Orozco said. They speak and act on par with whoever their target is, typically kids in their early teens.
"It's not happening overnight or as some people have described 'in a matter of seconds or minutes,'" she said. "I've seen them take as long as a year or two years before they lure their victim away. It's a long-term process."
First, they find someone vulnerable, usually from a homeless shelter, school or social media. Then they lure their victims through false promises, faux relationships, deception and coercion.
"They build a trust with their victims to make it seem like they're consenting participants," Mehlman-Orozco explained. "They very much behave like a co-conspirator."
Mehlman-Orozco has conducted over 2,000 interviews with human traffickers and victims, and she says she's never heard of a situation where someone was trafficked or kidnapped from a public place like IKEA.
But that doesn't mean Toyos didn't have reason to be concerned.
"In my initial post, I said that's what it felt like was happening to us," Toyos said. "But I'm not an expert (nor do I claim to be)."
Toyos says she wanted to share her story as a warning for parents to keep a close eye on their children.
"I never claimed to know exactly what was going on, just that they were clearly watching and targeting my children for something," she said. "I simply wanted to share an experience that shook me and reminded me to be aware and watch my children. I hoped by sharing it, my friends and family would do the same."
Thanks for reading CBS NEWS.
Create your free account or log in
for more features.