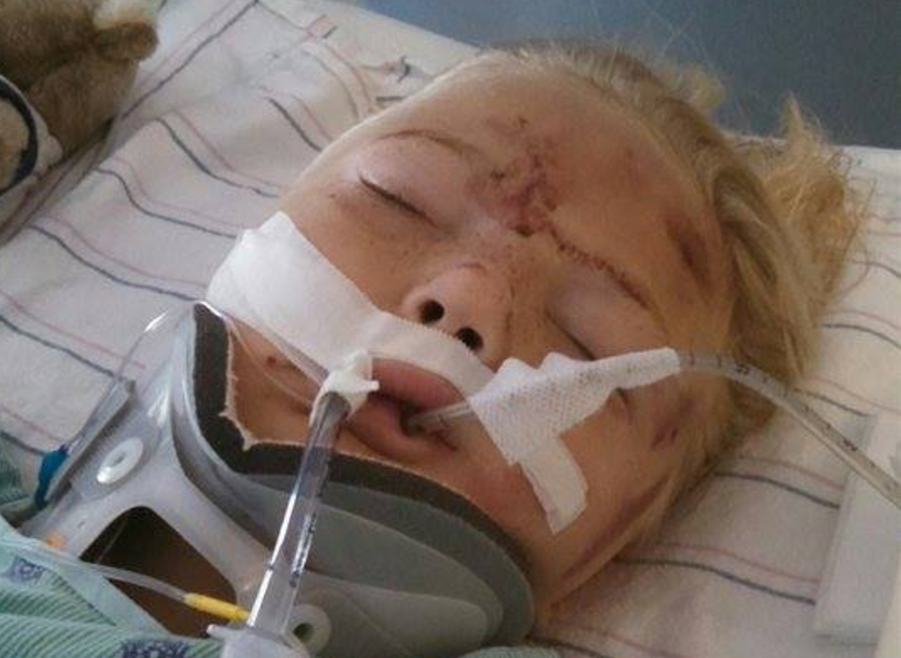 Mom warns parents after seatbelt slices 6-year-old daughter's stomach open
If you think your child has outgrown a booster seat, think again.
That's the message a concerned mom is spreading after a seatbelt sliced into her 6-year-old daughter's stomach during a car accident in September.
Samantha Swartwout was riding in the back seat of her dad's car when the vehicle veered off the road and crashed into a tree 200 feet away. The impact of the collision was so intense that the seatbelt the child was wearing opened up her abdomen.
It was a phone call no mom ever wants to get, Samantha's mom, Shelly Martin, told CBS News.
Her daughter was severely injured. The young girl had a concussion, a deep cut in her belly, and needed stitches on her forehead.
"Her intestines were out on scene on the left side," Martin described.
The mom from Richmond, Virginia, said such severe injuries might have been prevented if the girl had been in a booster seat.
According to the Virginia Department of Motor Vehicles, a child should remain in a booster seat until he or she is at least 8 years of age and 4 feet 9 inches tall.
Though the rules differ from state to state, Martin says parents should heed the department's recommendations.
"She would not have been this hurt in a booster," Martin said. "Don't think that just because your child is 7 or 8 years that they are too big... they aren't!"
After spending nearly three weeks hospitalized at the VCU Medical Center, Samantha was finally released in early October.
But the car accident may have scarred her in more ways than one.
"She is seeing a psychology doctor for possible PTSD," Martin said. "She was in the ICU for two weeks and the pediatric floor for another week."
At times, the 6-year-old's mom feels helpless, but spreading the word about booster seat safety has given her purpose.
"If we can raise awareness and save another child then at least we can bring something good out of this," Martin said.
Thanks for reading CBS NEWS.
Create your free account or log in
for more features.