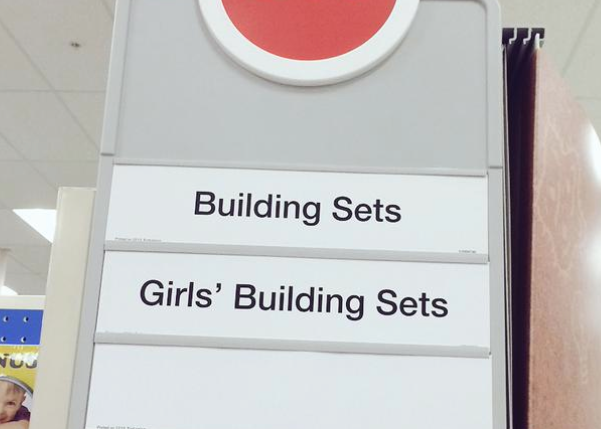 Mom tells Target: Leave gender out of the toy aisle
When it comes to toy building sets for kids, there's "building sets" and then there's "girls' building sets."
Well, there is at Target anyway.
An Ohio mother confirmed this fact last week in a tweet that has since gone viral.
Abi Bechtel, a mother of three boys, was casually strolling down an aisle at Target when a sign listing two types of building sets caught her eye.
She stopped and snapped a picture of the aisle sign, saying "Don't do this, @Target."
The sign is an example of the way we often think of boys and men as the "default," and girls and women as a "special category," Bechtel told CBS News.
"Plus, it encapsulated the absurdity of dividing toys along gender lines," she said.
The photo was retweeted nearly 2,400 times and received hundreds of comments.
Overall, Bechtel said the response has been overwhelmingly positive.
"Agreed!!!! Girls like colors other than pink. Let us decide what builder set we want!!" one user tweeted.
"Thank you for calling them out on it," another responded.
But some people disagreed with Bechtel, and showed appreciation for gender designations for kids' toys.
"Looks bad, but might get more girls building," one Twitter user suggested.
Maybe the sign will encourage more girls to use building sets, but Bechtel still thinks it's important to remove barriers from girls and women being taken seriously in STEM fields.
"It would be great to see retailers organize their toys by age and toy type and just leave gender out of it," she said.
Target told CBS News that a recent test proved customers prefer having a "variety of indicators" to inform and guide their shopping trip.
"We know families are tight on time and looking for inspiration," spokeswoman Molly Snyder said. "Therefore, we continually explore how to organize our stores and website in ways that will be convenient, appealing and helpful to our guests."
The company also responded to Bechtel's tweet, ensuring the company will share the mom's concerns with the right teams for review.
Whether the sign changes or not, Bechtel is glad the conversation about gender and children's toys is happening.
Thanks for reading CBS NEWS.
Create your free account or log in
for more features.