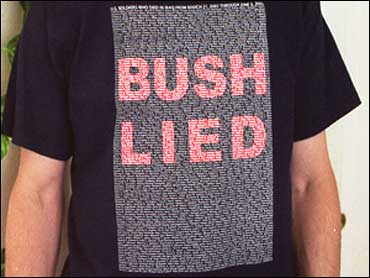 Mom Wants Dead Son Off Anti-War Shirt
A woman whose Marine son died while serving in Iraq is fighting to keep his name off anti-war T-shirts.
Judy Vincent learned last year that Cpl. Scott M. Vincent's name is among about 1,700 included on a T-shirt being sold by an Arizona man over the Internet. The front of the shirt reads "Bush Lied" and the back reads "They Died."
The Bokoshe woman, whose son was killed in April 2004, pushed for Oklahoma legislators to pass a law that makes it a misdemeanor to use a soldier's name or likeness for advertising purposes without consent. The law goes into effect this November.
U.S. Rep. Dan Boren, D-Okla., introduced a similar bill in Congress two weeks ago after Vincent asked him to do so. Republican U.S. Reps. Charles W. Boustany Jr. of Louisiana and Geoff Davis of Kentucky introduced similar legislation around the same time.
The shirt vendor "has the right to voice his opinion, as we all do," Vincent said.
"But I do believe the First Amendment stops when you use a person's name or likeness to make a profit. I don't care what he thinks about the war. I do care that he's making money off my son's death."
The shirt vendor, Dan Frazier of Flagstaff, Ariz., recently issued an open letter to family members who contacted him to protest the use of their loved ones' names on the shirt. He praised the soldiers' bravery and sacrifice and insisted he was not trying to degrade their service, but said he would not stop selling the shirt.
"Every name matters, and will be retained to help underscore the horrific loss of life that has been caused by President Bush's rush to war under false pretenses," the letter states.
He said in a prepared statement given to CBSNews.com, "I believe I have a moral obligation to do the right thing here. To me, the right thing is to continue drawing attention to the horrific toll this war is taking in terms of the lives lost. If these legislators really cared about the families of the troops, they would stop their political posturing and pass legislation to bring the troops home."
Frazier added in the statement that he will fight any new legislation in court if necessary, but with his supply of merchandise running low, he may run out of merchandise before the new legislation takes effect. He added that his "Bush Lied-They Died" merchandise has sold poorly and that he is unlikely to produce any more.
Thanks for reading CBS NEWS.
Create your free account or log in
for more features.