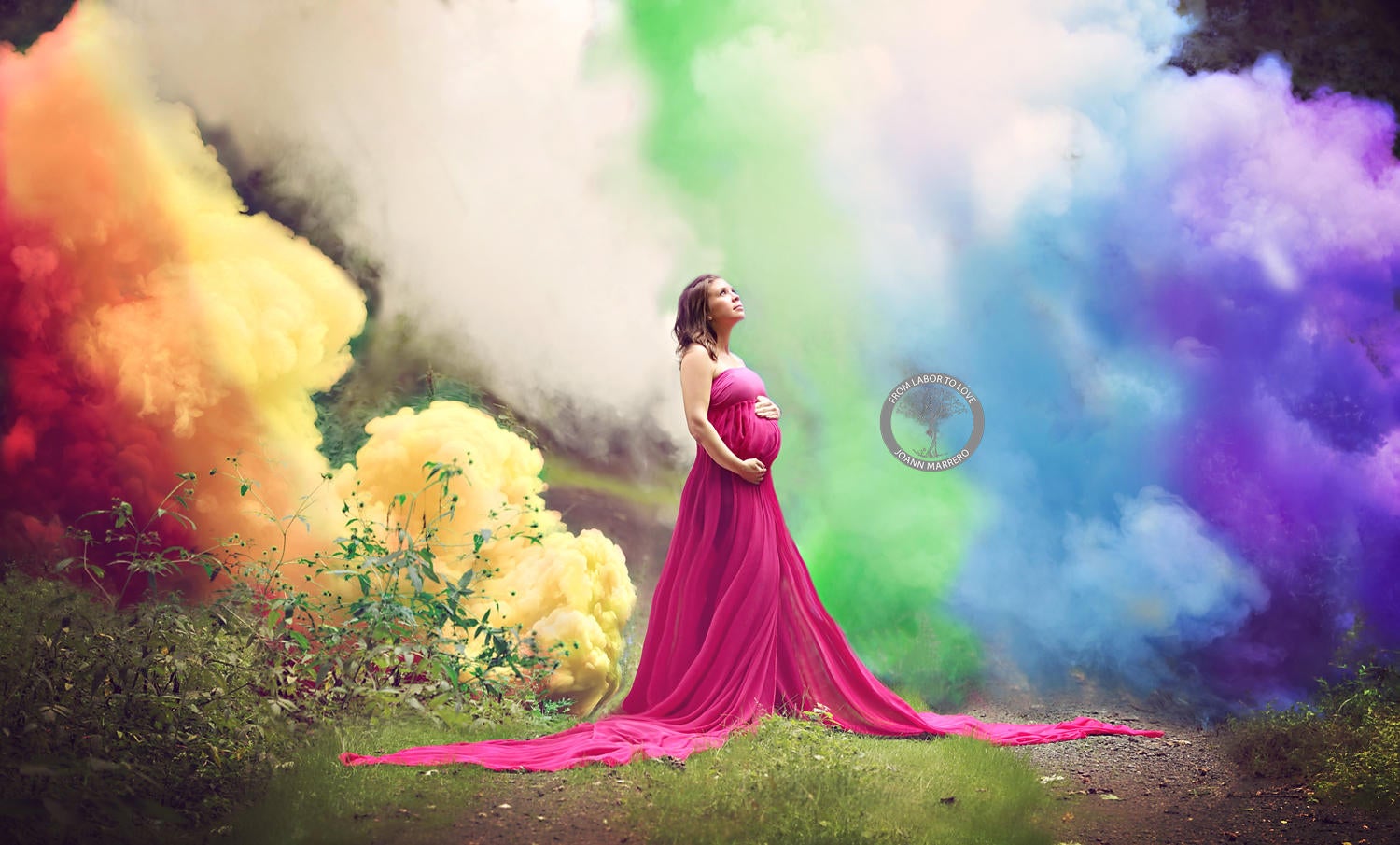 Mom celebrates "rainbow baby" with stunning photo shoot after 6 miscarriages
This proud mother's viral maternity photo shoot is giving women across the world a colorful glimmer of hope.
After suffering six miscarriages following the birth of her first child, Corbin, four years ago, Jess Mahoney is now eight months pregnant with her second child — what she calls her "rainbow baby."
Mahoney's husband, Kevin, asked JoAnn Marrero, From Labor to Love photographer, for a rainbow-inspired session because of the fertility struggles the couple has encountered over the years.
He wanted to make sure his wife would get the maternity photos that she always dreamed of having.
"I knew I had to do something extra special for her family," Marrero told CBS News.
Marrero envisioned color smoke bombs with fog surrounding the mom-to-be.
After a few back-and-forth email exchanges, Marrero scheduled the photo shoot in an open field in Rocky Hill, Connecticut. And with her mentor Mary Maloney, of Pebbles & Polkadots, by her side she was able to turn this dream into a reality.
"As a birth and newborn photographer, I take the utmost care and pride in what I am capturing as there are no 'do overs' in my field of work, especially with births," Marrero explained. "I know these captured moments are going to be passed down for generations to come."
One by one, Maloney set off smoke bombs and the smoke rose around Mahoney, creating a stunning picture.
"With each burst of color we watched this portrait coming to life behind my lens," Marrero said.
While the end result was breathtaking, Marrero admitted it wasn't an easy task.
In the viral picture that has been shared thousands of times, Mahoney has been described as "glowing." But what people didn't see was the coughing, color-stained clothing and rainbow dyed hair.
"It was as if we were shooting a Skittles commercial, but sweeter — and so very worth every single moment," Marrero joked.
Through the colorful haze, Mahoney stood tall and grasped her round baby bump with joy.
"This was definitely her moment, a proud mother-to-be for the second time," Marrero said.
Thanks for reading CBS NEWS.
Create your free account or log in
for more features.