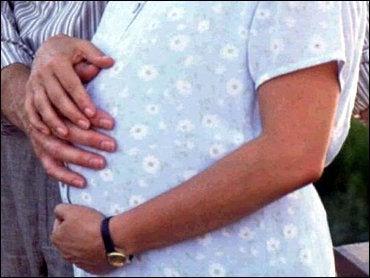 Mom Arrested After Utah Stillbirth
As Melissa Ann Rowland's unborn twins got closer to birth, doctors repeatedly told her they would likely die if she did not have a Caesarean section. She refused, and one later was stillborn.
Authorities charged 28-year-old Rowland with murder on Thursday, saying she exhibited "depraved indifference to human life," according to court documents. One nurse told police that Rowland said she would rather "lose one of the babies than be cut like that."
The case could affect abortion rights and open the door to the prosecution of mothers who smoke or don't follow their obstetrician's diet, said Marguerite Driessen, a law professor at Brigham Young University.
"It's very troubling to have somebody come in and say we're going to charge this mother for murder because we don't like the choices she made," she said.
Court documents did not list an address for Rowland, and she is not listed in telephone books for the Salt Lake City area. It could not immediately be determined whether she had an attorney.
Rowland was warned numerous times between Christmas and Jan. 9 that her unborn twins would likely die if she did not get immediate medical treatment, the documents allege. When she delivered them on Jan. 13, one survived and the other was stillborn.
The woman sought medical advice in December because she hadn't felt the fetuses move, documents said.
Regina Davis, a nurse at LDS Hospital in Salt Lake, told police that during a visit there, Rowland was recommended two hospitals to go to for immediate care. Rowland allegedly said she would rather have both twins die before she went to either of the suggested hospitals.
On Jan. 2, a doctor at LDS Hospital saw Rowland and recommended she immediately undergo a C-section based on the results of an ultrasound and the fetus' slowing heart rates. Rowland left after signing a document stating that she understood that leaving might result in death or brain injury to one or both twins, the doctor told police.
The same day, a nurse at Salt Lake Regional Hospital saw Rowland, who allegedly told her she had left LDS Hospital because the doctor wanted to cut her "from breast bone to pubic bone," a procedure that would "ruin her life." The nurse also told investigators that Rowland allegedly said she would rather "lose one of her babies than be cut like that."
LDS Hospital can't comment on the case because of medical privacy issues and the pending court case, said spokesman Robert Pexton.
A doctor who performed an autopsy found that the fetus died two days before delivery and would have survived if Rowland had undergone a C-section when urged to do so. It was not immediately clear how far along Rowland was in her pregnancy.
She was charged in Salt Lake County with one first-degree felony count of criminal homicide. Rowland is being held on $250,000 bail at the Salt Lake County jail, and is scheduled to appear in court Tuesday.
If convicted, she could be sentenced to between five years and life in prison.
A spokesman for the district attorney, Kent Morgan, said Rowland is married and has other children, but he did not know how many.
"We are unable to find any reason other than the cosmetic motivations by the mother" for her decision, Morgan said.
Caesarean sections usually involve delivery through a surgical incision in the abdomen and front wall of the uterus. Dr. Christian Morgan, a family practice doctor who regularly performs C-sections at the University of Utah Health Sciences Center, said he had never seen vertical skin incisions performed at LDS Hospital for a first-time C-section.
"Even when you need to get a baby out in minutes, it can still be done in the bikini incision," Christian Morgan said.
By Alexandria Sage
Thanks for reading CBS NEWS.
Create your free account or log in
for more features.