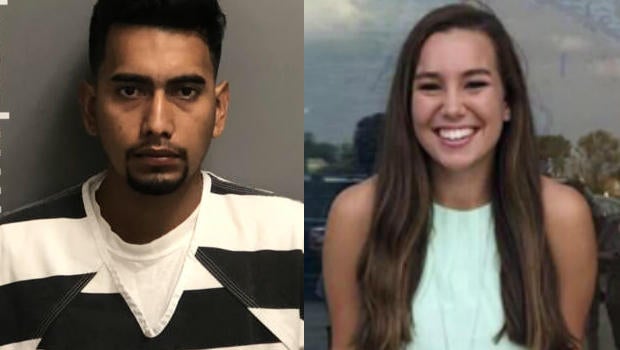 Mollie Tibbetts case: Murder charge filed in case of student found dead
POWESHIEK, Iowa -- A murder charge has been filed against a man who led investigators to remains believed to be the body of 20-year-old college student Mollie Tibbetts, who disappeared from her small hometown in central Iowa one month ago. The body was discovered in a field in rural Poweshiek County, which includes Tibbetts' hometown of Brooklyn, Iowa, the Iowa Division of Criminal Investigation said in a press release.
Officials say the suspect, 24-year-old Cristhian Bahena Rivera, is a Mexican national who is in the country illegally. Investigators believe Rivera followed Tibbetts on July 18 and abducted her as she was out for a jog.
Surveillance video showed a car that investigators traced back to Rivera, said Rick Rahn, a special agent in charge with the Iowa Division of Criminal Investigation. Rivera is being being held on a federal immigration detainer.
A cause of death remains unclear. An autopsy is scheduled for Wednesday.
Bail was set at $1,00,000 cash.
Rahn called the slaying a "tragic event" and said he couldn't speak to a motive.
"It seemed that he followed her, seemed to be drawn to her on that particular day, and for whatever reason, he chose to abduct her," Rahn said.
According to an affidavit filed in Powesheik County District Court, security video provided by a citizen showed Tibbetts running east of Brooklyn and a dark colored Malibu driving back and forth in the area several times. Investigators connected the Malibu to Rivera, and interviewed him Aug. 20.
Rahn called the video "extremely helpful" in locating Rivera.
In a "lengthy" interview, Rivera allegedly admitted following Tibbetts, telling investigators that he parked his car, got out and started running behind and alongside her.
Rivera said Tibbetts grabbed her phone and said "I'm gonna call the police," according to the affidavit. Rivera said he "panicked and got mad," and then said he "blocked" his memory, "which is what he does when he gets very upset." He said he couldn't remember anything after that until he came to at an intersection.
Rivera said he made a U-turn and drove into the driveway of a cornfield, where he saw an earpiece from headphones in his lap, "and that is how he realized he put her in the trunk."
Rivera told police he got Tibbetts from the trunk and noticed blood on the side of her head, the affidavit says. He described her clothing and said she was wearing headphones. He said he dragged her on foot from his vehicle to a secluded location in the cornfield and then put her on his shoulder and took her about 20 meters into the field. He allegedly said he covered Tibbetts in corn leaves and left her face-up.
Rivera later led investigators to the remains, the affidavit says. Rahn said Tuesday that Rivera had been living illegally in the area for four to seven years. He faces a possible sentence of life without the possibility of parole.
Rahn said he is saddened for the family and that the case took a toll on investigators.
"We get to know the family, we get to know Mollie," Rahn said. "We just spoke with the family and I told them they raised a great daughter -- she was a phenomenal individual."
Rivera worked at a dairy farm owned by the family of a prominent state Republican leader. Yarrabee Farms said in a statement that Cristhian Bahena Rivera had worked at its farms for the last four years and was an employee in good standing. The company said it was shocked to hear that Rivera had been charged in Tibbetts' death.
Spokesman Dane Lang said Tuesday night that Yarrabee Farms is a "small family farm" owned by him and his father, Craig Lang, who has long been a prominent Iowa farmer and political figure.
Craig Lang previously served as president of the Iowa Farm Bureau and president of the Iowa Board of Regents, which governs the state's public universities. In June, he lost a close GOP primary in the race for state agriculture secretary.
Hundreds of people have been interviewed by investigators, who have been inundated with tips from the public during the five weeks that Tibbetts was missing.
Tibbetts was last seen July 18 in Brooklyn, a rural town of about 1,400 people, as she took a routine evening jog. She was reported missing by her family the next day, after she didn't show up for work at a day camp for children.
Tibbetts' disappearance set off a massive search involving dozens of officers from the FBI, as well as state and local agencies. They focused much of their efforts in and around Brooklyn, searching farm fields, ponds and homes. Investigators asked anyone who was around five locations, including a car wash, a truck stop and a farm south of town, to report if they saw anything suspicious on July 18.
Last week, Vice President Mike Pence met privately with the Tibbetts family during a visit to Iowa and told them that "you're on the hearts of every American."
At Brooklyn City Hall, city clerk Sheri Sharer said Tuesday was a sad day for the town.
"It never crossed our mind that she wouldn't come home safe," she said.
Crime Stoppers of Central Iowa has been publicizing a reward fund that raised around $400,000 for any tip that led to Tibbetts' safe return. The organization's Greg Willey said the fund, which included more than 220 donations from individuals, will now likely be used for any information that helps police catch the person responsible for her death.
Tibbetts, a psychology major, would have started her junior year this week at the University of Iowa, in Iowa City, about 50 miles east of Brooklyn. She was staying with her longtime boyfriend and working while home from school over the summer.
Thanks for reading CBS NEWS.
Create your free account or log in
for more features.