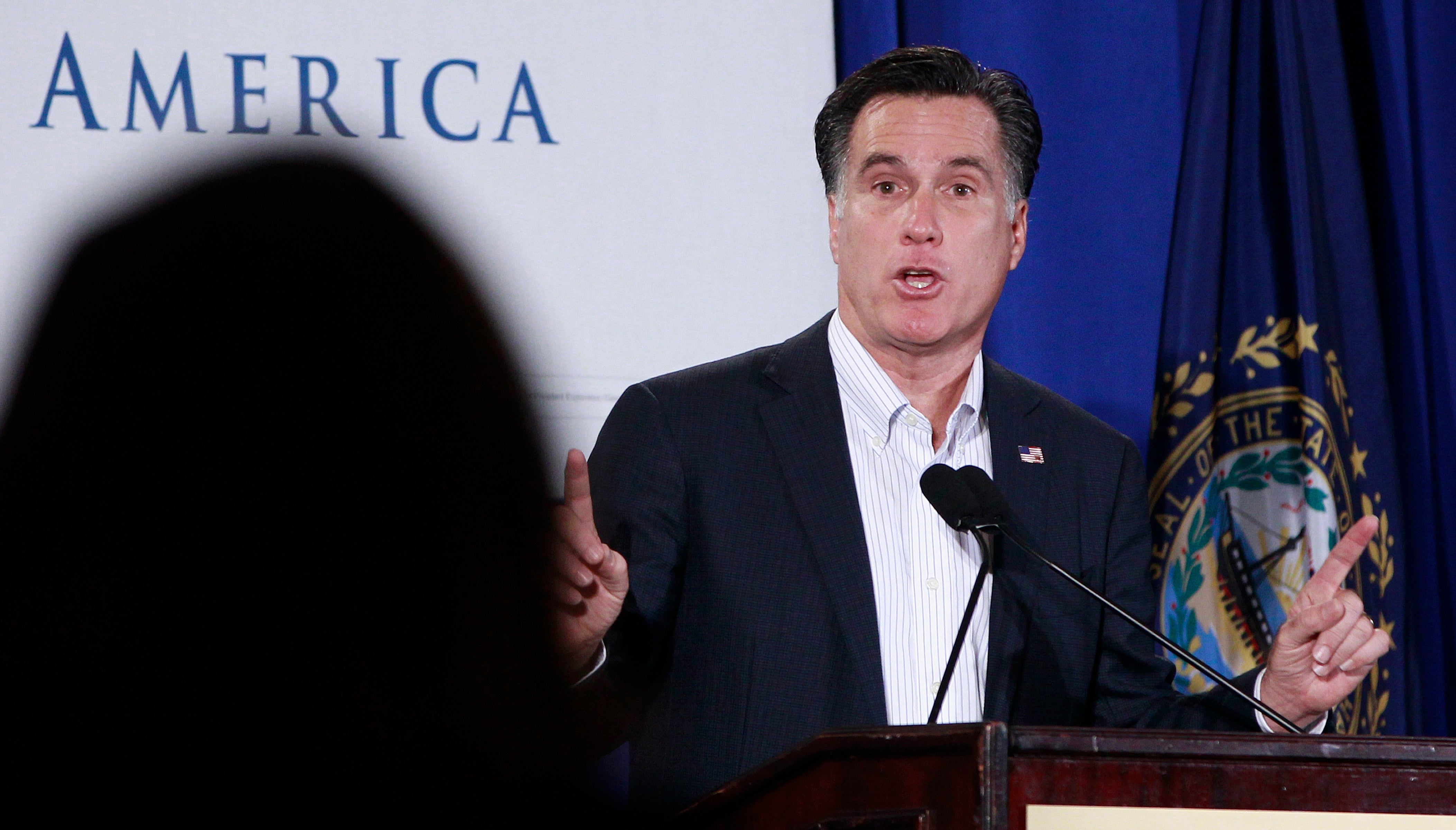 Mitt Romney: "I like being able to fire people" for bad service
Updated: 5:31 p.m. ET
With just one day to go before the first-in-the-nation New Hampshire primary, Mitt Romney -- the former Massachusetts governor and frontrunner for the nomination -- described his faith in the free market with words that might come back to haunt him.
"I like being able to fire people who provide services to me," Romney said at a Monday breakfast in New Hampshire, when talking about health care. "You know, if someone doesn't give me a good service that I need, I want to say, 'I'm going to go get someone else to provide that service to me.'"
The candidate is already facing criticism from his Republican rivals about his record as CEO of Bain Capital LLC, a Boston venture capital group that invested in struggling companies in an effort to turn them around.
In the remarks, about his belief in providing people with options, Romney -- who in Massachusetts enacted an individual health care mandate while governor -- spoke about the need to incentivize insurance companies.
"I want individuals to have their own insurance. That means the insurance company will have an incentive to keep you healthy. It also means if you don't like what they do, you can fire them," he said.
Even if the statement is essentially a commentary on the free market, the candidate is already taking heat for saying he likes to "fire people" -- a remark that, while unrelated to Romney's record at Bain, will undoubtedly be used against him in light of the recent attacks and the scrutiny of the company's record of hiring and firing employees.
Several of his competitors wasted no time in criticizing his rival for the comments.
"Governor Romney enjoys firing people. I enjoy creating jobs," he told reporters in Concord, New Hampshire. He went on to target Romney as being "slightly out of touch with the economic realities."
And according to CNN, Rick Perry is offering supporters a downloadable ring tone, via his campaign website, that plays "I like to fire people" on a loop.

The liberal group Americans United for Change also blasted Romney for his remark, accusing the candidate of taking pleasure in the process of laying of workers.
"The thousands of workers at Worldwide Grinding Systems and Ampad and GS Industries and Dade International and DDI Corp that were laid off by Bain Capital while Romney profited are no doubt relieved to hear that someone found joy in the process," said the group's communications director Jeremy Funk. "As the new Wall Street Journal analysis shows, these bankrupted companies and offshored jobs were not isolated cases - they were business as usual for Romney and company."

When asked about the comments at a subsequent campaign event, Romney emphasized that they had been taken out of context and noted that "if you think I should spend my entire campaign carefully choosing how everything I say relates to people as opposed to saying my own experience and telling my own experience, that would make me a very different person than I am."
"I understand in politics people can decide to grasp at anything and take it out of context and make it something it's not," he continued. "That's the nature of the process. I've got to be an adult about it and recognize it comes with the territory."
Hours later, Romney communications director Gail Gitcho also sent out an e-mail, urging the media to "take a moment and review the transcripts and videos from today's event."
"Our opponents are taking Gov. Romney's comments completely out of context. Governor Romney was talking about firing insurance companies if you don't like their service. That is something that most Americans agree with," she said.
While Romney takes credit for having created more than 100,000 jobs under Bain, a recent report by the Wall Street Journal shows that 22 percent of the companies in which it invested either went bankrupt or shut down, and another eight percent lost all money Bain invested.
Romney's opponents have attempted to use the candidate's tenure at Bain against him, accusing the company of mass layoffs in exchange for a hefty corporate profit.
On Sunday, Newt Gingrich characterized Bain's actions as "rich people figuring out pretty clever ways to loot a company," and has previously said Romney should give back the money he's earned from "bankrupting companies and laying off employees." Rick Perry, too, has blasted Romney for "buying companies and laying off workers" while at Bain.
It's difficult to say definitively how many jobs Bain is responsible for creating or laying off because of the nature of the company, but Romney's campaign has cited hiring growth in three major companies - Staples, The Sports Authority, and Domino's - as the backup for the 100,000 figure. That number, however, does not include job losses from companies in which Bain invested.
Thanks for reading CBS NEWS.
Create your free account or log in
for more features.