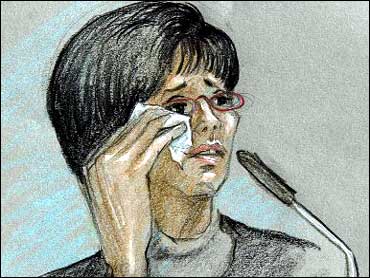 Mistress: He Said Marriage Was 'Open'
The woman whose affair with her boss prompted his wife to run him down with her Mercedes-Benz fought back tears Tuesday as she testified she believed the marriage was "open" to other sexual partners.
Gail Bridges, who acknowledged having an affair with David Harris beginning last May, said she assumed Clara Harris knew about the sexual trysts because of her boss' statements.
But asked by a defense attorney if she blamed Clara Harris for being angry, she said: "No ma'am, I do not." She said she was surprised by the reaction because she thought the affair was within the bounds of the Harris marriage.
The testimony came at Clara Harris' murder trial. Prosecutors say Harris, 45, intentionally killed her 44-year-old husband July 24 in a suburban Houston hotel parking lot following a scuffle in the lobby with Bridges.
Bridges took jurors through the time she was hired at David Harris' orthodontic practice in August 2001, to a blossoming romance last April and finally a sexual rendezvous.
She said her paycheck grew as her relationship with David Harris grew closer.
"You didn't consider your dates with David overtime, did you?" defense attorney Emily Munoz asked.
"No," Bridges responded.
At a party last May attended by both Harrises and Bridges, Bridges said she didn't tell Clara Harris about the relationship.
"I don't understand why I would," Bridges said, because the marriage was supposed to be open. But she acknowledged to Munoz that she "did feel guilty."
Bridges, wearing all black, never appeared to glance in the defendant's direction.
David Harris admitted to the affair on July 17. A week later, Clara Harris tracked down her husband and Bridges at the hotel.
Clara Harris and Bridges tussled in the lobby, and then Bridges returned to her sport-utility vehicle in the parking lot, she said. She was standing inside her driver's side door when she said she saw Clara Harris churning through the parking lot in the Mercedes.
Bridges, fighting back tears but calmly fielding questions, said she did not see David Harris struck by his wife's car.
Defense attorney George Parnham has said it was an accident when Clara Harris fatally injured her husband. If she is convicted, her lawyers are prepared to lodge a "sudden passion" argument that could result in a sentence far lower than the life maximum under Texas law.
Prosecutors say Harris meant to kill her husband. Officials with the medical examiner's office concluded Harris was run over at least twice.

Thanks for reading CBS NEWS.
Create your free account or log in
for more features.