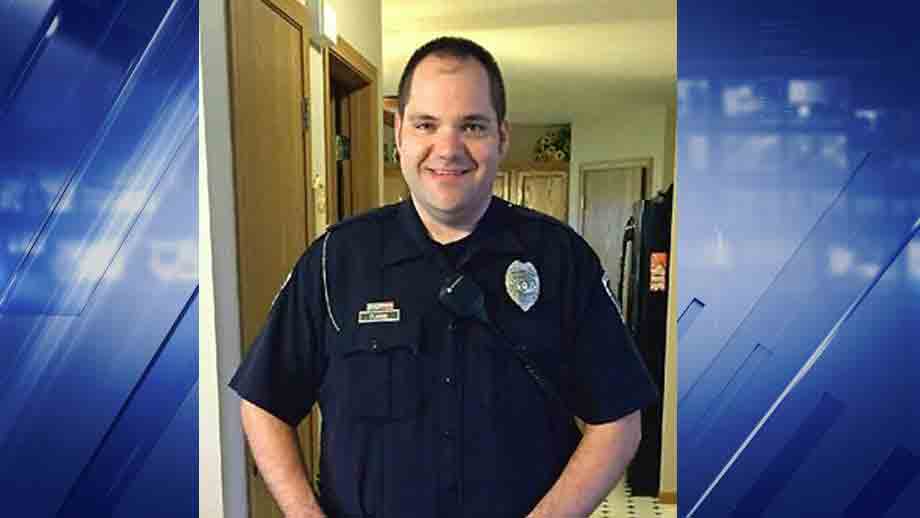 Missouri officer paralyzed after being shot in neck at traffic stop
ST. LOUIS -- A suburban St. Louis police officer shot in the neck during a traffic stop is paralyzed from the neck down due to what the Ballwin police chief calls "catastrophic damage to his spinal cord."
Officer Michael Flamion was shot from behind on July 8 after stopping a man for speeding in Ballwin, a well-to-do St. Louis County town of about 30,000 residents. Antonio Taylor of St. Louis was arrested later that day and is jailed on $500,000 bond on several charges, including first-degree assault of a law enforcement officer.
The shooting occurred one day after five police officers were killed in Dallas, but Missouri officials have not discussed a possible motive for Flamion's shooting. Ballwin Police Chief Kevin Scott declined to discuss the investigation during Monday's news conference.
In the press conference, Chief Scott said that Officer Flamion is responsive, alert, recognizes all family, friends and coworkers and nods "yes and no" responses, CBS affiliate KMOV reported.
The officer will require extensive long-term care.
"Officer Flamion has so dedicatedly served the Ballwin community, and he is forever deserving of our long-term support," Chief Scott said. "Although it is evident he will not be able to serve in the same capacity, I will assure you that Officer Flamion is ingrained in the Ballwin police family and will forever be a Ballwin police officer, no questions asked."
"Officer Flamion is highly regarded by everyone in the department. His sense of humor and professional demeanor make him a centerpiece of our department," the agency said in a post on its official Facebook page.
The department said it was overwhelmed by the "amazing amount of support and compassion" the community has shown Flamion, his family and Ballwin police.
A man who lives nearby told KMOV his wife helped the wounded officer.
"A nurse drove by and she told my wife to get a towel, so she ran in and grabbed a pillow case that's on our stairwell ran back out and put it on his neck and stopped the bleeding," Ben Riley.
Taylor was on probation for a weapons violation in St. Louis. He also had been on probation for a stolen vehicle in Oklahoma, and was picked up on a gun charge in California, drawing a prison term for being a felon in possession of a firearm. He was paroled in March 2015.
A GoFundMe page was created for the officer's family with the goal of raising $250,000 to help with intensive care. The page has so far raised more than $195,000.
Thanks for reading CBS NEWS.
Create your free account or log in
for more features.