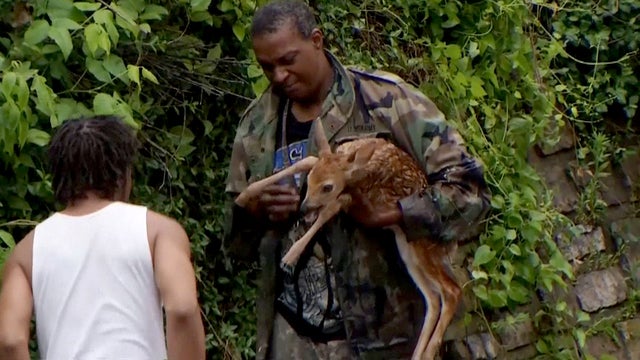 Strangers save fawn from floodwaters in Missouri
KANSAS CITY, Mo. -- Firefighters tried to save a deer trapped in floodwaters Tuesday, but it was the quick thinking of strangers who saved the helpless fawn, CBS affiliate KCTV-TV reports.
Kansas City firefighters tried twice to rescue the fawn but decided it was too risky.
"I was not going to let anybody from animal control go down because they don't have the proper training or proper equipment on," Battalion Chief Jimmy Walker said.
Rescue crews hoped that once the waters receded the fawn could walk out on its own, but nearby strangers couldn't wait.
"I just couldn't leave," said Rebecca Willeford. "Human life, animal life, it's all life."
After crews left and the waters went down, one man attempted to get the fawn, but instead the frightened creature ran into the water.
"I ain't jumping in the water because I sure don't know how to swim," Samuel Jordan said.
After two tries, the fawn swam back to the concrete, where the man grabbed his legs.
Even harder than capturing the fawn was getting out. A woman helped the men up a concrete wall and through thick brush.
Together, these strangers did something they will remember for a while.
They took the cold but otherwise unharmed fawn to the Lakeside Nature Center, where authorities take in wildlife.
"Made me feel good to save his life," said Durrell Cox. "It was a good experience."
Thanks for reading CBS NEWS.
Create your free account or log in
for more features.