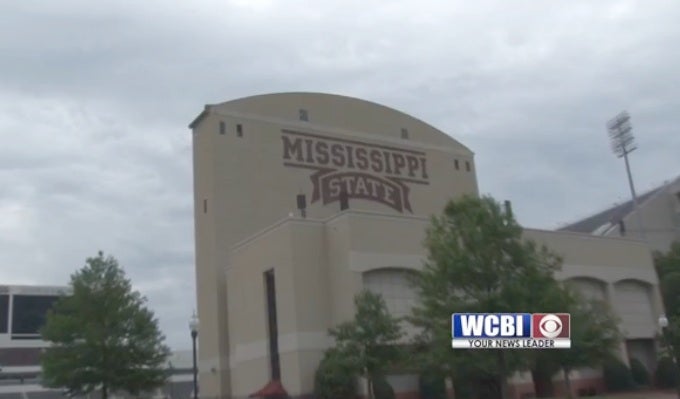 Mississippi State student dies in fall at school's football stadium
JACKSON, Miss. -- Mississippi State University officials Monday warned people not to trespass in the school's football stadium after a 21-year-old student fell through the roof of a video scoreboard Saturday and died.
"It's the intent of the university, in the future, to prosecute any trespassers to the fullest extent of state law, and that students will be subject to the very harshest administrative sanctions," university spokesman Sid Salter said at a news conference on the Starkville campus.
Salter said that Andrew Scott Demboski fell through the roof of the towering scoreboard at the south end of MSU's Davis Wade Stadium around 1:30 a.m. Saturday after he and two fellow students entered the stadium by climbing over a locked fence.
Rescuers struggled to extract the Ocean Springs student from where he fell inside the scoreboard, because it was too high for the ladder on a Starkville fire truck. They eventually made a hole in the structure's side and lowered him to the ground in a basket by pulley. Emergency personnel were unable to stabilize the junior environmental economics and management major, and he died before 3 a.m. while a medical helicopter waited nearby.
A 2013 post on an MSU Internet fan sports site described how to reach the scoreboard's roof through a door and a series of ladders, but Salter said MSU has not yet found any confirmed reports of other climbers in 2015 or 2016. He said university officials aren't sure whether the door to the scoreboard was locked or not, saying MSU relied on the locked exterior fence.
"That facility is locked for a reason," Salter said. "There are a lot places in there in the dark where you can get hurt."
He said the university will examine further security measures, including more security cameras and locks in the stadium. He said MSU intends to examine further securing other "architectural oddities" such as tunnels and rooftops.
Salter said MSU police and authorities are still investigating and will decide later whether to discipline or criminally charge Demboski's companions. He said administrators want to respect the grief of Demboski's family and friends. He declined to say whether alcohol or drugs were involved.
"At this time our focus is on supporting the Demboski family and their loved ones and that includes these two friends who witnessed this tragedy," Salter said.
Some students said they knew it was possible to get into the stadium, but didn't expect the stunt to end in death, CBS affiliate WCBI reported.
"I don't know anyone personally that's done it, but I've heard from people who've heard from people that it's happened before. I don't know how they get in, but I know it's somewhat of a common thing that's done," said student John Green.
"I've heard of people being able to get in the stadium at certain points, but I've never heard of anyone actually being able to climb up on the jumbotron or do anything close to that so it was a surprised to hear about what happened," said student David Klein.
Students also tell CBS affiliate WCBI they hope people learn from the deadly accident.
"I hope it gets out there so people will know maybe you shouldn't try something like that," said Sara Beard.
"It was a real tragedy what happened and personally I just hope no one tries to follow in their footsteps," added Klein.
The university observed a moment of silence at its Saturday commencement and has offered counseling to students.
Thanks for reading CBS NEWS.
Create your free account or log in
for more features.