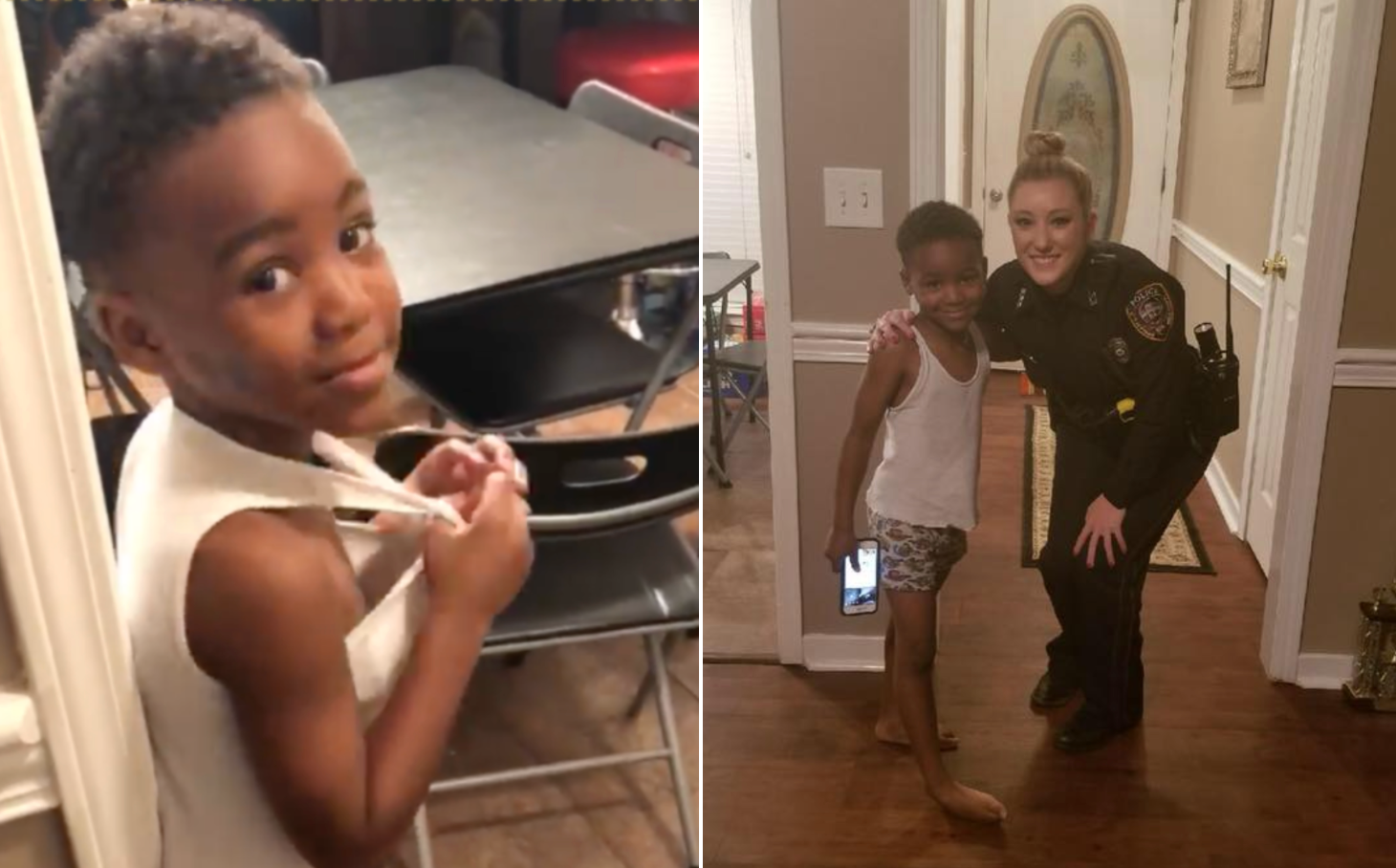 Concerned 5-year-old calls 911 to report the Grinch for stealing Christmas
TyLon Pittman likes Christmas a lot, but the 5-year-old boy was scared there was a Grinch out there who truly did not. After watching Dr. Suess' "How the Grinch Stole Christmas" for the first time, TyLon decided to call for backup.
The concerned boy from Jackson, Mississippi, told his mom he dialed 911 Saturday in hopes of getting the Grinch arrested before he could ruin the holiday.
"You better not have," his mom, TeResa Pittman, replied, assuming he was joking.
But nearly an hour later, on Saturday night, there was a knock at the door.
TyLon's brother, TeDera Dwayne Graves, who had just returned home from the Air Force, walked over to investigate. He opened the door to find an officer from the Byram Police Department.
"I'm looking for a little boy who was watching 'The Grinch,'" Officer Lauren Develle explained. "He called to say the Grinch is going to steal his Christmas."
Pittman then called TyLon to the door where the grinning officer stood.
TyLon produced the evidence, offering up his phone to show her the shocking YouTube clip he had seen. He described the nasty Grinch, and said that he was worried he was really going to steal Christmas.
"He was so serious," Graves told CBS News. "The look on his face was so serious. That's what made it so funny."
The family welcomed Develle inside, where the young boy continued to voice his concerns.
"I want him to come to my house and take him to jail," TyLon told the officer. "I want to get him."
"We can take him to jail if he comes and tries to steal your Christmas," Develle assured the little boy. Then she promised, "The Grinch is not going to come and steal your Christmas. I'm not going to let that happen."
After speaking with Develle, TyLon felt a little better. But he was still worried the Grinch might find a way to steal everyone's presents and decorations.
So on Monday night, the police department invited TyLon to the station to help them put the Grinch behind bars. TyLon, who wants to be a police officer when he grows up, was thrilled.
He arrived at the station, greeted by Develle and Byram Police Chief Luke Thompson, who led him to a holding cell in the back. It was there TyLon spotted him: the Grinch.
The 5-year-old helped close the door to the cell.
"He would not let him out at all," Graves said.
After locking up the Grinch for good, TyLon joined Thompson for a tour of the police station. He was given a goodie bag, sat in the front of a squad car and got his very own copy of "How the Grinch Stole Christmas." But that's not all.
"The police chief told him, 'I'm going to give you these little handcuffs, and little police car now, but when you turn 21 come back here. We'll give you an application,'" Graves said.
Thanks for reading CBS NEWS.
Create your free account or log in
for more features.