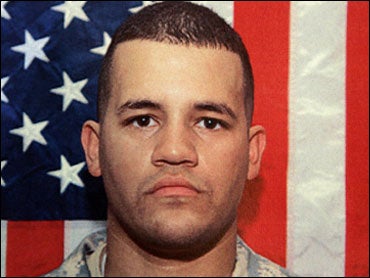 Missing Soldier's Wife Faces Deportation
While the U.S. military searches for a soldier missing in Iraq, kidnapped by insurgents possibly allied with al Qaeda, his wife back home in Massachusetts may be deported by the U.S. government.
Army Spec. Alex Jimenez, who has been missing since his unit was attacked by insurgents in Iraq on May 12, had petitioned for a green card for his wife, Yaderlin Hiraldo, whom he married in 2004.
Their attorney, Matthew Kolken, said 23-year-old Hiraldo illegally entered the United States in 2001 to reunite with her husband, whom she had met in her native Dominican Republic and later married at his New York State Army base in 2004.
Her husband's request for a green card and legal residence status for his wife alerted authorities to her status, Kolken said.
She now faces deportation, reports CBS station WBZ correspondent Beth Germano, and would be barred from applying for a green card for 10 years.
Her attorney is seeking a hardship waiver, which so far the government won't grant.
"I can't imagine a bigger injustice than that, to be deporting [the wife of] someone who is fighting and possibly dying for our country," Kolken told WBZ.
All this comes as the military continues to search for Jimenez and another soldier, Pvt. Brian Fouty, missing in Iraq since May 12, the only trace an ID card found during a raid on an al Qaeda safe house.
"She may never be able to return to the United States, to visit her husband's grave if necessary," Kolken said.
Their third wedding anniversary was last week.
An immigration judge has been sympathetic, putting the case on hold since Alex Jimenez was reported missing. But her case is in limbo, and her future in this country uncertain.
She is currently with family members in Pennsylvania.
Sen. John Kerry, D-Mass., has asked federal immigration officials not to deport Hiraldo.
In a letter to Homeland Security Secretary Michael Chertoff, Kerry said the grief and stress being felt by Hiraldo should not be compounded by worries about her immigration status.
"Under no condition should our country ever deport the spouse of a soldier who is currently serving in uniform abroad," Kerry said. "I feel even more strongly in this case, given the terrible uncertainty surrounding Army Specialist Alex Jimenez."
In his letter, Kerry urged that no action be taken against Hiraldo while her husband remains missing.
"I believe this is a very real test of our government's compassion for a military family which has already made enormous sacrifices for the United States," he wrote.
Thanks for reading CBS NEWS.
Create your free account or log in
for more features.