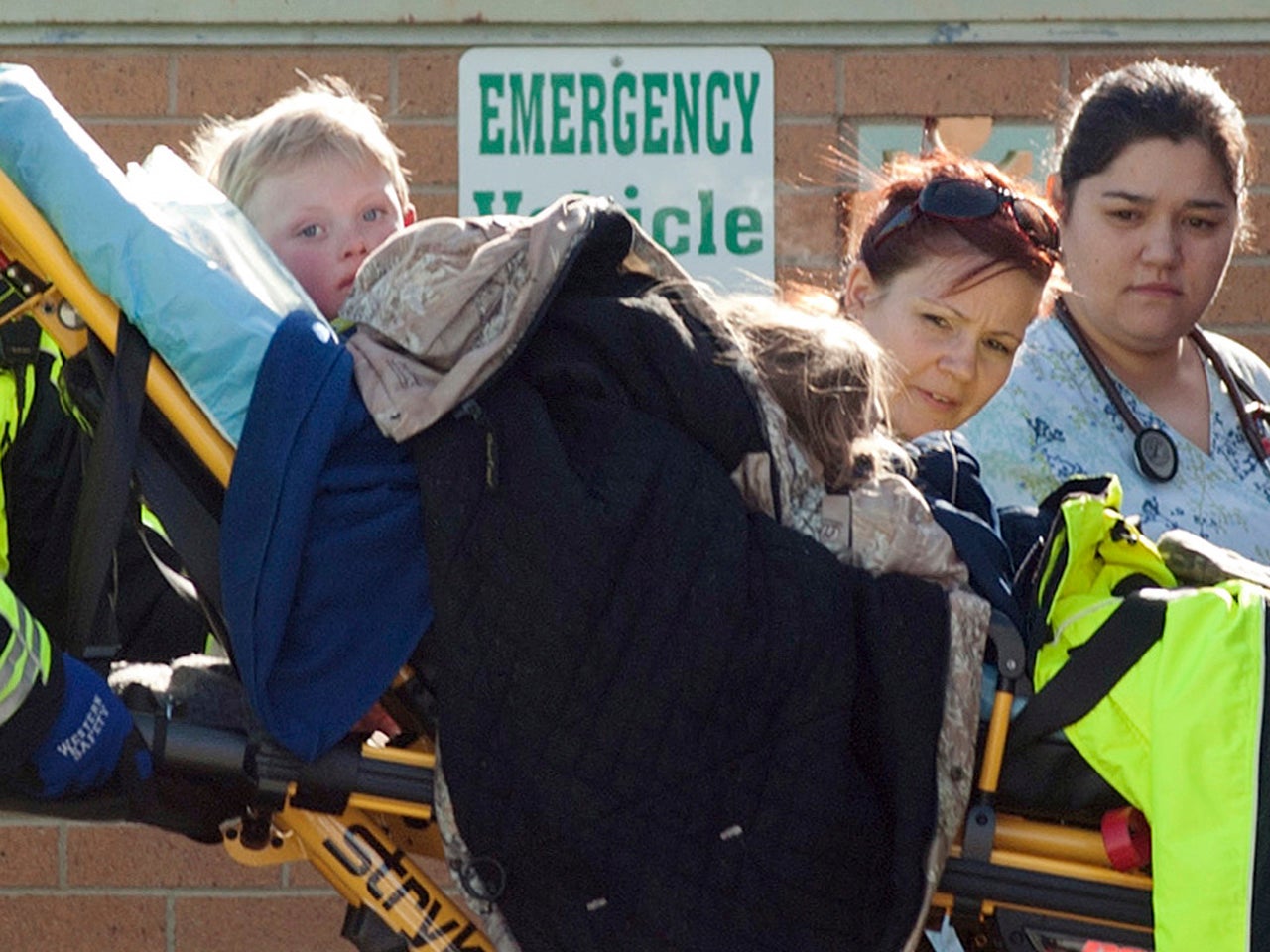 Missing Nevada family found alive after two days in wilderness
RENO, Nev. - A desperate search for a couple and four children missing for two days in the below-zero cold of Nevada's rugged mountains turned jubilant Tuesday when rescuers guided in part by cellphone signals and footprints in the snow found them alive and well near their overturned Jeep. About 200 people had searched by land and air after the group of six failed to return Sunday from a trip to play in the snow near their hometown of Lovelock, in Nevada's high desert.

"They stayed together and that was the key that allowed them to live through this experience. You don't see that that often in search and rescue," said Paul Burke, search-and-rescue coordinator for the state. "They did some pretty unusual things, heating up rocks and things. Staying together, that was a big deal."
Their Jeep had overturned just off a road. A member of the rescue team said the engine would no longer start, but the group stayed in the upside-down vehicle for shelter.



"The couple did not have blankets or extra food with them, but removed the spare tire and started a fire burning wood and brush to keep warm. They placed rocks inside the tire and used the rocks to keep the children warm at night," Pershing County Sheriff Richard Machado said.

The six were taken to Pershing General Hospital, where about 100 well-wishers lined the street and broke into cheers when two of the smallest children were taken from an ambulance. Others walked into the hospital on their own.

"We are thrilled beyond words," said Col. Tim Hahn of the Civil Air Patrol, which used several planes to search for the group.

The hospital said late Tuesday that everyone was fine.

"Everybody is in good shape," said Patti Bianchi, CEO of Pershing General. "There was no frostbite. They are stable. They suffered a little exposure and dehydration, but that is all."

Rescuers began scouring the Seven Troughs Area wilderness on Sunday night for James Glanton, 34; his girlfriend, Christina McIntee, 25; their two children, Evan and Chloe Glanton; and Shelby Fitzpatrick and Tate McIntee, a niece and nephew of McIntee's. The children range in age from 3 to 10.

The situation grew more dire as overnight temperatures in Lovelock dipped to 16 below zero.



A cellphone forensics team analyzed which towers the group's phone was in contact with during their trip, giving searchers a better idea of where they might be, Hahn said. They were so far out in the wilderness that they apparently were unable to call for help.

Search volunteer Chris Montes said he and two rescuers with him first spotted children's footprints in the snow, then followed a set of Jeep tracks until they found the flipped vehicle and the family beside it.

"They just said that they knew somebody was going to find them," Montes said.

"It was a huge relief. I was expecting the worst and then I came around the corner and I counted all six of them, standing there, nice and warm," he told CBS affiliate KTVN.

Montes said the six were all in good spirits.

"The littlest girl was telling me about a cartoon and the boys were asking me if I had more snacks in the truck," he said.


The discovery prompted a wave of relief on social media.

"Very glad to hear the missing family in Lovelock has been found and they are safe!" Gov. Brian Sandoval tweeted. "Thank you to all who worked so tirelessly to find them!"




The Seven Troughs area is named for seven parallel canyons below Seven Trough Peak, elevation 7,474 feet. It is about 20 miles southeast of Black Rock Desert, where the annual Burning Man counterculture festival is held.

A former gold mining region 100 miles northeast of Reno, it is wide open and wind swept.


Most of the roads are dirt and more easily traveled by ATVs or other off-road vehicles.

Seven Troughs is a popular area for hunting chukars, a pheasant-size winter game bird.

"So it's not the kind of area where there would be nobody around," Nevada Department of Wildlife spokesman Chris Healy said. "But most chukar hunters are smart enough not to go out in the weather we have now."

Machado thanked all the agencies and volunteers who helped in the search.


"We are so happy that this story had such a wonderful outcome," the sheriff said.

Thanks for reading CBS NEWS.
Create your free account or log in
for more features.