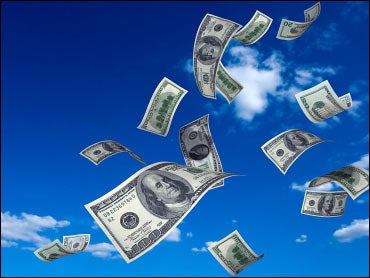 Missing Money: Where and How to Recover It
Who doesn't love finding a little extra cash lying around?
As it turns out, there is about $33 billion worth of unclaimed money in state treasuries and other agencies, just waiting to be returned. That's an average of $280 per unclaimed payment, according to the National Association of Unclaimed Property Administrators.
CBS News Business and Economics Correspondent Rebecca Jarvis explained Thursday how you can find out if some of that money belongs to you and how you can get it back.
Where, exactly, does this money come from?
Jarvis told "Early Show" co-anchor Harry Smith unclaimed money -- or unclaimed property as it's often called -- are accounts with financial institutions or companies that have gone inactive or that have lost contact with you. This may occur if you moved or never cashed a check; or it got lost in the mail.
Jarvis explained some of the most common types of unclaimed funds include savings or checking accounts you never closed; stocks; dividends, uncashed paychecks, insurance payments, refunds, annuities, and customer overpayments.
To find out if you have money owed to you, the easiest way Jarvis said you can do some research online. Each state is required to keep track of unclaimed property, she explained.
"It's totally free to search and it takes no time at all," she said.
Forty states participate in a national database Missing Money.com.
You just have to type in your name and your state and see if you pop up in their records.
Another website to try is Unclaimed.org, which has a map of the U.S. You click on a state, and it will bring you to the Unclaimed Property search site for that government of that state. Both sites are officially endorsed by the National Association of Unclaimed Property Administrators, an association of state unclaimed property programs, maintained by the National Association of State Treasurers.
To claim your money, Jarvis said you follow the instructions on the website.
"You'll need to file a claim with the state government, including your personal information and Social Security number. This can usually be done online. And you'll need to provide identification. It should take a few weeks to receive the money."
Jarvis suggested these tips for searching:
• Search every state you've ever lived in. Since most companies are required by law to send notices to your last known address, it could mean that you have funds sitting in a state where you haven't lived for years.
• Search under maiden names.
• Search for deceased family members. In most cases, claims can be made in perpetuity in most cases, even by heirs.
Jarvis also issued a warning that some companies offer searches for unclaimed property for a fee, while others say they have found property in your name and will charge you a fee to obtain in, usually asking you to sign a contract.
Jarvis said, "Most of these companies are legit, but there are a lot of scammers out there. The websites we mentioned are free of charge, and you can easily do the search and fill out the claim yourself. A state government office may charge a nominal handling fee to send you a check, but that should be it."
For more information on unclaimed property, visit the National Association of Unclaimed Property Administrators.
Thanks for reading CBS NEWS.
Create your free account or log in
for more features.