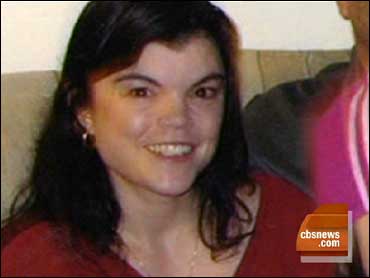 Missing Mom Case Puzzles Police
A 36-year-old mother of two has been missing for almost three weeks in Washington State.
Nancy Moyer was last seen on March 6, dropping a colleague off on her way home from work. Family members have put up a $55,000 reward for information leading to her return. Meanwhile, authorities brought in search dogs Sunday to search her neighborhood, but turned up nothing.
Nancy Moyer's husband, Bill Moyer, and Nancy's sister, Sharon Wilbur, and Lt. Chris Mealy with the Thurston County Sheriff's Office joined Early Show co-anchor Maggie Rodriguez from Olympia, Wash., to discuss the case that has Nancy's family and police puzzled.
Mealy said the case has been classified as a homicide even though Nancy has not been found "Because the circumstances surrounding her disappearance are so odd and because the homicide investigation is the most intense investigation we can bring to bear on any type of crime."
"What circumstances lead to you believe that foul play may have been involved here?" Rodriguez asked.
"Several things, just the condition of her home on Sunday and the lack of any evidence to indicate anything else. She's not the type of person to up and leave. The fact we haven't heard from her for over two weeks has us concerned," Mealy said.
Bill Moyer, who is separated from Nancy, went to her house on Sunday, March 8, to drop off their daughters.
"The house was as it usually is. I went inside, and basically TV was on, and it looked like someone should be home. But kids ran in looking for mom and it was an empty house," Bill Moyer said.
Bill Moyer, who is not a suspect, is technically still married to Nancy. They were separated two years ago after 10 years together.
"What do you think may have happened to her, Bill?" Rodriguez asked.
"I don't know. This is very unlike her," he said. "She never misses drop-off time. I think she's been late once in two years. And it makes no sense. She's a responsible person -- she's always there for the kids. It's completely out of character to not be there when I bring the kids over."
The Moyers' daughters, ages 10 and 11, are trying to cope with their mother's disappearance.
"The girls are hanging in there. We're trying to keep their routine as normal for them as we can. But it's difficult. It's difficult not knowing what has happened. So, we just do the best to keep their spirits up that we can," Bill Moyer said.
"Sharon, this has to be incredibly difficult for you to hear that your sister's disappearance is being treated as a homicide. What is your hope, what are you thinking and feeling this morning?" Rodriguez asked.
"I am hoping that it's not a homicide. I am hoping that she is somewhere safe and that we will get word that she has been found," said Wilbur, who spoke with Nancy the day she disappeared. "I spoke to her Friday, yes, the last time anyone had spoken to her and she seemed fine. She was in very good spirits that day."

Thanks for reading CBS NEWS.
Create your free account or log in
for more features.