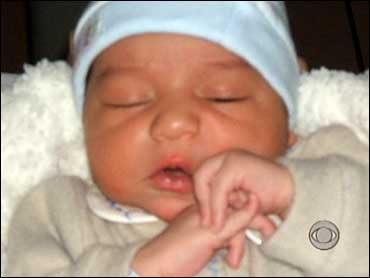 Each week, the CBS drama Without a Trace profiles a real missing person at the end of the show and, the next morning, The Early Show gives details on the case.
Check here for numbers to call if you have any information on the possible whereabouts of any of the people shown.
Friday, Oct. 12, 2007
LISA STEBIC
Lisa Stebic, a 37-year-old mother of two, was last seen at her Plainfield, Ill. home five-and-a-half months ago, on April 30.
As CBS News correspondent Cynthia Bowers reported on The Early Show, Stebic's cell phone and credit cards were with her, and haven't been used since her disappearance.
Bowers says Stebic's family fears the worst.
A crying Jamie Bouma, Stebic's sister, told Bowers, "For her children, we have to find her. She's a very good person with a very warm heart. A sweet person. She wouldn't just leave. She wouldn't do this to all of us."
Even though, Bowers, says, they've given up hope of finding Lisa alive, they still can't understand how the beautiful, sweet-natured woman who worked in her children's school cafeteria could have disappeared, seemingly without a trace. And what role, if any her husband Craig may have played.
The Stebics' kids had gone out for candy, leaving Mom and Dad home alone, Bowers points out. Craig says he was working in the backyard when Lisa went to go to the gym, meaning he was the last known person to see her alive.
Even though the two were still living together, Lisa had filed for divorce not long before, and reportedly planned to throw him out of the house the very day she disappeared.
A few days after she was reported missing, Craig downplayed the troubles the two were having, saying, "We were going through a divorce, but it wasn't nasty. We hadn't said five words to each other in the last six months.
His behavior, though, raised red flags, according to Bowers.
Plainfield police detective Carianne Siegel says he was always difficult to deal with, noting he "never handed out any posters, refuses to cooperate with us, refuses to take a polygraph examination, is refusing to provide us a chance to interview the children."
And, added Bowers, he never participated in any of the many searches that brought out hundreds of people who'd never even met Lisa.
The story took a strange twist in July when a local reporter for an NBC affiliate was fired after being caught on tape at a pool party at the Stebic home. Then, just a week later, Craig was officially named as a person of interest in the case. And now neighbors tell CBS News Craig used to "joke" that one day Lisa's picture would turn up on a milk carton.
Bauma, Lisa's sister, tearfully told Bowers, "Our hopes are to find her. If she's not alive, um, then to get closure for Lisa and to put her at rest the way that she deserves to... and to... say our goodbyes... the correct way."
To see Bowewrs' compete report,
For much more on the case, visit the Web site Find Lisa Stebic.
If you have any information about Stebic's disappearance, please call Plainfield, Ill. police at 815-267-7217, or your local FBI office.
---
Friday, Sept. 28, 2007
BRYAN DOS SANTOS-GOMEZ
Bryan dos Santos was only four-weeks-old when, police say, he was taken from his mother at knifepoint.
Maria dos Santos told CBS News correspondent Bianca Solorzano she was waiting at a Fort Myers, Fla. bus stop last December with Bryan and a friend when a woman approached them, asking for directions, begging for help.
Eventually, they all got into the woman's SUV to help her to her destination.
After awhile, dos Santos said through a translator, the woman threatened dos Santos with the knife, demanding that she put Bryan in a car seat in the vehicle. The woman also demanded $500.
The friend of dos Santos managed to escape, and the woman pushed dos Santos out of the SUV.
"I kept asking her for my child," dos Santos recalled. " 'Give me the baby, give me the baby.' ... The woman just took off. She didn't even close the door. She just took off."
Police say they're a woman approximately five-foot-three, who's heavy set, with long, straight black hair, who may have been driving a 1998-2003 two-door Ford Explorer when she abducted Bryan.
The boy's parents, reports Solorzano, admit being smuggled into the United States and owing money to the smugglers.
"The suspect did make a demand for $500," says Fort Myers Police Detective Matt Sellers. "Earlier on in the investigation, that lead us to believe that it could be human smuggling, but there is no evidence of that at this time."
Police say they're certain, however, that the suspect was looking for a baby that day, since she had the car seat and a diaper bag in the SUV.
To see Solorzano's complete report,
There is a $16,000 reward in this case. If you can help, please call the Fort Myers, Fla. police at (239) 334-4155, or your local FBI office.
---
Friday, Sept. 14, 2007
BILLY SMOLINSKI
We first told you about Billy Smolinski a year ago. He disappeared from his Waterbury, Conn. home in August, 2004 after breaking up with his girlfriend.
CBS News Correspondent Bianca Solorzano got an update from investigators, and the missing man's family.
Smolinsksi was 31 when he vanished.
He had just returned from a trip to Florida with his girlfriend. The next night, he told his sister that his girlfriend was having an affair with a local politician. They argued and broke up.
Smolinski's sister, Paula Bell recalls that, "I said, 'Well, what are you going to do" And he just said, 'What am I going to do?'"
Authorities say Smolinski was last seen at his home. His next-door neighbor says he asked him to watch his dog for a few days, because he was headed north to look at a car he wanted to buy. His truck was found in his driveway, his keys and wallet were under his front seat.
That, says Solorzano, is where Smolinski's trail ends.
The FBI calls it a difficult case.
"Essentially," says Special Agent Bill Aldenberg, "the man just disappeared off the face of the Earth."
He says there's been no sign of Smolinski but, "There are suspects, based on tips and based on interviews and based on investigations that we've conducted."
The bureau was tipped off and, in the spring, searched in Shelton, about 20 miles from Waterbury. Agensts looked for evidence near several homes, dug up a driveway, and also searched near a river, but found nothing.
The Smolinskis, Solorzano points out, have never stopped searching.
They posted thousands of missing person flyers but, in a strange twist, found Smolinski's ex-girlfriend tearing them down.
At the time, local police say, she was not a suspect.
To see Solorzano's complete report,
If you know anything about Billy Smolinski's disappearance, please call the FBI in New Haven, Conn. at (203) 777-6311.
---
Friday, Sept. 7, 2007
STEPHANIE CONDON
She was 14 when she vanished while babysitting in a Myrtle Creek, Ore. trailer home the night before Halloween in 1998, reports Early Show national correspondent Hattie Kauffman.
The Douglas County Sheriff's Office considers Stephanie's case still open, Kauffman says and, while there are no suspects, there is a person of interest: Dale Hill, a man who was arrested on an unrelated charge, and in a 1999 jailhouse interview, admitted stopping by the house the night Stephanie was babysitting. Hill said he'd been drinking at a local bar. He denied having anything to do with Condon's disappareance.
Now, adds Kauffman, the sheriff's office is beefing up its probe, and cold case detectives are taking a fresh look.
Says sheriff's Lt. John Hanlin, "Currently, we have no other persons of interest, other than Dale Hill. … He was the last person to see Stephanie Condon alive."
But, with no physical evidence, detectives say, he can't be charged. They're still searching for the handgun Hill says he sold. And they want to know if anyone saw his pickup truck that night, where he claims he "basically passed out, like I usually do after having drank at the bar."
Hill had served time for an unrelated assault, but is out of jail now.
Condon's mother, Christine Condon, told Kauffman of her family's pain: "You go through the anguish, the anger, the frustration, the sadness. … Mostly, it's all sadness. Nothing but unanswered questions."
She admitted to Kauffman she thinks Stephanie is dead and, so far, the killer is getting away with it.
To see Kauffman's full report,
If you know anything about Stephanie Condon's possible whereabouts, you can contact the Douglas County, Ore. Sheriff's Office at (541) 957-2099, or your local FBI office.
---
Friday, Aug. 31, 2007
TRENTON DUCKETT
Trenton Duckett disappeared from his Leesburg, Fla. home one year ago, when he was just two.
His mother, Melinda Duckett, told police her son disappeared from his bedroom one night.
Two weeks later, after her story was questioned, she committed suicide.
"We believe Trenton's still out there," his father, Josh Duckett, told CBS News correspondent Mark Strassmann. :"It's just a matter of finding him. And somebody has the answer and knows something."
Melinda made the 911 call
"What is Trenton wearing, honey?" the operator asked.
"I don't know. He was ready for bed," Melinda replied.
"You don't know what you dressed him in before he went to bed?" the operator remarked.
Melinda said her two year-old went missing from his bedroom while she watched a movie. But, Strassmann says, like the bedroom window screen she said had been cut, her story had holes.
Cable TV host Nancy Grace grilled her.
"Why aren't you telling us and giving us a clear picture of where you were before your son was kidnapped?" Grace wanted to know.
"Because I'm not going to give those details out," Melinda answered.
Grace had the same questions as the case's detectives, Strassmann notes.
"I mean," Grace asked her at the time, "where were you? Why aren't you telling us where you were that day? You were the last person to be seen with him."
It was the next day that Melinda took her own life, hinting media pressure was to blame.
And right then, says Strassmann, Trenton's trail went cold.
"I think," says Josh, "that, by Melinda killing herself, it definitely put a damper on the whole investigation, because she may have had the key information to solving it."
Melinda and Josh had been through a bitter separation.
Detectives say they've ruled out abduction, and call Melinda the only suspect.
Says Maj. Chris Blair, of the Marion County, Fla. Sheriff's Office, "We believe that she wanted to keep Trenton away from Josh, and therefore, she could be capable of anything."
Even a $21,000 reward has produced no new clues.
"We want him back," Josh says. "We don't want to put anybody in jail. We don't want anybody to get in trouble. We just want him back."
To see Strassmann's report,
If you have seen Trenton Duckett or have any information, please contact the Leesburg, Fla. Police Department at 352-787-2121, or your local FBI office.
---
Friday, Aug. 10, 2007
EMILY JUAN SARTIN
The mother of three-and-a-half-year-old Emily Juan Sartin sparked an international custody battle in 2004 when she took the girl to Taiwan.
It's a battle that's proven hugely frustrating for Emily's father, Cary Sartin, who's been awarded sole custody of Emily, but who is, he says, being forbidden by Taiwan from bringing her back to the United States.
Sartin went to Taiwan to get her last year, but was stopped by Taiwanese authorities before he could leave the country with her, and has been fighting for Emily in Tawainese courts ever since.
Sartin is desperate to get his daughter back.
He and his attorney, Richard Heideman, discussed the case with co-anchor Hannah Storm on The Early Show Friday.
"I'm in pain a lot," missing Emily Juan, Sartin told Storm. "I miss my daughter. I love my daughter. When we were reunited in Taiwan ... she told me she missed me, she remembered me (his voice broke at that point), and she was only ten-and-a-half (months old) when she was taken."
To see the entire interview,
If you know anything about Emily Juan's case, you can call the National Center for Missing and Exploited Children at 1-800-843-5678, or contact your local FBI office.
---
Friday, Aug. 3, 2007
DEONNA SHIPMAN, 3
Three-year-old Deonna Shipman lives with her mother in Liverpool, N.Y., near the upstate city of Syracuse.
But she hasn't been seen since going on a regularly scheduled overnight visit to her father more than three weeks ago.
Police suspect an international abduction.
As CBS News correspondent Bianca Solorzano reported on The Early Show, Deonna's mother, Lioubov Shipman, has been divorced from her father, Jeffrey Shipman, for three years.
The couple recently began a vicious custody battle, and Lioubov says her ex made what she now calls a chilling threat: "As we were walking out of the courtroom, (he) … said to me quietly, 'If I'm not going to have Deonna, nobody will."
Police say Jeffrey flew with the blonde-haired, blue-eyed Deonna to England; the two also had tickets to Germany, and return tickets to New York, but it's not clear whether they actually took those flights.
Says Onondaga County, N.Y. Sheriff Kevin Walsh, "I don't think there was any question he had it well planned out in advance. He had her passport.
"I don't think he's vanished forever. I think he will surface, and when he does, we'll be prepared to hopefully bring him back immediately."
A crying Lioubov told Solorzano, " Life stopped when (Deonna) left. Life stopped. And I'm just living in hope. … My daughter is my life, and I'm hoping some kind person will find her and call us."
If you know anything about Deonna Shipman's whereabouts, please call the Onondaga County Sheriff's Office at 315-435-3044, or your local FBI office.
---
Monday, July 16, 2007
MASON FERNANDEZ AND HIS BROTHERS, LANCE AND LEONE
It's been more than three years since John Smith's three sons were, authorities say, kidnapped by their mother and taken to the Philippines.
Leoni Fernandez and his two brothers, Mason and Lance, were abducted by Francina Fernandez, and remain in the Philippines, Smith says.
Fernandez had joint custody, but wasn't supposed to take the boys out of the country, Smith adds.
Early Show national correspondent Hattie Kauffman first interviewed Smith last year, and got an update from him last week in his San Diego home.
He says Francina's parents routinely crisscross the Pacific between the United States and Philippines, giving her help. Smith demands that U.S. officials put a stop to the "blatant free ticket of aiding and abetting and obstructing justice they've had up until now."
He says his sons shouldn't have to live life "on the run," and is appealing to politicians as high-up as President Bush to work to change international law. As Smith puts it, "Innocent little victims - their lives are being turned upside down."
Like several other countries, the Philippines did not sign on to the Hague convention, and doesn't consider parental kidnapping a crime.
At one point, Smith told Kauffman, he traveled to the Philippines and apparently missed catching up to his sons and Francina at a McDonald's by about an hour.
An emotional Smith told Kauffman he wanted to sit in every seat in the place hoping, in a sense, to get closer to the boys.
He says it was nice "just being in the same hemisphere" as them.
To watch Kauffman's complete report,
---
Monday, July 9, 2007
MELISSA
Patrick Braden says his daughter, Melissa, disappeared in March 2006, when she was 11-months-old, and he's convinced her mother brought her to the girl's grandparents' house -- in Japan -- and international law is keeping him from heading there to try to get Melissa back.
Braden vows to change the law, saying he won't stop until he succeeds.
He tells Early Show national correspondent Hattie Kauffman Melissa's mother ignored a court order and fled the United States with the girl, and authorities determined that she boarded a flight from Los Angeles to Tokyo.
Trouble is that, while Japan has a criminal extradition treaty with the U.S., it doesn't recognize parental child kidnapping as a crime.
Braden was in Washington, D.C. as late as last week, knocking on doors of members of Congress, seeking to get the law changed to enable parents in his situation to track their child and seek his/her return. It was his sixth such trip since Melissa went missing.
Braden says, without a new agreement between Tokyo and Washington on the issue, "I may never see my daughter again."
To see Kauffman's complete report,
---
Monday, July 2, 2007
NICOLAS SANTIN
In December 2005, Nicolas Santin, of Steelton, Pa., left with his grandfather to drive to El Salvador.
He hasn't been heard from since. That's a-year-and-a-half gone without a trace.
At the time, Nicolas was twelve-years-old; he would have celebrated his 14th birthday this past March. The two planned to spend Christmas with family in El Salvador.
The last known sighting of Nicolas and his grandfather, Andres Santin, was on December 21, 2005, when they passed through the Mexican border into Guatemala.
In February 2006, the FBI filed an arrest warrant, charging the grandfather with international parental kidnapping.
The Early Show profiled the case last summer, and just got an update from Santin's mother, Simone Santin.
Simone says she feels helpless and alone. Her sister accompanied her on a trip to Guatemala in May 2006. Simone hoped that, by visiting Guatemala, she could raise awareness of the disappearance of her son. The trip led to two tips that turned into dead ends.
Since then, she says, there have been no substantial leads on what happened to Nicolas and Andres. The FBI says the car they were traveling in has not been recovered and there has been no activity involving Andres' cell phone and bank account.
Simone says she hasn't even had a meeting with the FBI in months, since there is nothing new to discuss.
To see the video of the update,
If you have any information about Nicolas Santin's disappearance, please contact the FBI in Philadelphia at 215-418-4000, or your local FBI office.
---
Monday, June 25, 2007
BAMBI LYN MADDEN
Bambi Madden went out for a beer almost a-year-and-a-half ago and never came back. The 34-year-old Binghamton, N.Y. grandmother disappeared the day before a custody hearing for her granddaughter.
Police say they're stumped, and they're asking for help.
On the night of Jan. 11, 2006, Madden told her family she was walking to a local convenience store to buy some beer.
"We did obtain the surveillance tapes," says Binghamton Police Capt. Alex Minor. "She did not make it to either one of those stores that were in her immediate neighborhood."
She also never made it home that night, and hasn't been seen since.
"There's no evidence to indicate there was any foul play involved," Minor says, "but, neither is here anything to indicate that foul play wasn't involved."
Madden has three children and, according to her family, was looking forward to getting joint custody of her granddaughter the day after she disappeared.
"She didn't leave on her own," Madden's mother, says Madden's mother, Phyllis Burns. "Definitely. 'Cause she would have contacted someone by now."
"She did have a history of drug use," Minor adds. "She had some minor run-ins with law enforcement."
But police say they're not sure Madden's lifestyle had anything to do with it.
They say they have no solid leads and no clue how Madden vanished.
Says Minor, "She did not have a cell phone. She did not have a credit card. So we're not able to trace any of those things. … So it's very frustrating."
To see the Early Show report on Madden,
If you know anything about Bambi Madden's whereabouts, please call the Binghamton, N.Y. police at 607-772-7080, or your local FBI office.
---
Monday, June 18, 2007
PAMELA WALDHER
Almost two-and-a-half years ago, Pamela Waldher, who was 16 at the time, disappeared in North Carolina after she moved there to live with her father.
As CBS News correspondent Mark Strassmann reported on The Early Show, the only clues that turned up were her jacket and backpack, in a very odd manner.
Since then, Pam's trail has been ice-cold.
She was born to high school sweethearts and raised by her maternal grandparents in Washington State.
When Pam was 14, she moved to Fayetteville, N.C. She and her father barely knew each other.
In January 2005, Pam went missing after what the father, Beau Garcia, says were some very strong words between them.
Fayetteville police Det. James Nolette, who's heading the investigation, told Strassmann there've been no signs of Pam in Washington state or the Fayetteville area.
"She basically vanished," Nolette said.
Pam was a smart, all-American kid who never got into trouble, according to Strassmann.
Two days after Pam disappeared, her backpack and jacket were found on a secluded part of Ft. Bragg.
"There's really no reason for a 16-year-old to be" in that general area, Nolette says.
The backpack and jacket had been left neatly near a road, the jacket folded and placed under the back pack.
That, says Nolette, "is incredibly odd. It is incredibly strange. Where it was found was visible from a main street. … The assumptions can range from she wanted it found to make it look like she disappeared, to somebody else wanted it left there as a landmark to say, this is the worst case scenario where she may be located."
Officially, police say Pam is still considered missing and alive, but they're not ruling out foul play, and describe Garcia as a "person of interest," which he says is "grossly" adding insult to injury.
He says he has only one message for his daughter: "Pamela, we still love you no matter what. // you were always part of our hearts and as soon as you can come home, we're here with open arms."
If you have any information about Pam's whereabouts, (take accom) please contact Detective James Nolette of the Fayetteville, N.C. police at 910 433 1860 or call your local FBI office.
Friday, May 11, 2007
ANALYCE "ANNA" GUERRA
Police are still searching for answers, a year after little Analyce Guerra disappeared.
As The Early Show reported at the time, the two-and-a-half-year-old was last seen sleeping overnight in the living room of her family's Smyrna, Tenn. apartment with her mother and five siblings. All had fallen asleep while watching a movie.
But Eva Guerra says when she happened to wake up, at 3:30on the morning of April 24, 2006, her daughter was gone.
Analyce's brother, Moises, 10, says he had gotten up and gone out to the car to get another video, but remembers seeing Anna when he came back in. What he doesn't remember is whether he re-locked the door behind him. He adds that he saw a suspicious-looking car in the parking lot.
Dozens of volunteers searched the apartment complex and surrounding areas. Police questioned more than 200 people, but nothing turned up. A few months later, they even went as far as to drain a nearby river, to no avail.
Authorities say very little evidence, and very few witnesses, have come forward.
Eva Guerra insists, "I feel in my heart she's OK. I feel in my heart she's alive. … I have not stopped, and I won't stop. I won't stop until I find her."
On The Early Show Friday, Smyrna police detective Jeff Peach,
Anna has a "chery-type" birthmark by her left ear, visible from the front of her face.
If you know anything about Analyce's disappearance, please call Smyrna police at 615-459-6644, or the Tennessee Bureau of Investigation at 1-800 TBI-FIND.
---
Monday, May 7, 2007
KHOI VU
Khoi Vu, of Vancouver, Wash. disappeared nearly a month ago. He is deaf and mentally impaired.
As CBS News correspondent Sandra Hughes reported on The Early Show, the case is puzzling: Police say there's no sign he was taken against his will.
His mother and brother told Hughes that Khoi, 25, who looks like a teenager, isn't shy, and would think anyone who approaches him is his friend.
Khoi's brother, Danh Vu, says, "He was still in my parents room watching TV until one o'clock in the morning, and he blew my mom a kiss to say good night, to go to bed supposedly. … The room looks like looks like he never slept in his bed … so we don't know exactly when he disappeared."
Khoi lived with his parents, sister and brother-in-law in the Vancouver home.
Sgt. Tim Bieber of the Vancouver Sheriff's Department fears the worst: "The reality is him being missing nearly four weeks in a predominantly urban area would lead us to believe something happened to him that's probably criminal in nature, and this might not have a favorable outcome for us."
He adds, "It's a very bizarre case in the sense that he just simply vanished from the home, and there's no sign of struggle or anything else. There's nothing that would lead us to believe he was forced from the home."
The sheriff's department interviewed all the family members, as is standard procedure, Hughes notes, and says no one has been ruled out as a person of interest.
Khoi's parents have moved in with another son in Seattle, clinging to the hope good news will emerge from Vancouver, Hughes says.
For much more on Khoi Vu, click here.
If you have any information about Khoi Vu's disappearance, please call the Clark County, Wash. sheriff's office at 1-877-CRIME-11, or your local FBI office.
---
Monday, April 30, 2007
DEYSI BENITEZ
Deysi Benitez, 25, hasn't been seen for over a month. Police found her husband and four children dead in their Frederick, Md. townhouse.
As Thalia Assuras reported on The Early Show, investigators think her husband is the killer, but they're baffled by her disappearance.
In late March, says Frederick Police Lt. Tom Chase, officers found the bodies of her family: Twenty-eight-year-old Pedro Rodriguez had hung himself from a banister, and his four children, ranging in age from one to nine, were dead. The three daughters had been suffocated, and the son, perhaps killed by blunt force trauma to the head. All four had been covered from head to toe.
Investigators say Rodriguez killed his children before hanging himself, but there was no suicide note found. And there was no sign of Deysi Benitez. Police say she's not considered a suspect.
Notes Chase, "We've gotten no substantial lead on where she could be."
Officials have searched for more than a month, not even knowing if Benitez is still alive. Efforts have extended from a nearby pond all the way to her home country of El Salvador. The FBI has helped. Still, nothing, says Assuras.
Benitez was last seen by a neighbor at her house on March 18.
If you have any information on this case, please call the Frederick, Md. police at 301-600-2100, or contact your local FBI office.
---
Monday, April 9, 2007
GINA BROWN
The FBI says Gina Brown ran off with her dangerous, fugitive boyfriend more than two years ago, and could be in serious danger.
Gina Maria Brown, also known as Gina Farren Brown, is a "very good person. Very sweet. Very giving. A very good mom," her friend, Jackie Gibson, told CBS News correspondent Bianca Solorzano.
Brown would be 46 now. The divorced mother of a teenage son was living in a Pittsburgh suburb, working at a real estate company, and dating now 40-year-old Ralph Skundrich, nicknamed "Pretty Boy."
The FBI calls him a bad boy, who uses several aliases.
He's a "career criminal who dealt in drugs, which makes him even more dangerous," says Ray Murrow, special agent in charge of the bureau's Pitsburgh office. "He also has the ability to commit burglary, commit murder."
Brown and Skundrich met a dozen years ago while working out at a local YMCA, and began a rocky relationship.
"There were two occasions where she left him and returned to her family," Murrow says. "He did nothing but go after the family and intimidate them, and threatened to kill Gina at one point."
In March 2004, Skundrich was arrested for allegedly plotting a string of burglaries. Police say they found guns, drugs and stolen property.
Out on bail in early 2005, they say, he cut off his electronic tracking bracelet, and disappeared.
So did Brown, reports Solorzano: "She left the home where she had been living, she left her son with her ex-husband, and she left a note for her friend, and then vanished."
On her desk at work, Gibson found an ominous hand-written message from Brown, saying, "I shall leave a cold trail. … If not, you'll see me on the front page of one of the many local yokel papers."
"I believe," says the FBI's Murrow, "every day she spends with Skundrich, she's in great danger. … If she does anything he doesn't like, it could be the end for her."
The FBI says Skundrich could be hiding anywhere in the world, and if they find him, they'll find brown."
To see Solorzano's complete report,
If you know how to find Gina Brown, please contact the Pittsburgh FBI office at (412) 432-4000, or your local FBI office.

Thanks for reading CBS NEWS.
Create your free account or log in
for more features.