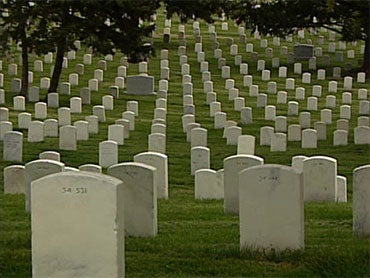 Missing Bodies Plague Arlington National Cemetery, Probe Finds
The scandal at Arlington National Cemetery is one of those "say it ain't so" stories.

The investigation by the Army's Inspector General which will be released later today reveals a dysfunctional management system behind what is arguably America's most sacred ground - everything from missing remains to lying under oath to sexual harassment. A handful of cases, about five, have already been identified in which remains were misplaced - a casket found in what was thought to be an empty grave, a burial urn dumped in a landfill, remains moved without the knowledge or permission of the next of kin, among them.

But a review of Arlington's antiquated paper filing system has identified 200 cases in which the paper trail fails to account for the whereabouts of remains. Now the Army will have to inspect each of those grave sites using ground penetrating radar.
Superintendent Jack Metzler, who was scheduled to retire on July 2, is being stripped of his authority but asked to stay on because after 19 years as superintendent (his father was superintendent before him), he is the institutional memory of Arlington. His deputy Thurman Higgenbotham is being suspended pending the outcome of a criminal investigation into whether he lied to investigators during a probe of hacking into the e-mail of an employee who was exposing some of the mismanagement at Arlington.
Regardless of the outcome of the investigation, officials say it is extremely unlikely Higgenbotham will ever return to the cemetery where he managed the day-to-day operations involved in the 125 burials that take place there each week.
---
David Martin is CBS News' National Security Correspondent. You can read more of his posts in Hotsheet here.
Thanks for reading CBS NEWS.
Create your free account or log in
for more features.