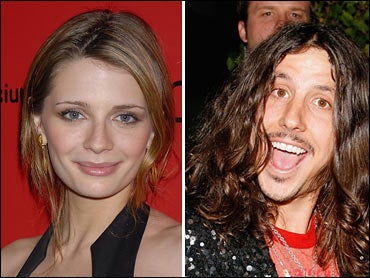 Mischa Barton And Cisco Adler Split
Actress Mischa Barton and musician Cisco Adler have split after nearly two years of dating, Barton's rep confirmed to Us Weekly on Thursday.
"Mischa and Cisco have decided to part ways," her rep told the magazine. "Mischa is moving east soon and they both have very demanding schedules."
The split comes on the heels of blog reports that Barton was peeved about a nude photo of Adler that surfaced on the internet. The snapshot was reportedly available on ParisExposed.com, the Web site that was displaying items retrieved from a storage space used by Paris Hilton. The site has subsequently been shut down temporarily.
On Wednesday, People magazine reported that Adler and Barton were still going strong. "They are fine – very happy together," said a rep for Adler's band, Whitestarr.
But in an interview with the New York Observer, Adler made it clear that the nude photo did upset his girlfriend.
"Mischa wasn't too excited, to say the least," Adler said. "I think it was actually worse for her than for me in some ways. So yeah, I'm gonna try to keep my pants on from now on."
Adler said the photo was taken several years ago. "Paris' sh—t got stolen, and somehow she had a picture of me naked in there," Adler said. "That's Paris Hilton to you."
"I think it's pretty rock 'n' roll. You know, if it was like yesterday I would've freaked out, but then I looked at the picture and I was like, 'Oh, that's from like 2001. Whatever,'" he said.
According to the magazine, the couple has been dating since August of 2005.
Thanks for reading CBS NEWS.
Create your free account or log in
for more features.