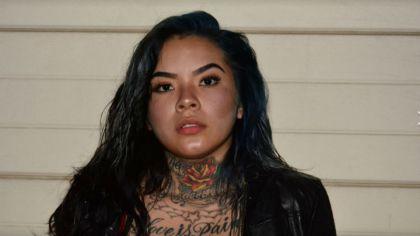 Mugshot of California mom triggers social media frenzy
FRESNO — Mirella Ponce's mugshot is turning heads on social media.
CBS San Francisco reports the 20-year-old Ponce was sporting neck and chest tattoos with the words "Love Is Pain" and "Pain Is Pleasure" that were visible in her mugshot.
She was arrested by Fresno police on Monday after being pulled over and found to have a gun and gang members in her car along with her baby.
"She was charged with possession of a firearm in a vehicle and she had her infant child with her," said Fresno police Lt. Mark Hudson.
She was booked into jail on a felony.
After Fresno police posted her photo to Facebook Monday night, it was shared over 4,500 times.
The photo received dozens of comments and more than 2,000 "likes" and reactions.
"The only crime she committed was stealing my heart," wrote one commenter.
A second commenter pointed out the facts surrounding her case: "All about her looks and not about the child in the car or the fact she's a gang member carrying a gun with other gang members."
Police also posted a photo of the firearm Ponce allegedly had at the time of her arrest, which drew additional comments.
Another person even offered to pay her bail, which raised another question.
Bondsman Charles Vang with Vanguard Bail Bonds noted that there is a liability for the person who pays for the bail.
Vang said if the inmate misses her court date, the person who covers her bail could be stuck paying the entire amount.
For Ponce, that amount is $155,000.
Legal analyst Charles Magill said her looks could help her in the court of law.
"I think the rule of thumb is judges do go more lenient on women period, because of the bias, frankly," said Magill. "But there are a lot of female judges out there as well."
The case comes two years after former Stockton inmate and now model Jeremy Meeks received nationwide attention for his looks.
Social media experts say the public sometimes turns to social media for a way to cope.
"You have this confluence of very serious events happening in our world and people looking for relief. And the internet is great for providing tons of information and providing relief from that," said digital media strategist Jennifer Neeley.
Thanks for reading CBS NEWS.
Create your free account or log in
for more features.