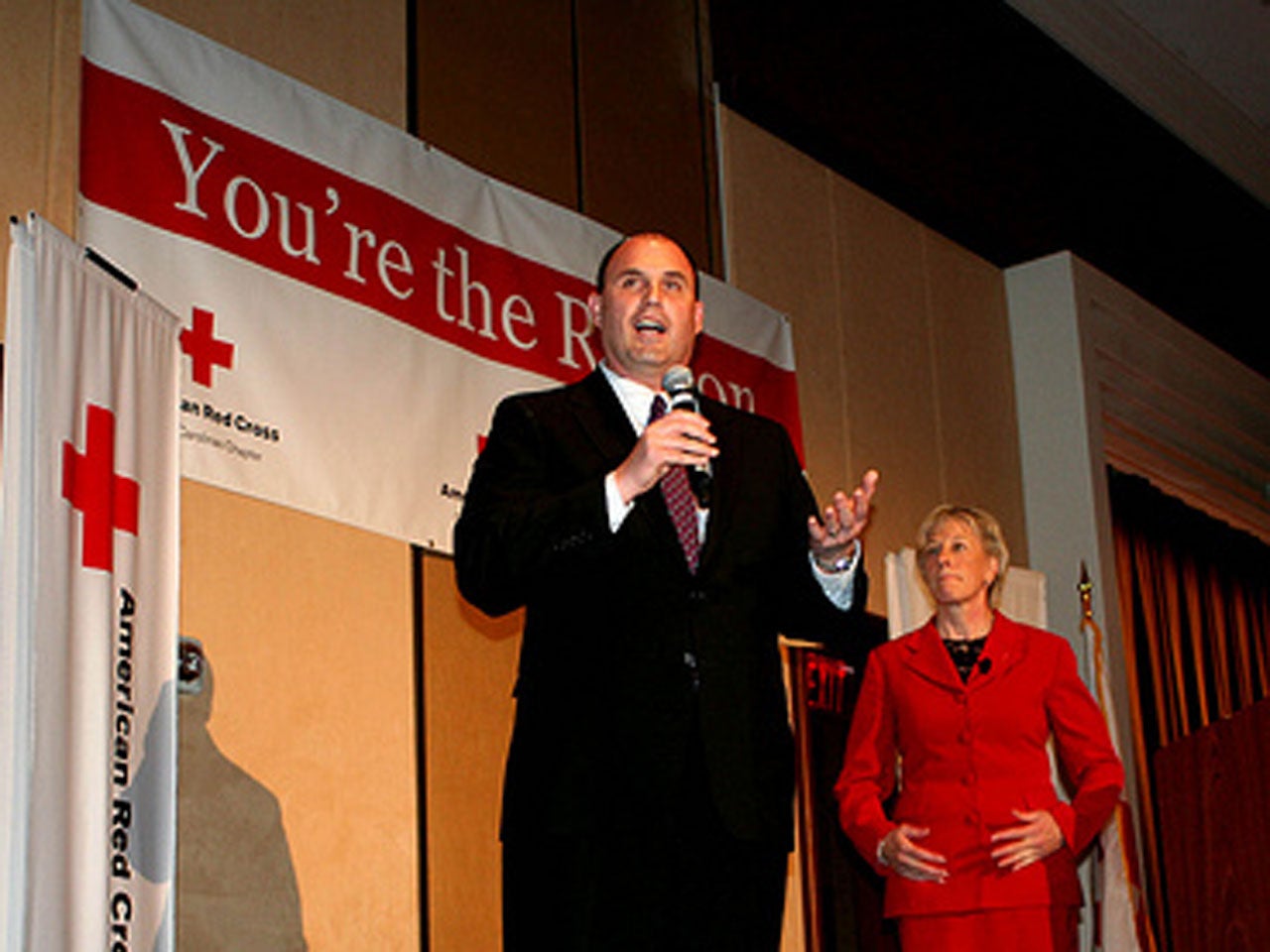 "Miracle on the Hudson" survivor gives back
At sometime in the past month I was on a flight to somewhere and I was sitting in the emergency exit row. The flight attendant came by before the flight and grilled all of us on whether we knew the proper procedures for exiting the aircraft in the event of an emergency. She took the job very seriously, even ejecting someone from his emergency exit seat because she didn't think he was serious enough about his responsibilities. The rest of us who remained in those two crucial rows of seats snickered for a minute and then stretched out in the extended leg space that emergency exit seats afford passengers lucky enough to sit there.
My thoughts on that experience changed completely when I met Dave Sanderson. Dave was one of the passengers of US Airways Flight 1549, also known as "the Miracle on the Hudson." Dave and the other 154 people on-board that fateful flight are some of the only people on the planet who can say they were in a plane crash and walked away, relatively unscathed.
Like so many of the passengers that were on the flight that January day in 2009, Dave now pays very close attention to where the exits are on each plane he boards. One time, he even asked a flight attendant to move a man sitting in the exit row next to him because that man had neglected to tell anyone that he had a false leg. Dave was concerned that the man would not be able to assist other passengers off the plane if there was an emergency.
But more than changing Dave's views on airplane safety procedures, the crash changed his entire outlook on life. This once driven businessman realized that life had more to offer than meetings and conference calls.
Captain Sully on "Miracle on the Hudson" plane's move to museum
Passengers recall "Miracle on the Hudson"
"Miracle on the Hudson" plane heads to museum
"I was very driven, I was very focused on business, serving my church and doing what I do at church but really I was focused on business and serving when I could fit it in," Dave told us in an interview with CBS News' Kelly Cobiella. "But when you go through something like this, it puts a different perspective on your life. And you realize there's more than you and your job."
Dave was the last passenger off the flight that day. He remained on-board long enough to make sure all the other passengers had made it out to safety before trying to escape onto one of the wings himself. It was only as he was exiting the plane that he realized the wings were already full. He had to stand in the frigid waist deep water for eight agonizing minutes, waiting for rescue crews to arrive. By the time he was rescued he couldn't feel his legs.
Once aboard the ferry, the rescue crews made a call that changed Dave's life.
"They called ahead and told them I was in the water and I was not in good shape so they had three people waiting for me at the dock. They had two EMT's and a guy from the American Red Cross with a blanket."
From that day forward, Dave has made it his mission to assist the Red Cross in helping disaster survivors everywhere. In the two-and-a-half years since Flight 1549 landed in the Hudson River, Dave has spoken at more than 200 events and raised in excess of $7 million. He has raised money to help victims from the Anaheim wildfires in California to the homeowners who lost everything in the Nashville, TN floods.
Dave even had to hire a former colleague form his day job at Oracle, Tammy Phillips, to schedule the speaking events he does in his spare time. To give you an idea of the time Dave commits to his new mission, his schedule is packed through April 2012 with speaking engagements. His next event is on June 23, where he'll be the key note speaker for a Red Cross fundraiser in Oklahoma City to help tornado victims.
While it's difficult at times to juggle a family (he is married with four children), his day job and his fundraising activities, Dave finds inspiration in the little things. Things as little as a pen, like the engraved Montblanc that he lost when the A320 plane he was on that day sank to the bottom of the Hudson River. A pen which US Airways sent back to him months later.
He took that pen, at the time covered in silt from the bottom of the river, to a Montblanc store and asked if they could repair it. In the process, the company heard his story and, in addition to fixing the pen, they asked to partner with Dave on his charitable mission. Their first joint event - a fundraiser and book signing at a Montblanc store - raised money for survivors of the 2010 earthquake in Haiti. It was a huge success and led to even more charitable collaboration.
Seeing the impact his story has had on so many businesses and individuals has proven to Dave that the message he has to share is a powerful one. A message of hope and resilience that Dave found on a day that could have ended in tragedy.
"If you read the Bible passage it says suffering produces endurance, endurance produces character, character produces hope and hope doesn't disappoint us. And that's what happened that day. From suffering to hope that quickly."
Thanks for reading CBS NEWS.
Create your free account or log in
for more features.