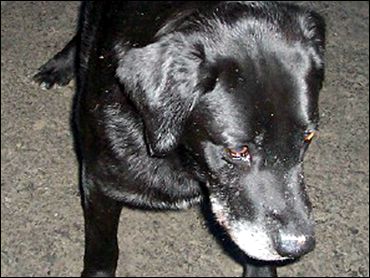 'Miracle' Dog Returns From Dead
A Labrador retriever has been found alive on an isolated cove of a Southeast Alaska island more than a month after its owner was given up for dead when his boat sank in rough seas.
Two local fishermen found the dog named Brick on Heceta Island several miles from the accident. The men had known the dog's owner, Greg Clark, who went down with his boat in late January.
Brick swam to the men's boat and was hauled aboard — underweight, with an injured leg, fur matted with tree sap, but wiggling with joy, according to friends of the fishermen.
The discovery of the 8-year-old dog last week sent a shock through the close-knit rain forest community of mariners and loggers, who had given up hope of finding Clark, 48.
"I was blown away," said John Pugh, a friend of Clark who has custody of the animal.
The dog was starting to rebound, Pugh told the Anchorage Daily News. "He's hungry as hell and a little skinny, but he's doing all right."
Clark was lost after his 32-foot boat Katrina broke apart Jan. 22 on rocks near Cape Lynch on the west side of the island, among a cluster of islands within the 17-million-acre Tongass National Forest.
Clark, a longtime beach logger who lived alone with half a dozen Labs and their pups, had been making a supply run into Craig from his home on Kosciusko Island when he radioed his boat had lost power.
With him was Brick, his constant companion, and a 2-month-old puppy Clark had planned to deliver to new owners in town.
A three-day search by local residents and Coast Guard crews found a rolled-up survival suit, part of the boat's stern and other debris, but no sign of Clark or his dogs.
Over the past month, people had resigned themselves that Clark and his dogs were gone, Pugh said. The animals left at home were adopted by Clark's brother in Oregon and friends in Alaska.
Then last Thursday, Kevin Dau — Pugh's partner in an oyster operation — was fishing for winter king salmon with his father off the northwestern coast of Heceta near the accident site. When the two men motored into Port Alice to anchor for the night, Dau saw a black animal on the beach.
"His father said, 'That's a wolf.' But Kevin said, 'No, that's Brick,'" Pugh said. "And he got out on the bow and started calling, 'Brick! Brick!'"
Brick's survival alone on the thick, jungly island during harsh winter weather has amazed and moved local people, Pugh said.
"It's such a rural area, your friends are really your family out here, and Greg was family to all of us," he said. "Losing him, it's hard to explain to people how we really felt. He was such a unique person. It's hard to explain when you're having to search for him and you don't know what you're going to find. Then, after a month, to find Brick — it brings back a whole slew of feelings."
Thanks for reading CBS NEWS.
Create your free account or log in
for more features.