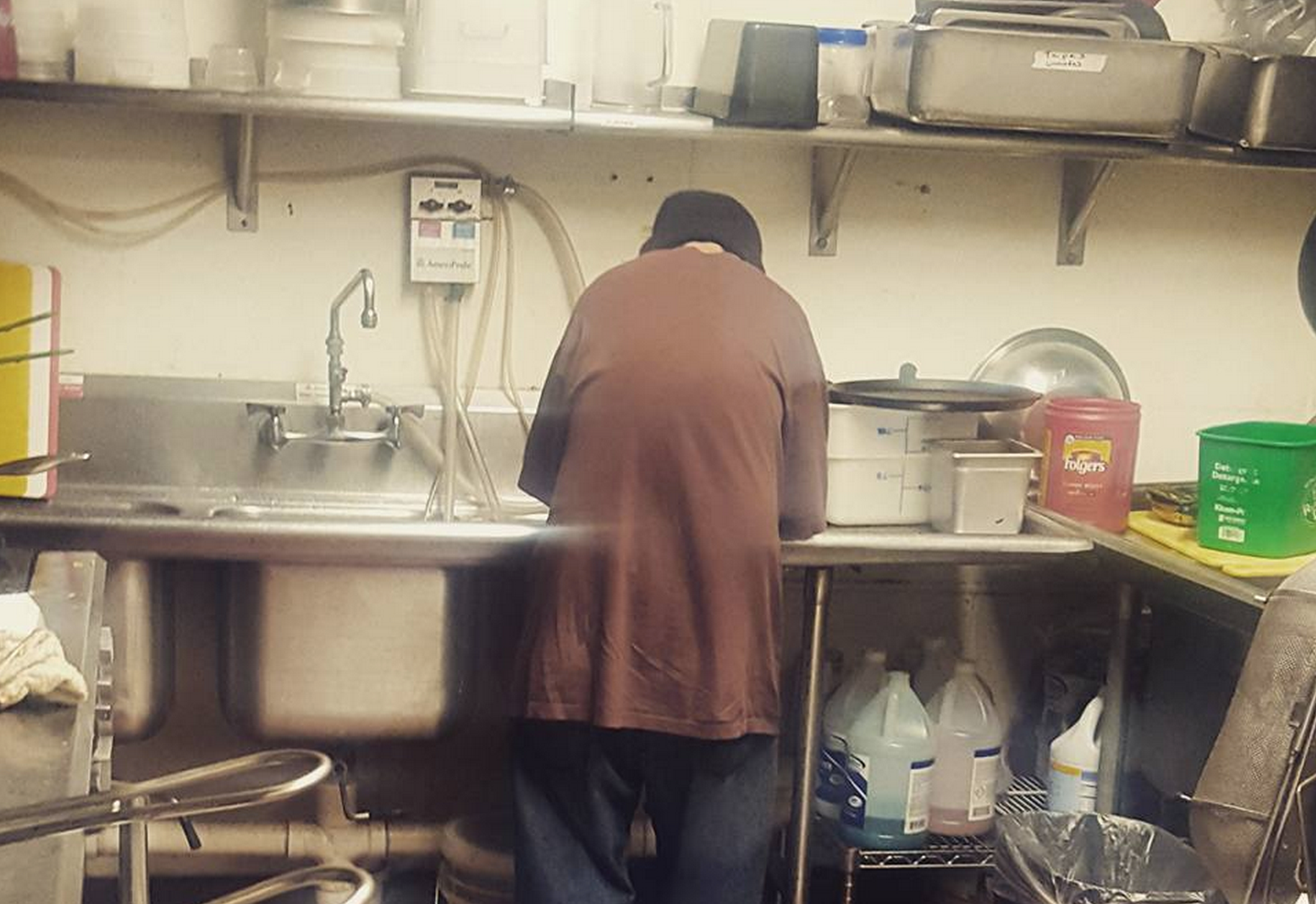 Minnesota cafe owner shows homeless man job, not the door
A baggy-clothed homeless man who walks up and down Minneapolis' Lake Street begging for change got more than he bargained for when he strolled into Cesia Abigail's cafe two weeks ago.
Instead of turning away the man, the 25-year-old owner of Abi's Cafe asked, "Why don't you have a job? You know nothing is given to me for free, right?"
Bowing his head down to avoid eye contact, the man named Marcus replied: "Well, I have a lot of felonies and no one wants to hire me for that. So, now I had to turn myself to the streets and get money the only way I know -- stealing and asking for money."
Despite hitting a rough patch in her business, a soft-hearted Abigail decided to offer the man a job washing dishes for the day.
"You want a job? Then I have one for you," Abigail told him.
With a big grin, the man gladly accepted the woman's offer: "I will do anything for food."
"A lot of people are saying I've been a blessing for him, but at that point I was the one who needed a blessing," Abigail told CBS News.
As Marcus finished washing his hands and began to tie an apron around his waist, Abigail offered him a sandwich.
Before eating, he wrapped half of the meal in foil, ran outside and gave it to another homeless woman on the street.
"That really touched me," Abigail recalled.
After putting in two hours of work -- the number of hours Abigail could afford to pay him, Marcus was on his way. The next day, he returned.
For the past two weeks he's been on time for his two-hour shift. And today, Abigail plans to make his position permanent.
"Some restaurants wouldn't even let you use their restrooms," she said. "I don't judge someone on how they look -- go use it. I do not treat [homeless people] any different."
If restaurants and businesses don't do anything to help the less fortunate, then they become part of the problem, Abigail said.
Last weekend, Abigail shared Marcus' story on Facebook to encourage others to give strangers a shot; the post was shared more than 30,000 times and received more than 1,500 comments.
"We need more people like this," one person commented on the post. "We are all human; we make mistakes."
"All we need sometimes is a helping hand," another said.
Marcus, who has been living on the streets since he was 16 years old, still has a long way to go to turn his life around.
"It's going to be hard for him to let go of whatever addiction he has," Abigail said. "I want to help [him], but [he] needs to want to help [himself.]"
For now, the pair decided to take 10 percent from his paycheck and set it aside so he can start learning to save his money.
"Just like Marcus, I had my help," Abigail explained. "I had plenty of people to help make it to where I am today. They believed I could do it. People need to have someone believe in them."
Thanks for reading CBS NEWS.
Create your free account or log in
for more features.