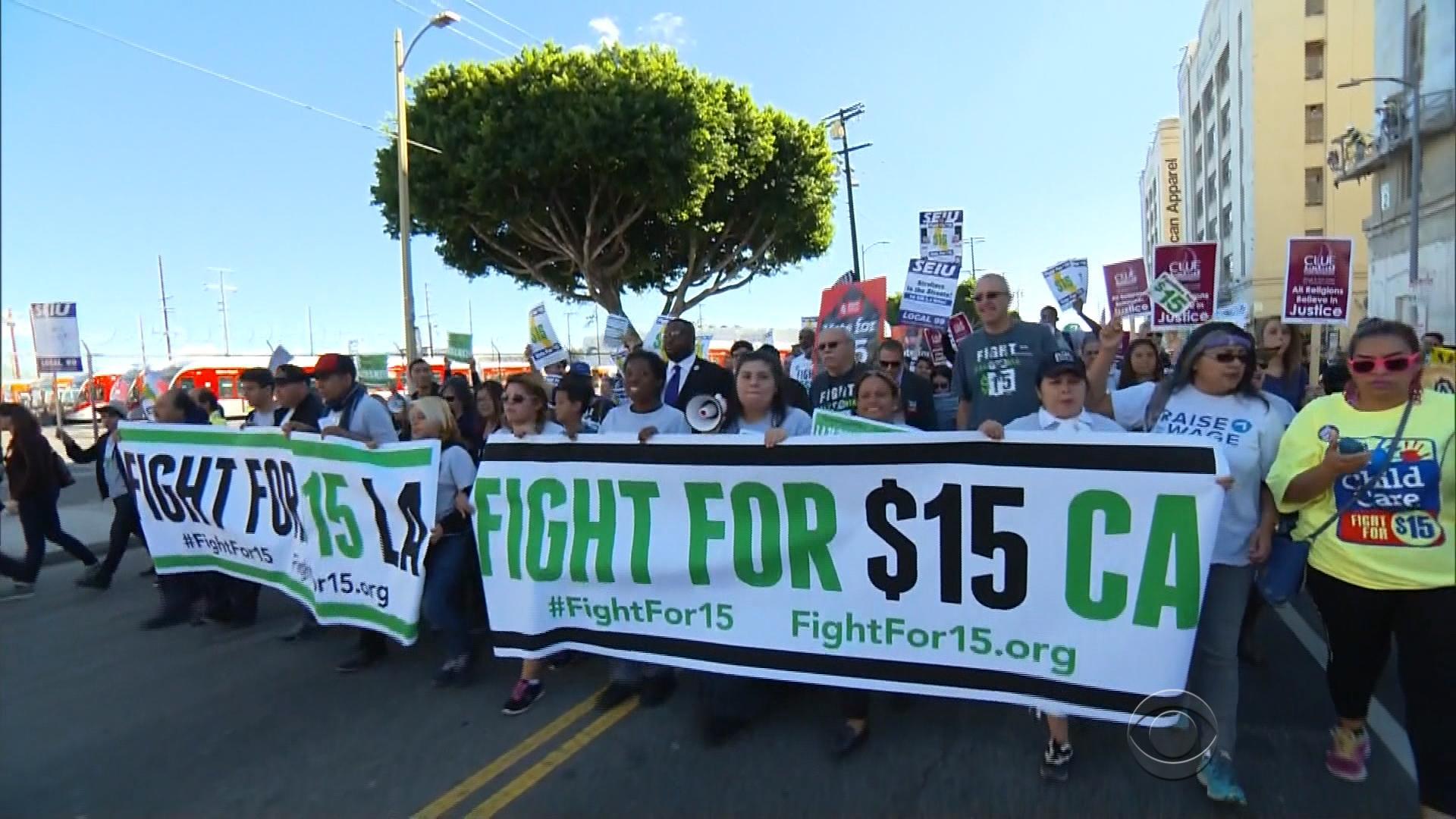 Millions of U.S. workers will ring in the new year with a raise
Millions will ring in the new year -- with a raise. The minimum wage is going up in 20 states and Washington, D.C. as well.
They've been demanding a higher wage, and they're about to get it -- welcome news to California fast food worker Ashlee Adams.
"I just had my son," Adams said. "I don't make enough to go to college."
California's minimum wage will rise fifty cents on New Year's Day, to $10.50 an hour.
Other states will see more dramatic hikes. Workers in Maine will make $1.50 more per hour. And in Arizona, minimum wage workers are getting an increase of almost $2 an hour -- a 24% raise, which restaurant owner Bill Riddle warns comes with consequences.
"It'll be reflected in menu prices," Riddle said.
"Food will cost more, definitely."
"The sad truth is that everybody thinks that this is a free lunch," said Rick Berman, executive director of the Employment Policies Institute.
Berman said raising wages could put jobs at risk.
"Small labor cost increases get passed on in price increases. When you can't capture it in price increases you start to layoff people, you start to cut hours."
Higher wages could also push employers to invest in new technology that will replace some workers altogether.
But minimum wage advocates say those are scare tactics, and for Frank Trejo, a maintenance worker at McDonald's, even a small raise adds up.
Fifty cents an hour is about $1,000 more a year. CBS News asked Trejo what he could do with that sort of money.
A lot," he said. "Afford more food, more clothes for my nieces and nephews and just be able to help my mom with the rent and stuff more."
Some cities are raising minimum wages even higher. Seattle's will go up to $15 an hour on Sunday. That's more than twice the federal minimum wage of $7.25 an hour.
Thanks for reading CBS NEWS.
Create your free account or log in
for more features.