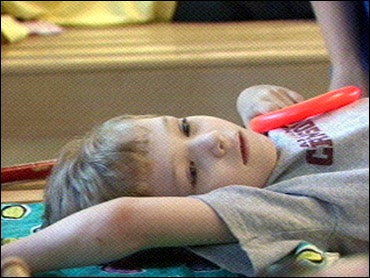 Blaine Mayo is an 8-year-old boy with a wonderful smile, but he's a boy who cannot walk, stand or use his arms. Blaine was born with cerebral palsy.
In America, about 8,000 children are born with cerebral palsy each year. Their brains are damaged at birth, usually because of a temporary lack of oxygen. Cerebral palsy breaks the connection between mind and muscle.
Most often, children with cerebral palsy, like Blaine, settle into wheelchairs for the rest of their lives. But, as Correspondent Scott Pelley reported this winter, Blaine's parents are doing something extraordinary.
They've moved half a world away to a place where wheelchairs lie motionless and children with cerebral palsy rise. They believe Blaine will walk. And they've rejected the advice offered by their American doctors.
"It's basically, 'Let's sit him in a chair. Let's strap him up. And let's adapt everything around him so that he doesn't have to work very hard,'" says Blaine's mother, Lesley. "Which is all well and good. Except then you end up with a child that can sit in a wheelchair and can't do anything for himself."
Blaine was born with one of the most severe forms of cerebral palsy. He has almost no control of his legs, his arms, even his jaw. At 4, he was unable to eat or even sit up by himself.
Lesley says that doctors told her Blaine would probably never walk on his own: "Never. Not functionally. So there was no point in trying. But over here, of course, the first thing they mentioned was this child can walk."
The Peto Institute is in Budapest, Hungary – 5,000 miles from the Mayos' home in Alabama. Lesley and her father, Robert Dillard, who took an early retirement, are here with Blaine. Blaine's father stayed behind to work.
They don't have jobs here, and they don't speak the language. But they see no other alternative. "Either you stay at home and you accept less for your son, or you bite the bullet and ask to raise money and bring yourself over here," says Lesley.
Blaine is able to work at something, developed at the Peto Institute, called conductive education. The teachers (called conductors) show the children how to move, and for eight hours a day, five days a week, they repeat the routines to near exhaustion.
The idea is this: If the brain is forced to try, it will find a way to connect mind and muscle.
Right now, Blaine is trying to learn to walk. Holding himself up on a ladderback chair, he's pushing with his eyes on the prize. His mom is 40 feet away. The muscles he can control are all in his face. And everything about his struggle is written there.
While other American moms are cheering at soccer games, Lesley is beaming encouragement to get her son another fraction of an inch. His foot on the right side of the screen is lifting, and he's pulling the heel up — the beginning of a step.
All he has to do is push with the ball of his foot. But he's caught in the middle. Finishing the step takes more strength than he has.
In the early days, did Lesley have any second thoughts? "Yeah, the first week," says Lesley. "It's funny though. You care for your child and you don't want to see your child go through that, but you've seen how the other children have come out the other side. So at that point, if you want the honest truth, you're going, 'Gosh, I wish he could do this, and I wouldn't have to watch.'"
Parents like Lesley have been watching their children in the Peto Institute for nearly 60 years. Americans haven't heard about it because most of its time it was hidden in the shadow of the Iron Curtain.
Just after World War II, a Hungarian doctor by the name of Andras Peto decided to challenge cerebral palsy to a fight over every kid who was destined for a wheelchair. Peto thought that just because a child was born with brain damage, it didn't necessarily mean that he was incapable of learning skills that might lead to an independent life.
Today, 1,500 children are there from all over the world. The institute takes in any child under the age of 3 and older kids without severe learning disabilities. Training costs $60 a day for kids who travel there to enroll for months at a time. Results take years, but kids help each other with skills and maybe a little encouragement.
Jill Anderson traveled to the Peto Institute from England when she realized her infant daughter, Olivia, wasn't able to move like other children.
Olivia has been there for nearly two years, and she can sit up, crawl and stand. "She actually took her first steps last week here, 10 steps on her own," says Jill. "It was a very emotional time."
It's the intensity of the Peto approach that makes it different from other therapies. Back in the United States, kids may get occupational or physical therapy. But most often, it's only for an hour or two a week. Parents are expected to follow up at home.
But at the Peto Institute, conductors, who have been trained in this program for years, spend 40 hours a week with the children.
Ildiko Kozma, director of the Peto Institute, makes an extraordinary claim of success for kids who start the program before they're 3 years old: "Between the ages of six months and 3-4 years of age, 80 percent of these children will go to a normal elementary school."
"They won't be dancers, they won't be people whose first activity is moving, but they will live a normal, average human life," says Kozma.
Normal, average life is possible for many because half of all kids with cerebral palsy have a normal intellect, so they can learn like any other child. It's only the muscles that fail them.
Most of the time, it's hard work on hard wood for these kids. A group of six-month olds may be ready for a nap, but instead, they're working on a table called a plinth. Peto modeled it on a Nazi concentration camp bunk with little cushion or comfort. The idea is to force a child like Blaine to feel the movement -- a controlled and constructive use of pain.
"He [Blaine] has bruises. All the kids have them and they laugh about them, because they've been working so hard," says Blaine's mother, Lesley.
"It's a hard surface, and I know it's difficult on him, but it makes him want to do the exercises quicker and get off of there. It makes him want to do them right so he's finished with it. Everything they're doing on the plinth is strength and flexibility, which he needs both of."
Blaine's been there six months, and he's been working along side a 14-year-old American girl named Havia Quereshi, whose family immigrated to North Carolina from Pakistan.
Havia's legs are every bit as impaired as Blaine's. At 4, Havia was unable to walk, and unable to lift her shoulders off the couch. Her father, Amir, says the American doctors gave her a grave prognosis: "They told me that your child is never sit by herself -- her life expectation, 20 to 25 years."
Amir had been watching his daughter in the Peto Institute for four years, and this year, she's walking to her seventh-grade classes in public school back in the United States. She has an aide who walks with her from class to class. She has trouble talking, so a lot of her work is done on the computer. But despite all of that, her father told 60 Minutes that Havia is an "A" student.
"Now I can see the light at the end of the tunnel. There is hope that she will become independent," says Amir. "Maybe it takes two year, or three year. That way, she's progressing, I can wait few more years that she become independent."
Parents like Amir, who see children taking impossible steps, are Peto's greatest believers. But the American medical establishment is skeptical.
Dr. Carolyn Green, who treats kids with cerebral palsy in Cleveland, says there hasn't been a long-term, independent study of Peto.
"There is literature from there. It's very positive. It's almost suspiciously positive. And I don't mean that they are falsifying data. That's not what I mean at all," says Green.
"It feels too good to be true when you look at it. When I look at that question a little bit more, because I have seen it with my own eyes, and it is effective, it is wonderful. I probably wouldn't use as strong positive descriptions as I've seen some of the literature that comes from its home country."
But what Green is seeing is the development of conductive education in America. There are now programs in 20 states. A few of Green's patients are enrolled at the United Cerebral Palsy Wolstein Center in Cleveland. They're working with Peto-trained "conductors" from Budapest 15 hours a week -- not because their doctors prescribed it, but because their parents demanded it.
But parents like Lesley Mayo, who have been frustrated by limits set in America, are finding hope in Budapest.
"I don't think they see limits. They give you time frames. I mean, they do. They said in two or three years, your child will walk," says Lesley Mayo. "And I totally believe that."
Thanks for reading CBS NEWS.
Create your free account or log in
for more features.