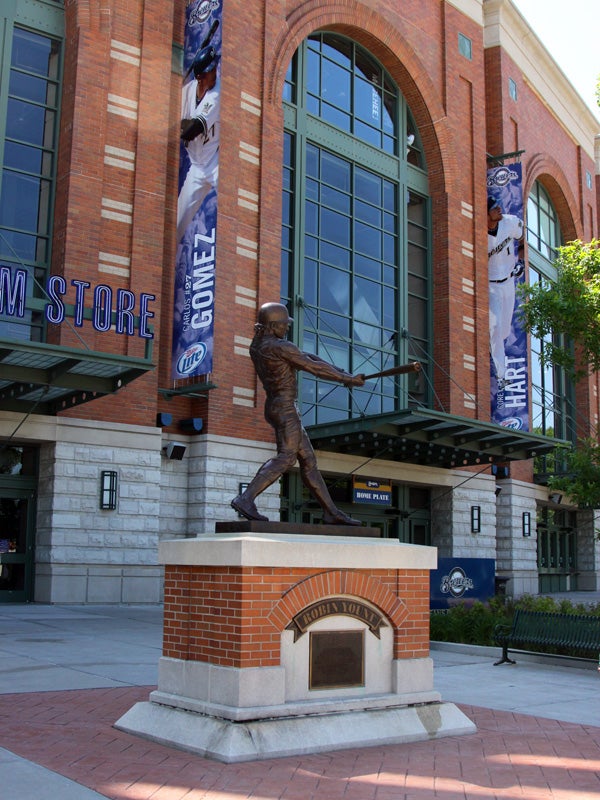 Miller Park: Beer, Bratwurst & Brewer Baseball History
The Brewers have come a long way over the past four decades. The Seattle Pilots were one of four expansion teams in the big leagues in 1969. But after one season, the Pilots went bankrupt and were bought by Milwaukee businessman Bud Selig. The Pilots were renamed the Brewers after the 1901 American League team that left Milwaukee after one season. (The first team named the Brewers played in the Union Association in 1884, but folded after 12 games.) The Brewers replaced the Braves who skipped town for Atlanta after 1965 season due to declining attendance. The new Brewers made their home in the Braves old ballpark, County Stadium. Milwaukee had little success on the field in the early days. All told, the franchise has enjoyed only 14 winning seasons in their 40 seasons. But their fortunes changed in the late 70s and early 80s when the team developed young players and acquired veterans through trades and early days of free agency. The Brewers finished above .500 six straight seasons and won the American League pennant in 1982 with MVP Robin Yount and Cy Young award winner Pete Vuckovich. Dubbed "Harvey's Wallbangers," the team lost the World Series to the St. Louis Cardinals in seven games. By the '90's, as larger markets outbid many organizations for top free agencies and poor management, the Brewers fell into the second division for 12 straight seasons. When baseball expanded in 1998, the team moved to the National League. Miller Park was opened in 2001, built to replace Milwaukee County Stadium. The only sporting facility to have a fan-shaped retractable roof, Miller Park has a seating capacity of seating 41,900 and with standing room 43,000, which is 10,000 fewer seats than County Stadium. Under new ownership of Los Angeles investment banker Mark Attanasio (who bought the team in 2004) and a solid base of young talent with players like Prince Fielder, Ryan Braun and Yovani Gallardo, the Brewers returned to the playoffs in 2008. The future looks more promising for the fans of the Brewers in the NL Central than it did when the team played in the American League Food and beer is plentiful at Miller Park - and so is good baseball. The sausage race in the 6th inning is a fan favorite featuring the five meaty competitors. Bernie Brewer sits on his dugout awaiting a Brewers home run or victory to heads down his slide above the left field bleachers. A tour of the ballpark is recommended and nearby the Miller Brewery for its free beer.
Thanks for reading CBS NEWS.
Create your free account or log in
for more features.