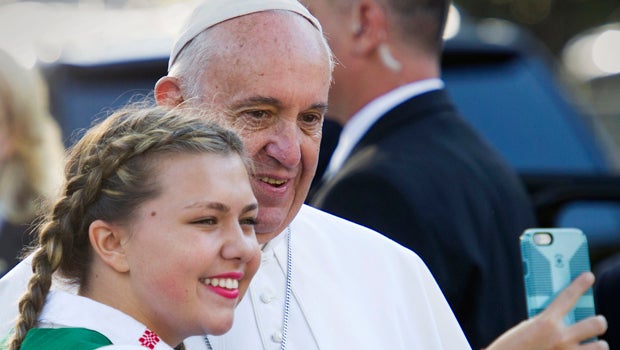 ​Millennials connect with Pope Francis on social media
PHILADELPHIA -- As hundreds of visitors line up to write prayers on strips of cloth at the Knotted Grotto art installation at the Cathedral Basilica of Saints Peter and Paul, 18-year-old Cassie Sadie has a message of her own, typed in 140 characters or less.
"Thousands & thousands offering their prayers up to Our Lady Undoer of Knots #Beautiful #GoodIsWinning," she tweeted.
Sadie is one of the 60 "digital street team" volunteers who are documenting Pope Francis' U.S. trip for a social media campaign called Pope is Hope. It is coordinated and funded by Aleteia USA, a Christian global media company.
"It's so neat," Sadie said. "I never thought I can come to Philadelphia to see the Pope much less to document it or to see it in person. This is definitely a life changing experience."
Mari Eboli, 21, covered the papal motorcade in New York City's Central Park. Hours of waiting finally paid off.
"It was amazing," Eboli said. "It was worth the wait for sure. I actually called my grandma all the way in Brazil. She cried. I cried. It was very emotional."
The rest of the team, at least 15 more volunteers are working out of a "social listening center" inside a homeless shelter in Philadelphia.
The campaign uses hashtags #PopeIsHope and #GoodIsWinning, and even "Pope-emojis," showing the leader of the Catholic Church at various American tourist attractions.
The leader of this youthful campaign is actually 63-year-old Kathleen Hessert.
"The intention of the campaign is to connect millennials and the church," said Hessert, "so that the conversation can get going and can be amplified all around the world."
With more than 23 million followers and Twitter accounts in nine different languages, Pope Francis is one of the most influential leaders on the Internet.
"He has a small team of advisers, who come up with the messages, but Pope Francis gives them the themes, the ideas that he wants to be communicated," said Michael O'Loughlin, reporter for the Boston Globe's Crux and author of The Tweetable Pope.
"This is a Pope who wants to be walking with people, who dives into crowds at the Vatican to be with them," O'Loughlin said. "He realizes that most of us are on screen a lot of the day. So he's willing to learn what it's all about, and adapt his message to fit into 140 characters."
Hessert says her team will share social media data with the Catholic Church, so it can better understand what matters to the millennials.
"There are millions of nuggets of information," Hessert said. "We glean the most valuable ones, and paint a picture for anybody in the church who is interested."
"There is so much good in the world that is often not talked about," Sadie said. "I love how this campaign talks about good is winning, and it is winning in the world!"
"We want the youth to connect not back to religion itself, but into doing good things," Eboli said. "Staying humble... If you want to help others to do good, social media will be the best way to do it."
Thanks for reading CBS NEWS.
Create your free account or log in
for more features.