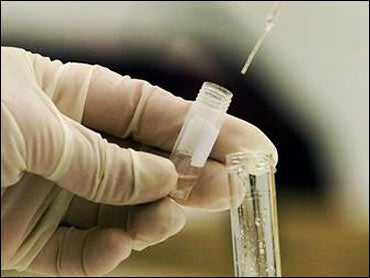 Military Vaccine Woes Mount
Dennis Drew was prepared to fight the enemy in Iraq, but never got the chance. After his military vaccinations, his immune system completely unraveled.
"Severe pneumonia and myocarditis, I think almost killed me," said Drew, a U.S. Army chemical weapons specialist.
Now living in constant pain, daily life is almost unbearable. His illnesses are nearly identical to those suffered by Rachel Lacy before she died last spring. The coroner said her military shots were likely to blame.
It's estimated thousands of soldiers claim serious illnesses from military vaccines. But to them, the most maddening thing is they don't exist -- at least in the eyes of top military brass -- who insist there is, quote, "no evidence, none whatsoever" that inoculations cause any long-term problems, reports CBS News Correspondent Sharyl Attkisson.
That includes blood clots.
The military denied any possible link to vaccines when NBC War Correspondent David Bloom died at age 39 of an apparent blood clot after his military shots.
Yet a CBS News investigation has uncovered more than a dozen cases of the vaccines being linked to blood clot problems. It's suspected in Drew's illness, confirmed by the military's own records in former Army Captain Jason Nietupski who developed blood clots in his legs, and documented in former navy nurse Julia Dyckman.
Dyckman's immune system fell apart after her shots for the first Gulf War. Now she has debilitating problems from brain lesions to dissolving neck bones.
"It's harder to live with these illnesses than if I was shot in combat," said the retired U.S. Navy captain.
She watched the latest deployment with a mix of interest and dread.
"I was worried. And I also had another reason to be worried because I also have three sons in the military right now," she said.
Sons who may be ordered to get the shots themselves -- those who refuse are court-martialed or kicked out of the service.
Their lives forever changed, the victims old and new desperately want to find out why the vaccines are making some soldiers so sick, but say they can't fight the enemy if the Pentagon denies the enemy exists.

Thanks for reading CBS NEWS.
Create your free account or log in
for more features.