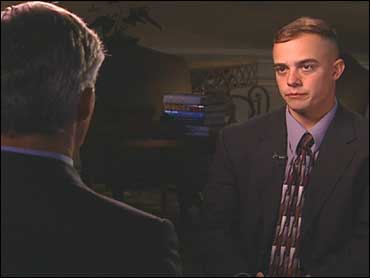 Military Subpoenas CBS Haditha Video
Military prosecutors say unaired footage of a CBS interview given by a Marine squad leader contains admissions of crimes in an attack that killed 24 Iraqi civilians.
Staff Sgt. Frank D. Wuterich "apparently admits in an unaired segment that he did in fact order his men to 'shoot first and ask questions later,'" Capt. Nicholas Gannon said in response to a motion filed by CBS seeking to quash a subpoena seeking the footage.
CBS is set to ask a military judge Friday to throw out the subpoena during a pretrial hearing for Wuterich, who faces voluntary manslaughter and other charges in the Nov. 19, 2005, deaths in Haditha, Iraq.
In its motion, CBS says the subpoena would be "unreasonable and oppressive," and turn a news organization into an investigative arm of the government.
"This fishing expedition is particularly inappropriate given the numerous other sources of information concerning the events underlying this court-martial," according to the motion obtained by The Associated Press.
The subpoena stems from an interview aired on March 15, 2007, on "60 Minutes" entitled "The Killings at Haditha."
In the interview, Wuterich recounted to CBS News Correspondent Scott Pelley his recollection of the events that led to the deaths.
The deaths occurred after a roadside bomb hit a Marine convoy, killing the driver of a Humvee and wounding two other Marines. Wuterich and a squad member, Sgt. Sanick Dela Cruz, allegedly shot five men by a car at the scene. Wuterich then ordered his squad into several houses, where they cleared rooms with grenades and gunfire, killing unarmed civilians in the process.
The manslaughter charge against Wuterich, 27, includes specifications of a personal role in at least nine killings, naming seven victims plus one or more unknown people, and the allegation that he ordered a lance corporal to kill someone.
In the CBS motion, attorneys Lee Levine and Seth D. Berlin contend there have been multiple government investigations into the Haditha incident, and numerous witnesses provided statements to investigators.
California has one of the nation's most protective statutes shielding journalists from prosecutors' inquiries. The law generally allows journalists to decline to divulge unpublished material to state authorities, but the protection does not extend to federal courts, which include military courts.
CBS says testimony is available from witnesses, including members of Wuterich's squad who are not being prosecuted.
But prosecutors, who have previously said squad members are "far from cooperative," say it is apparent to them from Pelley's narration that Wuterich made admissions in unaired footage.
In the response, Gannon writes that Pelley's questions and his narration are apparently based on information Wuterich must have provided during the interview.
The network had no comment on the subpoena or the pending hearing, said Sandra Genelius, a spokeswoman for CBS News, which is a division of CBS Corp.
Four enlisted Marines were initially charged with murder in the case and four officers were charged with failing to investigate the deaths. Charges against four of the men have been dropped, and none will face murder charges.
Still facing court-martial are Lt. Col. Jeffrey R. Chessani, who is charged with dereliction of duty and violation of a lawful order on allegations that he mishandled the aftermath of the Haditha shootings; and 1st Lt. Andrew Grayson, on charges of making false official statements, obstruction of justice and attempting to fraudulently separate from the Marine Corps.
Wuterich is scheduled to be court-martialed March 3.
Thanks for reading CBS NEWS.
Create your free account or log in
for more features.