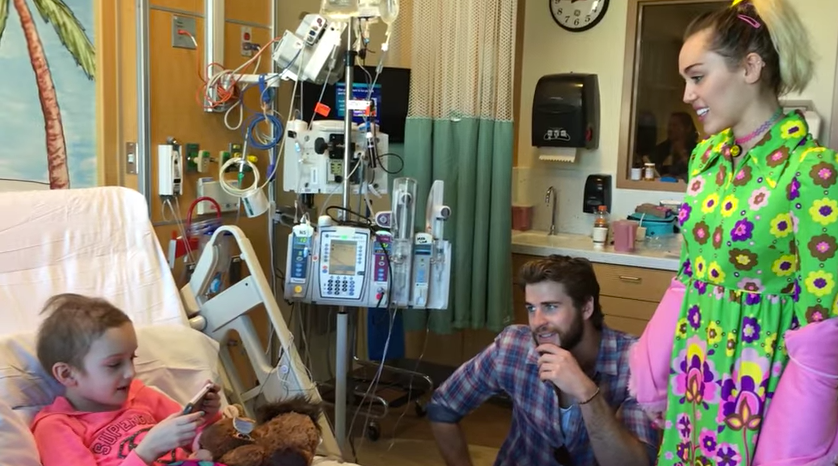 8-year-old cancer patient's sweet serenade brings Miley Cyrus to tears
When 8-year-old cancer patient Julia Davidson serenaded Miley Cyrus and Liam Hemsworth during a visit to Rady Children's Hospital last week, the pop star couldn't help but tear up.
The famous couple secretly arranged a visit to the San Diego hospital, and neither Julia nor her parents, Jessica and Todd Davidson, knew the surprise they were in store for that day.
Nurses told the parents to grab a piece of paper and to stay in their rooms on Thursday.
"I was thinking, "Gosh, a piece of paper? Must be for an autograph," Jessica recalled. "I had no idea it was Miley Cyrus!"
But sure enough, the pop star and her beau popped into Julia's room — and her face immediately lit up.
"That's Miley Cyrus; she's a judge on 'The Voice,'" Jessica whispered in her daughter's ear.
Julia is constantly singing to nurses and doctors, so an employee at the hospital nudged her to serenade the pair with the song "Rainbow Connection." The little girl eagerly agreed.
"I'm a full-time musician," Todd explained. "She was raised around rehearsals and productions. She loves to sing."
Todd recorded a video as his daughter began to sing to Hemsworth, sitting bedside, and Cyrus, who was standing across from her.
"This is my favorite song!" Cyrus exclaimed as Julia began. "That's the best song."
Less than a minute into Julia's song, Cyrus began sniffling, wiping her eyes as a nurse comforted her.
"You made me cry because you were so beautiful," Cyrus said as Julia finished. "That was so beautiful. Do you know how important it is to make people cry when you sing?"
"That's a really good gift you've got. Amazing," Hemsworth added.
"If I was in my 'Voice' chair right now I would have turned around for you, for sure," Cyrus said.
A bashful Julia smiled as the pair sang her praises.
The 8-year-old was diagnosed with neuroblastoma in April 2015. Last January, after several rounds of chemotherapy, Julia went into remission. But she still receives monthly treatments.
"This type of cancer that she has requires ongoing treatment to prevent relapse," her father explained. "This treatment's been going on over a year and a half now and will continue for some time. She's been doing really well and we hope everything just works out."
The family agreed, the celebrity couple's more than 20-minute visit was a "bright spot" during the holidays. Todd shared a video of the emotional moment on YouTube, which has been viewed more than 400,000 times.
"It was very, very, sweet and unexpected," Jessica said.
"We didn't get the feeling she was there because she had to be there," Todd added. "It was something she wanted to do to cheer up the kids. She visited almost all the kids on the oncology floor."
Thanks for reading CBS NEWS.
Create your free account or log in
for more features.