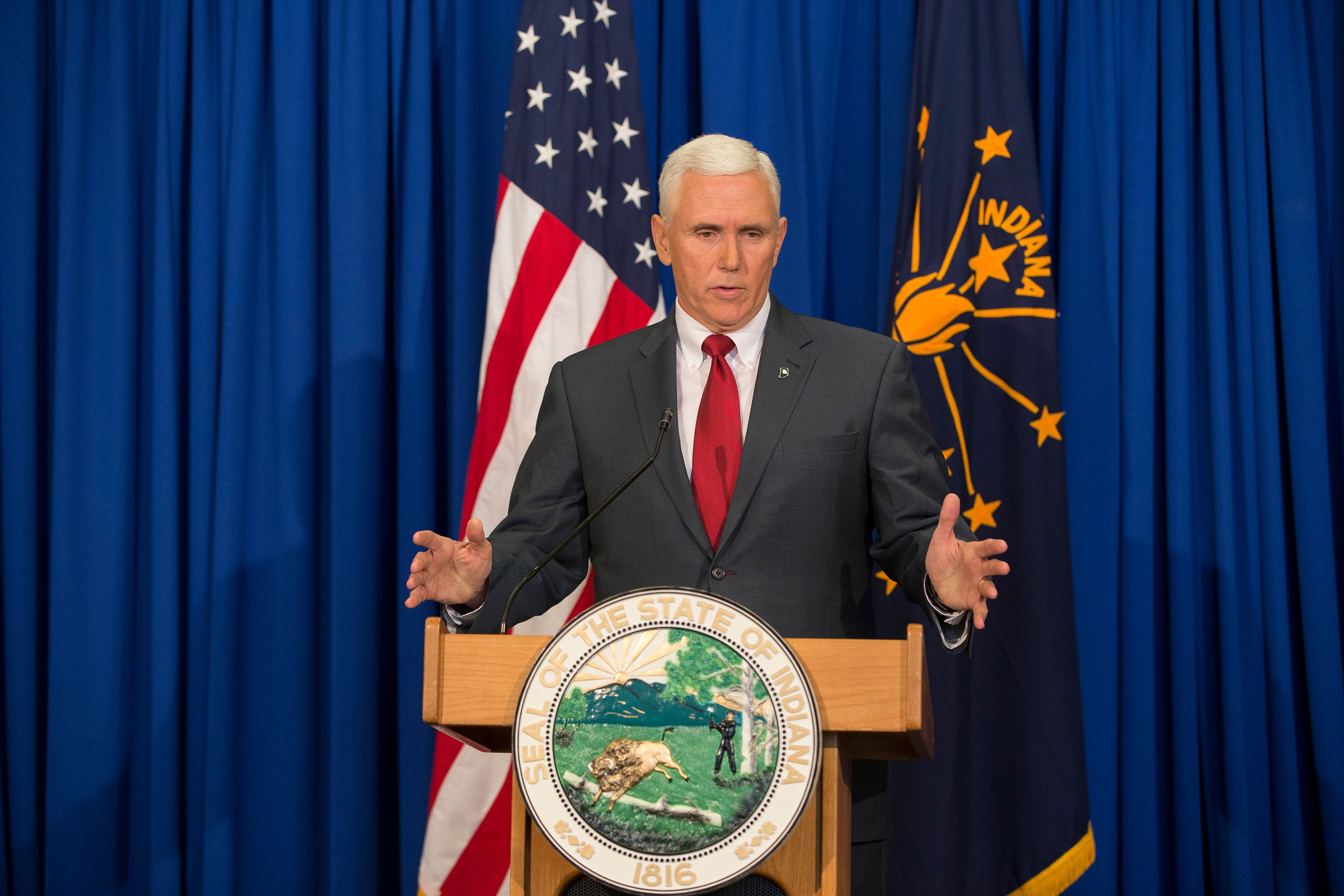 Mike Pence promises to clarify Indiana religious freedom law
Amid an uproar over Indiana's new Religious Freedom Restoration Act, Gov. Mike Pence has promised to clarify the law to make it clear that it does not give businesses a license to deny service to gay and lesbian citizens.
Pence has coming under fire since he signed a religious freedom bill into law earlier this month. While supporters say the law ensures the government can't infringe on how they exercise their religious beliefs, opponents argue it gives individuals and businesses carte blanche to discriminate against gays and lesbians.
"After much reflection and in consultation with the leadership of the general assembly I've come to the conclusion that it would be helpful to move legislation this week that makes it clear that this law does not give businesses a right to deny services to anyone," Pence said at a press conference Tuesday morning.
"We want to make it clear that Indiana is open for business...that Hoosier hospitality is not a slogan, it's our way of life," he said.
But the state's Democratic leaders say Pence's proposed fixes aren't enough to undo the damage.
"The most clear, decisive and understandable thing we can do is to repeal the statue and repeal it promptly. Once that is done we have a foundation and a beginning to repair the state's image. Reparing the state's image will entail putting new provisions into the law to make clear that everyone in Indiana is treated fairly and equally," Democratic House Minority Leader Scott Pelath said in a press conference later Tuesday. "That may be a tough remedy for the governor and the legislators to accept, but they must accept it."
Senate Democratic Leader Tim Lenane similarly called for a "bold" move by the state, recalling the disapproving reaction from the business community.
"They clearly see something in this bill which is very, very toxic and very, very wrong. They do think that unfortunately this bill sends a terrible message about what's going on in the state of Indiana," he said.
The governor has consistently defended the law, writing in a Wall Street Journal op-ed published Monday evening, he wrote that he abhors discrimination and would not eat at a restaurant if he saw the owner refuse to serve a gay couple.
"Some express concern that Indiana's RFRA law would lead to discrimination, but RFRA only provides a mechanism to address claims, not a license for private parties to deny services. Even a claim involving private individuals under RFRA must show that one's religious beliefs were 'substantially burdened' and not in service to a broader government interest--which preventing discrimination certainly is. The government has the explicit power under the law to step in and defend such interests," he wrote.
Pence argued that the backlash was a result of the legislation being "grossly mischaracterized" by opponents and the national media.
"What explains the concerns that have been expressed across our state and across the nation is the mischaracterization...that's why I think we need to focus specifically on this perception that this creates some license to discriminate," he said.
But others are still gunning for a more robust change to Indiana state law. Indianapolis Mayor Greg Ballard on Monday afternoon called on the Indiana General Assembly to add sexual orientation as a protected class to its state civil rights law, in response to the state's new RFRA.
The front page of Tuesday's Indianapolis Star featured the words "Fix this now" in large white letters. Other state leaders have criticized the law and banned state- and city-funded travel to Indiana, and business leaders have vocally condemned it. The Indianapolis-based company Angie's List put a $40 million expansion project on hold, and Apple CEO Tim Cook authored an op-ed in the Washington Post, in which he wrote, "on behalf of Apple, I'm standing up to oppose this new wave of legislation -- wherever it emerges. I'm writing in the hopes that many more will join this movement. From North Carolina to Nevada, these bills under consideration truly will hurt jobs, growth and the economic vibrancy of parts of the country where a 21st-century economy was once welcomed with open arms."
Thanks for reading CBS NEWS.
Create your free account or log in
for more features.