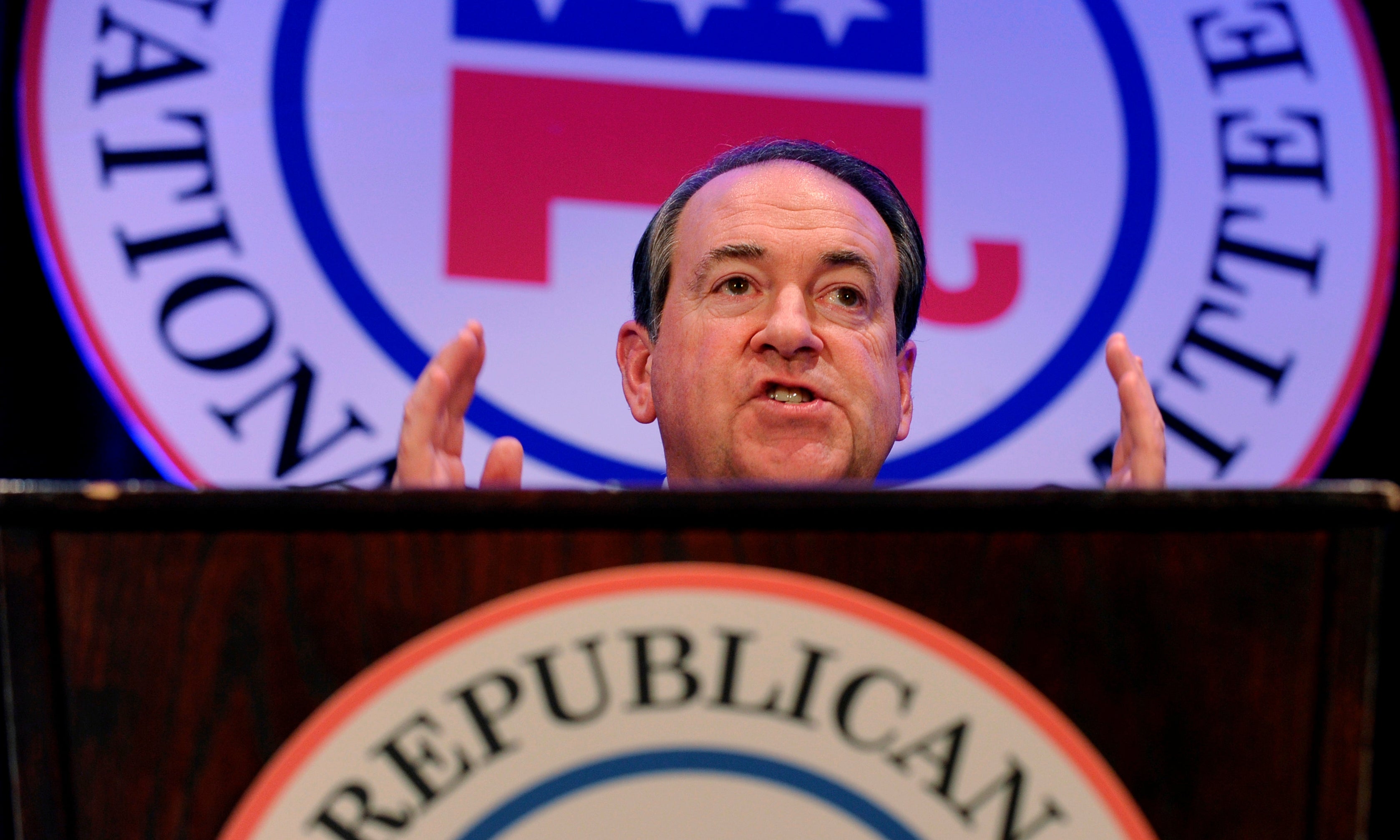 Mike Huckabee: Democrats insult women with government handouts
Former Gov. Mike Huckabee, R-Ark., wasted little time Thursday in embracing the Republican National Committee's tactical defense against what they say is a "war on women" by Democrats, but in the process, he stirred up a bit of controversy.
In laying out a message loud and clear that Republicans are not fighting a war on women but rather, they are fighting a war for women, the 2008 presidential candidate argued that Democrats believe women are "helpless" and in need of government handout and that Republicans want to empower women "to be something other than victims of their gender."
"Democrats want to insult the women of America by making them believe that they are helpless without 'Uncle Sugar' coming in and for providing for them a prescription each month for birth control because they cannot control their libido or reproductive system without the help of the government - then so be it," Huckabee said at the RNC's winter meeting in Washington, D.C. "Let us take that discussion all across America because women are far more than the Democrats will play them to be."

His remarks Thursday echoed comments he made on Fox News Saturday saying that "to reduce women to cheap government beggars for birth control is demeaning to the women I know, who are far more complicated than their libido and the management of their reproductive system."

White House Press Secretary Jay Carney, who was informed about Huckabee's remarks during his regular press briefing Thursday, responded that "whoever said it – sounds offensive to me and women."

Democratic National Committee chair Debbie Wasserman Schultz said in a statement, "Mike Huckabee has no idea what he's talking about. If this is the GOP rebrand a year later then all they've gotten is a year older."

Wasserman Schultz is referring to the Republican Party's concerted effort to broaden its appeal to women and minorities after Mitt Romney's loss to President Obama in 2012, outlined by GOP chairman Reince Priebus in the post-2012 "autopsy" called the "Growth and Opportunity Project." One concrete example of the effort: the party announced Rep. Cathy McMorris Rodgers, R-Wash., - the highest-ranking Republican woman in Congress - will deliver the rebuttal to Mr. Obama's State of the Union address next Tuesday.

A firm believer that social issues should not be sacrificed in Republican messaging, Huckabee also spoke to family values, the war on poverty, and "fiscal sanity".


"Every aspect of productivity in this country, we decide you're going to be taxed, which means that until the government decides that what they do with our money is more important and valuable than what we do with our money," Huckabee said. "That's the government's way of saying, that they don't value the work that you do."

But the topic that was awarded the most applause? The former - and potential future - presidential candidate's prediction that the focus of the 2016 presidential election and the leading issue among voters will be Obamacare.

"We need to remind them this year at election time, that it was not the Republicans who hoisted this massive monstrosity on the people of America," said Huckabee, who has hinted that he's considering another run for the presidency in 2016.

"It was Harry Reid, Nancy Pelosi, Barack Obama, and since there weren't any Republican fingerprints on putting it in place, why not give the Republicans an opportunity to put some fingerprints on the plan to replace it, repeal it, and get something that will actually help empower families, empower doctors, empower nurses, and no longer shackle us to a health care system that is undurable," he added.
Thanks for reading CBS NEWS.
Create your free account or log in
for more features.