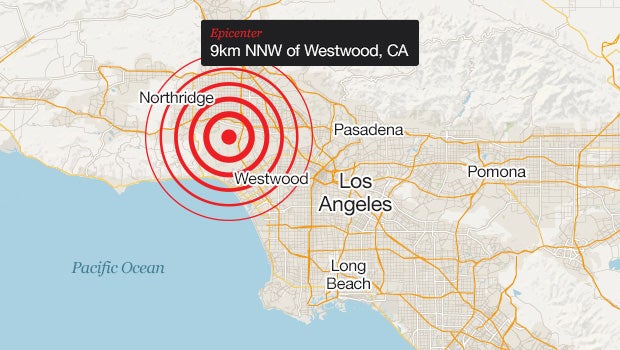 Mid-size earthquake rattles Los Angeles area
LOS ANGELES - A strongly-felt earthquake rolled across Los Angeles early Monday -- the strongest felt in the area since 1994.

The rolling quake struck shortly before 6:30 a.m. It was centered six miles north-northwest of Westwood, and six miles northwest of Beverly Hills.
Los Angeles police and fire officials said there were no immediate reports of damage.
"It felt like a bomb going off underneath our house," said George McQuade, a West Hills resident. "Nothing was damaged, but it sure woke everyone up. It was an eye-opener."

It is the largest quake felt in Los Angeles since the aftershocks of the Northridge quake in 1994, Dr. Lucy Jones of the USGS told CBS Station KCBS.

Dr. Jones said it was likely that the region would feel aftershocks throughout the day.

A 2.7-magnitude quake struck around 7:23 a.m. USGS officials said there was a five-percent chance Monday's quake could be followed by a larger earthquake within three days.

Metro reported that commuters could face delays Monday as rails are inspected.
Thanks for reading CBS NEWS.
Create your free account or log in
for more features.