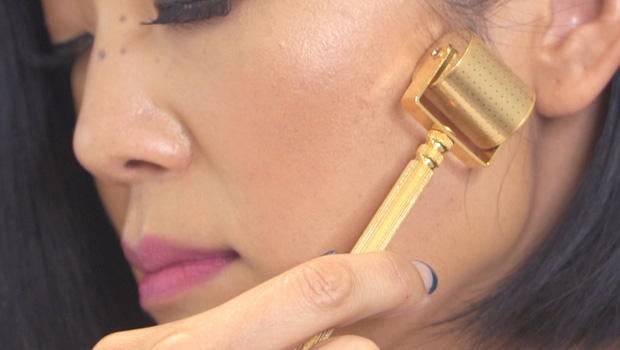 Microneedling: The beauty treatment craze now available at home
A popular new treatment is helping a growing number of people to search for the fountain of youth.
Microneedling uses tiny needles to improve skin. The procedure was only available at dermatologist offices or high-end spas.
But now, companies are selling devices for use at home, despite concerns from the FDA. And it's not just beauty bloggers who are hyping these at-home microneedling tools. Major publications from The New York Times to Allure are devoting copy to these devices.
But, correspondent Michelle Miller reports, doctors say consumers should be aware of a few risks.
Jamie O'Banion's GloPRO, sold on HSN, is just one of a number of microneedling tools marketed for at-home use.
The GloPRO, and devices like it, use tiny needles to pierce the skin, stimulating the body's natural regeneration response.
"What does the skin do? It says I've been injured, I need to heal, I need to create new collagen, new skin cells," said O'Banion.
Testing it out, Miller noted, "It doesn't hurt, it pricks. It's like little tickle."
Prices for this popular product range from the $30 no-frills StackedSkincare device to the $200 vibrating GloPRO.
Compare that to in-office treatments which can start at $500.
The fact that people can now bring very expensive in-office procedures home is very appealing, says Allure editor-in-chief Michelle Lee, a self-described skin-care guinea pig.
"Doing the at-home version feels almost like a cat licking you," she said. "When you have a professional do it, it hurts!"
But not everyone is sold.
Dermatologist Jeanine Downie offers in-office microneedling treatments to reduce scarring, signs of aging, and even stretch marks. But she cautions against the use of at-home tools.
"It can spread infection, it can actually cause scarring, and it can make whatever you're trying to treat worse," she told Miller.
The FDA has also issued warning letters to several microneedling pen manufacturers (not including GloPRO).
"The FDA has safety concerns regarding the potential for the needles to damage vessels and nerves," Miller said. "What do you think about that?"
"I'm very familiar with all the cases that you're referencing," said GloPRO's O'Banion, "and those are from copycat tools as well and, again, it goes back to safety. Trust your skin to the original."
In addition to her concerns about at home devices, Dr. Downie has one more piece of advice: "If you're microneedling and you're not using sunblock, you're really wasting your time," she said.
Dr. Downie and other dermatologists say protecting your skin from the sun is the best way to combat skin damage.
When it comes to choosing between these devices, Allure's Michelle Lee says your skincare is no place to scrimp. But that doesn't mean that the most expensive tool is the best one for you and your skin. Do your research.

For more info:
Thanks for reading CBS NEWS.
Create your free account or log in
for more features.