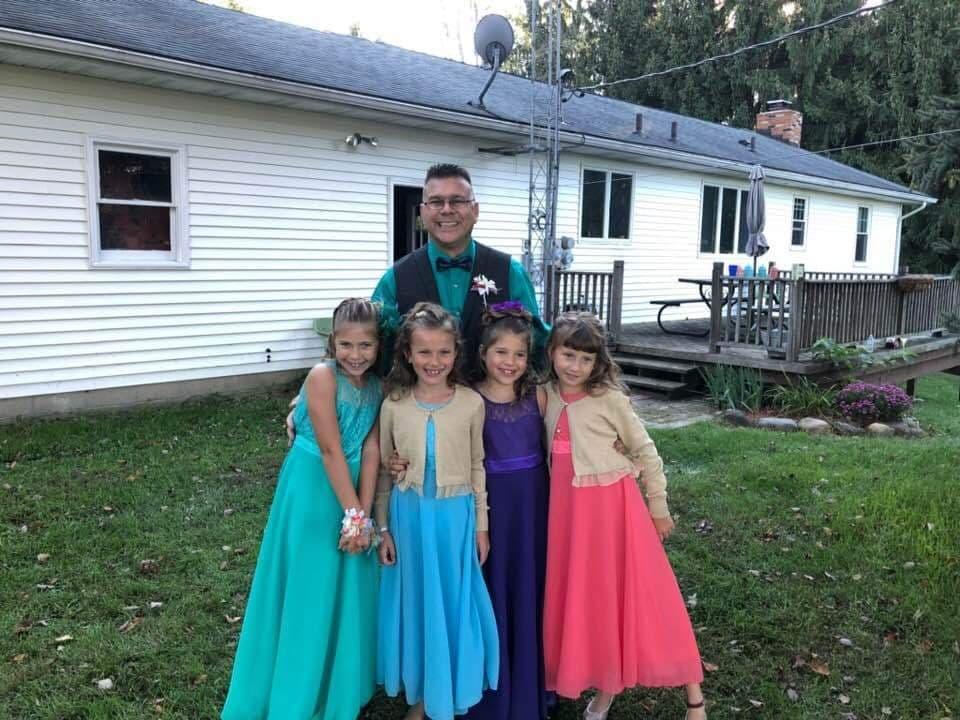 Teacher takes two students to daddy-daughter dance after their dad's death
A Michigan teacher planned on taking both of his daughters to their school's daddy-daughter dance earlier this month. When he found out two of his former students had lost their father just weeks before the big event, he decided to add two more daughters to his group.
Steve Culbert is a fourth grade teacher at Gates Elementary in Davidson, Michigan. The father of four said he was inspired to make a career change to teaching after his daughters were born.
Culbert started out teaching second grade at the school, where his students included Avery Reece and then her younger sister, Alivia.
"I tell all of my students right from the get go, right from day-one when you start building a relationship with them, that they're like family," Culbert told CBS News. "I get to know my students, I get to know their families."
Culbert said he got to know the Reece family and was saddened to hear the girls' dad, Luke, became ill in September.
Luke had a medical condition which lead to multiple blood clots. At the end of August, a blood clot caused cardiac arrest and Luke was hospitalized. "I got to know him," Culbert said of the father. "I asked Shelley [his wife] if I could visit him in the hospital." Culbert went to see the family at the hospital and brought gifts from other teachers at the school. "It was just really unsettling seeing him laying there."
"When I got home that night, they had just announced the date to the daddy-daughter dance a few weeks later. At the time I thought Luke won't be coming home in time," Culbert said. So he thought of a plan to give Avery and Alivia the daddy-daughter dance they deserved.
Culbert talked to his own daughters about inviting the Reece girls to go with them. Aliyah, a first grader, and Hailey, a third grader, were on board with the plan and the family hand-delivered invitations to Alivia and Avery. The Reece family was delighted with the plan, too.
Unfortunately, that same day Luke was taken off life support. He died about two weeks before the dance.
"As a kid, when I was in school, I lost a brother to cancer ... I'm not trying to say I know how these girls feel or how any other students feel when they go through something like that, but I just don't want any of my students to feel like they're alone. That's what drives me, that's what motivates me," Culbert said.
Culbert said both families wanted the girls to experience the daddy-daughter dance and hoped it would bring them some joy during the difficult time they were going through. Culbert decided to go all-out to make it extra special.
He booked a limo, which he got at a discounted price after telling the company about the special circumstances. A woman who works at a nursing home hair salon donated her time and did the Reece girls' hair and nails. One parent at the school chipped in to buy the Reece girls dresses for the dance. Another parent bought all four girls corsages.
Several other community members donated money, and at the end of the night, Culbert had nearly $500, which he gave to Shelley Reece, the girls' mom.
"It went so, so good. I couldn't ask for it to be any better, except for the girls to have their dad there," Cublert said.
The morning of the dance, he and the four girls got breakfast at their favorite spot, Tim Hortons. Then they got their hair and nails done.
Culbert and his daughters picked up Alivia and Avery in their glamorous limo later that evening. The girls were in shock. "Avery, the older of the two, her jaw fell on the ground and she said, 'That's what we're taking?' Her excitement was so cool," Culbert said.
The last touch was four heart-shaped balloons the Culberts bought for the big day. They attached small tags to the balloon strings with #BeLikeLuke written on them. Culbert wanted to honor Luke Reece on that special day.
Luke Reece was an organ donor and helped up to 65 people after his death. "Somebody already has his eyes. They can see because of him," Culbert said. "If anyone is inspired by this story, I want them to be inspired by him."
Before getting out of the limo, Culbert spoke to the girls. "I wanted to let them know their dad is here with them today. And I'm not trying to be their dad, I'm just trying to be here with them," Culbert said.
They got out of the limo and let the heart-shaped balloons fly. Then they walked into the school and danced the night away.
Thanks for reading CBS NEWS.
Create your free account or log in
for more features.