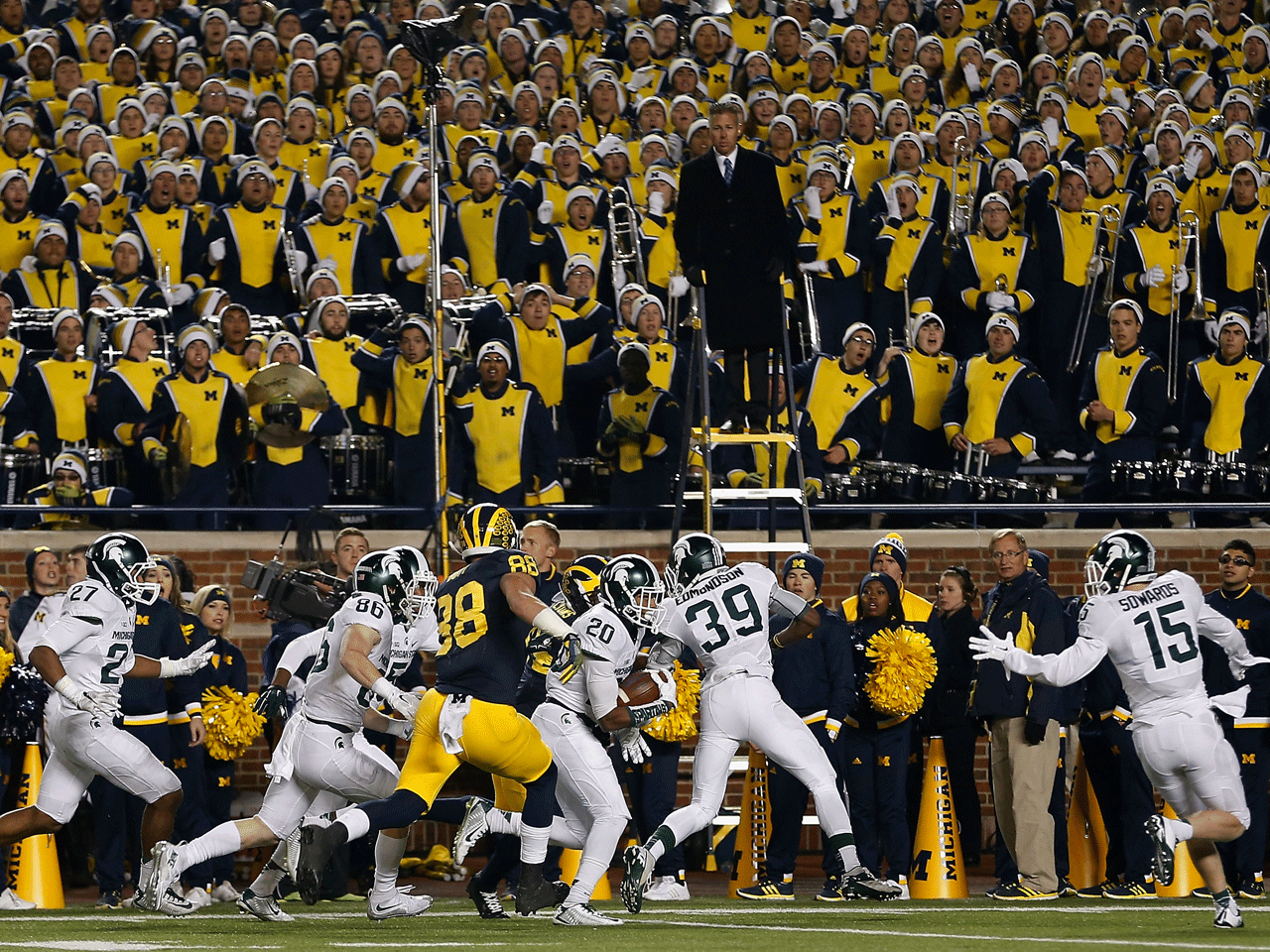 Unbelievable finish to Michigan-Michigan State
ANN ARBOR, Mich. - Jalen Watts-Jackson grabbed the ball on a flubbed punt attempt and lumbered 38 yards into the end zone for a touchdown on the final play, giving No. 7 Michigan State a 27-23 victory over No. 12 Michigan in one of college football's most unlikely endings.
With the Wolverines up 23-21 with 10 seconds left, punter Blake O'Neill bobbled a low snap, and spun around to try and make the kick. But he was hit, the ball popped free and Watts-Jackson caught it, broke a few tackles in the final yards and made it into the end zone.
CBSSports.com's Chip Patterson reports the stunning finish to the Paul Bunyan Trophy showdown left fans in the Big House in Ann Arbor stunned.
Michigan State (7-0, 3-0 Big Ten) has won seven of eight in the series, its best stretch in more than a half-century. Michigan (5-2, 2-1) lost for the first time since an opening setback at Utah.
The Wolverines were seconds away from sealing the win after Sione Houma ran for two TDs, Kenny Allen kicked three field goals and forcing the Spartans to turn it over on downs with 1:47 left at its 45.
The Spartans had only one timeout left and used it after the next snap. Michigan had two and coach Jim Harbaugh used both, including one with 10 seconds left to set up the final punt.
Connor Cook was 18 of 39 for 328 yards and a TD for Michigan State, and Aaron Burbridge had nine receptions for 132 yards. Michigan's Jake Rudock was 15 of 25 for 168 yards.
NO. 1 OHIO STATE 38, PENN STATE 10
COLUMBUS, Ohio - J.T. Barrett played finisher for Ohio State, running for two touchdowns in the first half and then taking over full-time for Cardale Jones in the third quarter.
Wearing black uniforms for the first time, the Buckeyes didn't look like themselves, though they did look a lot more like the dominant team many expected the defending national champions to be this season.
Ohio State (7-0, 3-0 Big Ten) still doesn't have a definitive answer at quarterback, but the Buckeyes have a 20-game winning streak. Barrett added two fourth-quarter touchdown passes to make it 38-10 and draw chants of "J.T.! J.T.!" from the blackout crowd of 108,423 for Dark Night in the Shoe. Jones started, as he has all season, but was only 9 for 15 for 84 yards.
Freshman Saquon Barkley provided most of the offense for Penn State (5-2, 2-1) with 194 yards rushing.
NO. 2 BAYLOR 62, WEST VIRGINIA 38
WACO, Texas - Corey Coleman had three more touchdown catches and Baylor ran its FBS-best home winning streak to 19 games.
Coleman matched and then broke the single-season school record for TD catches, his nation-leading 16 coming halfway through the regular season for the Bears (6-0, 3-0 Big 12).
Seth Russell became the only Baylor quarterback other than Heisman Trophy winner Robert Griffin III in 2011 to throw for 300 yards and run for 100 yards in one game. Russell was 20 of 33 for 380 yards and five TD passes and ran 14 times for 160 yards with another score.
Coleman finished with 10 catches for 199 yards, his fourth consecutive game with multiple touchdowns and his seventh in a row with at least 100 yards receiving. The 5-foot-11 junior had catch-and-run plays of 50 and 42 yards without scoring.
Baylor's only regular-season loss last year was 41-27 at West Virginia, and the Bears wound up being left out of the initial College Football Playoff.
Skyler Howard, from Fort Worth, Texas, less than 100 miles from the Baylor campus, threw four touchdown passes for West Virginia (3-3, 0-3).
NO. 3 TCU 45, IOWA STATE 21
AMES, Iowa - Trevone Boykin threw for 436 yards and four touchdowns for TCU.
Josh Doctson had 190 yards receiving and two TDs for the Horned Frogs (7-0, 4-0 Big 12).
Boykin's 3-yard scoring run with 14:36 left put TCU ahead 38-21. Doctson made it a rout with a 42-yard touchdown catch 6 minutes later.
Sam Richardson had 251 yards passing for Iowa State (2-4, 1-2).
NO. 4 UTAH 34, ARIZONA STATE 18
SALT LAKE CITY - Travis Wilson threw for 297 yards and two touchdown and Utah held off Arizona State to remain the lone undefeated team in the Pac-12.
Special teams nearly buried the Utes.
Tim White had a 100-yard kickoff return for a touchdown to put Arizona State on the board in the first quarter. De'Chavon Hayes' 48-yard punt return set up a field goal that gave the Sun Devils a 10-7 lead.
Utah (6-0, 3-0) gave up a safety on a failed trick kickoff return and Arizona State (4-3, 2-2) added three more points on the ensuing possession to take an 18-14 lead.
Devontae Booker's 25-yard touchdown run in the fourth quarter gave Utah a 21-18 lead. He had 118 yards rushing and two touchdowns.
NO. 5 CLEMSON 34, BOSTON COLLEGE 17
CLEMSON, S.C. - Deshaun Watson threw for three touchdowns and a season-best 420 yards and Clemson rolled against Boston College's top-ranked defense.
Watson added a rushing touchdown and the Tigers improved to 6-0 (3-0 Atlantic Coast Conference) for the third time in five seasons. Watson finished 27 of 41, including touchdowns throws of 21 yards to Zac Brooks, 51 yards to Artavis Scott and 6 yards to Jordan Leggett.
Scott had 10 catches for 162 yards and Clemson put up 532 yards against a defense that was only allowing 140 a game coming in to lead the Football Bowl Subdivision. Boston College (3-4, 0-4) hadn't allowed so many yards since losing the Independence Bowl to Arizona State after the 2013 season.
NO. 6 LSU 35, NO. 8 FLORIDA 28
BATON ROUGE, La. - Leonard Fournette ran for 180 yards and two touchdowns, and LSU coach Les Miles victimized Florida with a fake field goal for the second time in five years.
Kicker Trent Domingue's 16-yard touchdown run on the fake was LSU's only scoring play of the second half, breaking a 28-all tie in the fourth quarter.
The Tigers' defense held from there - barely. Florida receiver Antonio Callaway, who had a 72-yard punt return for a score, also had his hands on a long pass to the end zone from Treon Harris in the middle of the fourth quarter, but LSU's Dwyane Thomas punched it out to prevent a tying touchdown.
Harris, starting for the suspended Will Grier, passed for 271 yards and two touchdowns for Florida (6-1, 4-1 SEC). Brandon Harris threw for 202 yards and two scores for LSU (6-0, 4-0).
NO. 10 ALABAMA, 41, NO. 9 TEXAS A&M 23
COLLEGE STATION, Texas - Derrick Henry ran for a career-high 236 yards and two scores and Alabama added a school-record three touchdowns on interception returns.
Alabama (6-1, 3-1 Southeastern Conference) built a 28-6 lead in the second quarter on Henry's 55- and 6-yard touchdown runs, Minkah Fitzpatrick's 33-yard interception return and Eddie Jackson's 93-yard interception return.
Christian Kirk returned a punt 68 yards for a score just before halftime and Texas A&M (5-1, 2-1) added another touchdown on a 3-yard reception by Ricky Seals-Jones after a fumble early in the third to cut it to 28-20. But Alabama kicked two field goals before Fitzpatrick's 55-yard interception return for a score made it 41-23 and sealed the victory.
NO. 11 FLORIDA STATE 41, LOUISVILLE 21
TALLAHASSEE, Fla. - Everett Golson threw for 372 yards and three touchdowns and Florida State rallied in the second half to beat Louisville.
It is the eighth 300-yard game of Golson's career and his second since transferring from Notre Dame this year. A 70-yard touchdown pass to Kermit Whitfield, who had nine receptions for 172 yards, gave the Seminoles a 20-14 lead with 8:05 remaining.
The win gives Florida State a 6-0 record for the third straight season. The Seminoles are 4-0 in the Atlantic Coast Conference. The Cardinals dropped to 2-4 overall and 1-2 in the ACC.
Dalvin Cook had his fourth 100-yard game of the season, gaining 163 yards on 22 carries.
Louisville's Lamar Jackson passed for a career-high 307 yards, and James Quick had five receptions for 130 yards and three touchdowns.
MEMPHIS 37, NO. 13 MISSISSIPPI 24
MEMPHIS, Tenn. - Paxton Lynch threw for 384 yards and three touchdowns and Memphis stunned Mississippi.
Memphis (6-0) has won 13 straight games dating to last season - the third longest streak in the nation. It was the first win for the Tigers over a ranked opponent since 1996.
Ole Miss (5-2) jumped out to a 14-0 lead less than 6 minutes into the game - partly thanks to a 68-yard touchdown pass by receiver Laquon Treadwell on a trick play - but Memphis responded with 31 unanswered points to take a 31-14 lead early in the third quarter.
Lynch was superb, completing 39 of 53 passes. Anthony Miller caught 10 passes for 132 yards and a touchdown. Ole Miss' Chad Kelly was 33 of 47 for 372 yards, two touchdowns and two interceptions.
NO. 14 NOTRE DAME 41, SOUTHERN CALIFORNIA 31
SOUTH BEND, Ind. - Corey Robinson made a diving catch in the end zone midway through the fourth quarter and Notre Dame rebounded to beat Southern California after squandering a two-touchdown lead.
C.J. Prosise ran for 143 yards and two touchdowns, and DeShone Kizer threw two scoring passes, the second the 10-yarder to Robinson that made it 38-31.
Southern California played for the first time since firing coach Steve Sarkisian, with interim coach Clay Helton directing the Trojans.
The Fighting Irish (6-1) bounced back from an embarrassing 35-point loss to USC in the regular-season finale last year. The victory looked in doubt when the Trojans (3-3) scored three straight touchdowns to take a 31-24 lead. But the Irish rallied to win the Jeweled Shillelagh for the third time in four seasons.
NO. 17 IOWA 40, NO. 20 NORTHWESTERN 10
EVANSTON, Ill. - Reserve running back Akrum Wadley ran for 204 yards and tied Iowa's school record with four rushing touchdowns.
With leading rusher Jordan Canzeri sidelined in the first quarter with an ankle injury, Wadley took over for Iowa (7-0, 3-0 Big Ten). The injury occurred following a short run when linebacker Jaylen Prater landed on Canzeri, folding his ankle under a pile of players.
Wadley, who had only eight carries coming into the game, scored his third touchdown on a 2-yard run with 6:42 remaining in the third quarter, extending Iowa's lead to 23-10. His record-tying fourth scoring run, which followed a Northwestern fumble on the Wildcats ensuing drive, came on a 4-yard run that.
Northwestern (5-2, 1-2) lost for the second straight week after five consecutive victories.
NO. 19 OKLAHOMA 55, KANSAS STATE 0
MANHATTAN, Kan. - Baker Mayfield threw five touchdown passes and Oklahoma bounced back from its upset loss to Texas to beat Kansas State, the first time the Wildcats have been shut out since 1996.
Kansas State had delivered serious scares to Top 25 opponents the previous two weeks, but the Wildcats (3-3, 0-3 Big 12) were helpless against the Sooners (5-1, 2-1). Oklahoma set the tone early, taking only 1:04 to score on its opening drive on a 22-yard pass from Mayfield to Sterling Shepard.
The Sooners took a 35-0 lead into halftime and just kept rolling in the second half.
Kansas State had scored in 234 straight games. Its last home shutout was in 1991.
NO. 22 TOLEDO 63, EASTERN MICHIGAN 20
TOLEDO, Ohio - Phillip Ely threw for 327 yards and four touchdowns to help Toledo improve to 6-0 for the first time since 1997.
The Rockets (6-0, 2-0 Mid-American Conference) led 28-6 at halftime, and then Ely really warmed up. He threw touchdown passes on Toledo's first two possessions of the second half, connecting with Corey Jones for a 55-yard score and then with Cody Thompson on an 88-yarder four minutes later.
The touchdown to Thompson was the fourth-longest completion in school history, and it wasn't the only record book-worthy play of the game against Eastern Michigan (1-6, 0-3).
Toledo sophomore Terry Swanson busted loose for a 90-yard run - also the fourth-longest in school history - late in the second quarter that set up Kareem Hunt's 4-yard touchdown run on the next play.
Thanks for reading CBS NEWS.
Create your free account or log in
for more features.