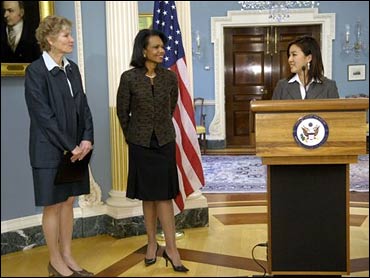 Michelle Kwan Accepts Job As Diplomat
Michelle Kwan, who is studying political science and international affairs at the University of Denver, is about to get some terrific on-the-job experience.
The 26-year-old figure skating champion was at the State Department in Washington Thursday, standing side-by-side with Secretary of State Condoleezza Rice and another of President Bush's longtime advisors, undersecretary of state Karen Hughes.
They were there to formally announce Kwan's appointment as a public diplomatic envoy in a program aimed at improving the nation's image abroad.
Kwan, a five-time world champion, says she is looking forward to sharing America's story with others.
Kwan's experiences as a world-class figure skater who won her first world title at age 15, says Rice, are "a deeply American story" admired by many.
"As an athlete, I've always been very proud to represent the United States," said Kwan, whose parents immigrated to the U.S. from Hong Kong before she was born.
Kwan, says Rice, "is devoting her good name and her patriotism to help further our nation's public diplomacy efforts."
The mission at hand, according to Hughes, is an important one: an effort by the United States to reach the world's young people, many of whom "are being exposed to hate and propaganda directed against our country."
Hughes has been active in expanding sports diplomacy programs.
Kwan's volunteer efforts on behalf of the United States are part of the State Department's Education and Cultural Affairs program.
Kwan began competing internationally at the age of 12 and since the 1990s, she has won practically every major figure skating title except an Olympic gold medal. She took a silver in the 1998 Games and a bronze in 2002, and owns a record-tying nine U.S. titles.
Earlier this year, an injury forced her to withdraw from Olympic competition in Turin.
Kwan is expected to travel widely in her new job, which is an unpaid position.
This isn't the first venture off the ice for Kwan, who is one of the world's best-known figure skaters. She's been a spokeswoman for the Children's Miracle Network; her autobiography, published nine years ago, is still selling; she has her own video game; and six years ago, she was among those on People Magazine's list of "The 50 Most Beautiful People In the World."
The appointment is somewhat reminiscent of one made a generation ago by President Nixon, who in the midst of the strife over the Vietnam War chose one of the world's most loved personalities – Shirley Temple Black, all grown up and ready to tackle serious matters – as a delegate to the United Nations. It was the beginning of a more than two-decade long career in diplomacy for the former child star, including postings as ambassador in Ghana and Czechoslovakia.
Black and Kwan do have a bit in common. Both 5'2'' and from California, each started their careers at a very early age – Black doing her first songs and dances for the movie cameras at age three back in 1931, and Kwan hitting the ice at five – imitating her skating siblings.
Both also have had dolls named after them, probably not a bad thing when in search of goodwill.
Thanks for reading CBS NEWS.
Create your free account or log in
for more features.