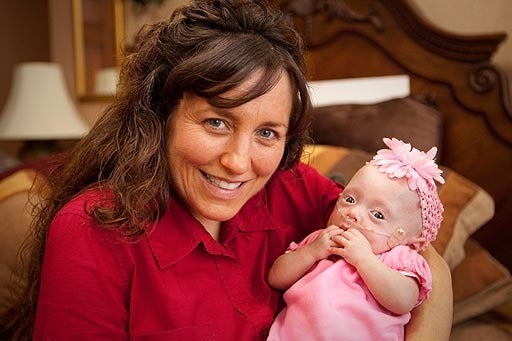 Michelle Duggar: "Terror Went Through My Heart," During Emergency Delivery of Josie Brooklyn
(CBS) The Duggars are back and their 19th child, little Josie Brooklyn Duggar, is healthy and growing after being born at only 25 weeks. But she is not out of the woods yet. Josie may face long term health problems such as cerebral palsy, blindness, deafness, and learning disabilities, which are common for "micro-preemies," according to Dr. Tom Easterling, a professor of maternal fetal medicine at the University of Washington.
Josie's parents, Jim Bob and Michelle Duggar, known to many Americans for their cable show "19 Kids and Counting" spoke with CBS News about Josie's fragile first months, the secret to a long and healthy marriage and Michelle's terrifying emergency delivery.
As for whether or not the religiously Christian couple will keep the babies coming? You can count on it, says Michelle, if "the lord sees fit to let us have another baby."
CBS News: First off, how is little Josie doing?
Michelle Duggar: Josie is doing great. She got out of the hospital June 3. We came home June 23. She has taken on new growth; she weighs 11 pounds, 1 ounce and is a very happy, sweet baby girl... Amazingly she is in 75th percentile in her weight, which is incredible. She started out so tiny.
CBS News: Where there moments of fear? When Josie came out and was sent to the neonatal intensive care unit (NICU), what went through your mind?
Michelle Duggar: Oh, the terror that went through my heart when they said this baby has to be delivered in 30 minutes. I thought this baby is too small to live. I was terrified. I cried out to God to have mercy on my baby and me. This was too soon for this baby.
Seeing the miracle of Josie, figuring out the struggles she was going through. The NICU world is a scary world but modern medicine can provide such miracles. We saw our third trimester right before our eyes.
Her skin was see through. She only had two layers of skin. It was transparent. I do not take for granted this precious life that we have here. She's a miracle that could have gone in either direction.
CBS News: Any sense of what brought on the preeclampsia (dangerously high blood pressuring during pregnancy) that caused you to deliver two months prematurely?
Michelle Duggar: The OBGYN that took care of me, he does high risk pregnancies. He said the gallstone I had developed, it was a blessing in disguise. The preeclampsia could have snuck up on us and they wouldn't have been able to prepare.
I had preeclampsia 20 years ago with my first set of twins. They were born two weeks early. It's one of those things. They still have not determined completely why it happens.
CBS News: Will the preeclampsia fear keep you from having another child?
Michelle Duggar: The possibility of it taking place again is greater for me; we'll cross that bridge when we get there. If the lord sees fit to let us have another baby, we'll cross that bridge. My relationship with the lord, he is the giver of life. I do not take that for granted.
If Josie could talk, she would say she would she is not taking her life for granted either.
My mother was 40 when she had me. She couldn't have anymore. I am right around that place. We would love more but we'll wait and see. I couldn't imagine my life without any one of them.
CBS News: If doctors told you having another child was dangerous, would you stop?
Michelle Duggar: I don't think it would change my heart about how I feel about this realm of life. We think we have control and are making these decisions but ultimately I know who can give life and take life. Knowing that I can rest in peace... I see these children and think they wouldn't be here if it weren't for God giving them to me.
CBS News: How have all these pregnancies affected your body?
Michelle Duggar: I have lower back issues that bother me; Not sure if that's from early pregnancies or having lots of kids jumping on my shoulders.
Jim Bob Duggar: Michelle looks as young or younger as any woman her age... We have gone out in public and people say to us, I was part of a large family. My mom had 12, 14 children. I asked them how long did mom live. Oh, mom is 95 and still going strong.

Michelle Duggar: Yeah, but the dads died early (laughs). You hang in there Jim. This gives you something worth living for.
CBS News: When you hit menopause and can't have any more children, will you miss it?
Michelle Duggar: I have thought a lot about it... Every time I have a little one, you feel the baby in your tummy, when it's born you think I am never going to feel that kick in my tummy. Then when you wean it, you think I'll never see them grow again. And they start walking and I start thinking I'll never see them walk for the first time again.
CBS News: You don't believe in watching television, why are you on a television show?
Jim Bob Duggar: Dr. Ed Wheat counseled us right before we got married. He encouraged us to not have TV the first year. Then after our first year, someone gave us a TV and we got cable. We quickly realized that we were addicted to TV. Our communication dropped off. We just stared at that TV and didn't talk to each other. We pulled that TV out of the wall. That was one of the best decisions we ever made for our family...
However, we don't think it's detrimental to film a TV show. The crew comes in two or three times per week.
Hopefully, if people see us out and around, not watching TV, hopefully they will stop being couch potatoes.
We saw this show as an opportunity to share our blessings with the world. We agreed to it as long as they agreed to not edit out our faith...
But watch our show in moderation. Don't do the marathon.
CBS News: What's your secret to a great marriage?
Jim Bob Duggar: Don't play junior high games, yelling at each other. We have had disagreements, we pray about it together. A few months ago we ran into an Amish fellow that's been married 50 years. We asked him, what are the keys to a long marriage. He said there are two: I was wrong and would you forgive me. Don't' let the son go down on your wrath.

When you get to the end of your life, you are not going to say I wish I had made more money. But you'll never regret the moments you spend with your family.
MORE
You can watch the Duggars on TLC's fifth season of "19 Kids and Counting."
Thanks for reading CBS NEWS.
Create your free account or log in
for more features.