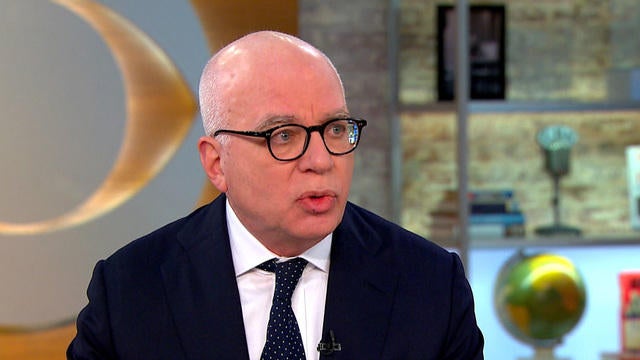 Michael Wolff on "Fire and Fury," Steve Bannon and interviewing Trump
The White House pushed back against journalist Michael Wolff's new book, "Fire and Fury: Inside the Trump White House," in which some of President Trump's closest aides say he's unstable and ill-equipped for the presidency. Mr. Trump countered the book's claims by tweeting this weekend that he is a "stable genius," and he called "Fire and Fury" a "fake book."
On "CBS This Morning," Wolff responded by saying, "Everything in the book is true."
"(Trump) did call it a work of fiction," said co-host Bianna Golodryga.
"I can reliably say Donald trump has never read a work of fiction," Wolff replied.
Wolff was asked about the 25th Amendment -- the constitutional provision by which the president could be removed from office if he is deemed medically unfit -- and whether there are people inside the White House talking about trying to remove him from office.
He replied, "They're not talking about trying to remove him from office. They are wondering what's going to happen. The people in the White House are like everybody else in the country: 'What's going to happen here? We don't know from day to day.' This is for them, as for everyone, an extraordinary experience, and I think that they certainly question what's going to happen here, like everybody else.
"There are many moments in which the 25th Amendment has come up, which gives the Cabinet the ability to remove the president. And they don't say, 'The Cabinet is going to remove the president,' but they do say things like, 'This is a little 25th Amendment-y here.'"
Former Trump Campaign CEO and White House Chief Strategist Steve Bannon, who figures prominently in Wolff's book, is quoted as saying there was a 33 percent chance that the president would be impeached, a 33 percent chance that he would resign under threat of the 25th Amendment, and a 33 percent chance that he would limp to the finish line. But, Wolff said, "a zero percent chance that he would have another term."
When asked if he had spoken with any of Mr. Trump's Cabinet members, or with Vice President Mike Pence, Wolff replied, "I did not."
The White House's pushback against "Fire and Fury" -- which is currently the best-selling book on Amazon -- includes criticism of Wolff, with President Trump claiming that he was never interviewed by the writer.
Wolff stated emphatically that he had spent three hours with Mr. Trump over the course of the campaign, during the transition, and then in the White House. "The important point I want to make is this book is not about my impression of the president. I came into this with no agenda."
"It does also read like your main source is Steve Bannon. Would that be correct to say that?" asked co-host Norah O'Donnell.
"It would be not correct," Wolff replied. "He's a very large source here, but there are many, many, many [sources.]"
"But you have written, it's worse than anybody thought, that he's mentally unstable, that he's an idiot," O'Donnell said.
"I did not say he's mentally unstable," Wolff said. "I would not be qualified to do this. I have merely described -- and mostly not my impressions, the impressions of other people, of the people he deals with on a daily basis."
The president has denied he ever spoke with Wolff for the book.
"I think he probably had no idea he was speaking to me for this book. When I would meet the president in the White House, we would chat as though we were friends," he said. "I have sat down with the president for extended periods of interviews. But there are other periods -- and that's essentially what he's saying. They're trying to parse this, saying, 'Oh, I didn't know I was speaking to him when I saw him in the White House.'"
"Just to clarify, the White House says the last time they have a record of you meeting with President Trump was February 2017," said O'Donnell. "Did you interview him after that date?"
"Let's separate this out: I interviewed him at that point. After that, we would speak – I'm sure he didn't think they were interviews, and in all fairness, he might say, 'I was not being interviewed.'"
He agreed that since the arrival of John Kelly as White House Chief of Staff a lot has changed, including the departure of the core of the White House staff. "The thing that has not changed, of course, is Donald Trump."
Thanks for reading CBS NEWS.
Create your free account or log in
for more features.