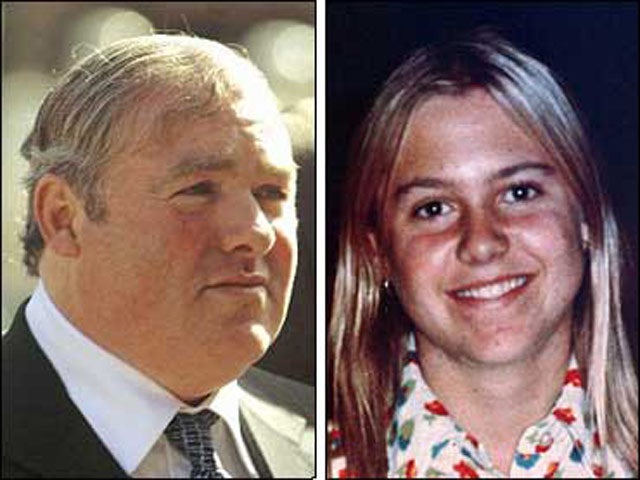 It was the spring of 2002 and a trial that Dorthy Moxley had been waiting and praying for for nearly 30 years.
Her prayers were finally answered -- justice in the murder of her daughter, Martha, when Kennedy cousin Michael Skakel was convicted in the murder.
For the Moxleys it was the end of a long ordeal. "We knew Michael had done this," Dorthy Moxley told Lesley Stahl. "...absolutely no doubt."
But for the Skakels, it was the lowest moment yet in their long ordeal.
"There is no way on earth he could have done this .... and I will fight with the last breath in me to get him free," Steven Skakel told reporters.
He will never forget the moment the jury returned its verdict against his older brother, Michael. "My heart almost stopped," he said. "I looked down at the floor, and ... my whole world had been shattered."
Michael's cousin, Bobby Kennedy Jr., has long been speaking out in defense of Michael.
"You know people are gonna dismiss that and say, 'Well, of course he's defending his cousin' ... but the facts themselves speak for themselves," he told Stahl in 2003.
Kennedy, a former prosecutor and now a professor of law at Pace University, closely examined the details of his cousin's conviction. His findings were first published in the Atlantic Monthly.
"That's why, you know, I took the time to put together this piece, is that I'm utterly convinced that he did not do the crime, I know he didn't do the crime," he said.
After the article was published, Kennedy said he received hundreds of letters about the case. ""I treated all of these things with a lot of skepticism," he said.
But when a letter from a former classmate of Michael Skakel named Crawford Mills arrived, Kennedy was intrigued.
"Crawford told me that Tony had information about the murder of Martha Moxley," Kennedy explained.
Tony is Tony Bryant, the cousin of basketball star, Kobe Bryant. In 1974, Tony was a classmate of Michael Skakel. He claims two of his childhood friends boasted about committing the murder.
"They went up to Greenwich on several occasions with Tony. That one of them ... became obsessed with Martha Moxley," Kennedy explained.
Armed with this new information, Michael's defense attorneys were sure they had found the evidence they needed for a new trial.
Members of the Skakel family, Stephen, John and David, say their brother, Michael, could never have committed murder.
The father of a young son, a talented athlete who was a one-time member of the U.S. National speed skiing squad, and a man they say is dedicated to helping others.
"I wouldn't be sitting here if it weren't for Michael," said Steven
"Our brother Michael's been stolen from us," said David.
"He's innocent. I know that," added John.
"We are gonna fight until he is freed and re-united with his son," said Steven.
For the Skakels, it's almost ironic that a Kennedy has come to their brother's defense. They believe it was the Kennedy connection that put them in the spotlight to begin with.
A TV miniseries, "Murder in Greenwich," was one in a long line of books, articles and TV dramatizations about Martha Moxley's murder -- a parade led by the late writer Dominick Dunne and disgraced policeman-turned-writer Mark Fuhrman.
The Skakel brothers are the nephews of Ethel Skakel Kennedy, who married Robert Kennedy in 1950.
"Dominic Dunne calls us all a bunch of rich snobs. He was the only one that I saw coming to court every day in a limousine," said Steven.
"Are you all independently wealthy?" Stahl asked the brothers. "Well, we are having trouble paying our lawyers, now so I guess the answer is no," Steven replied.
They say they live modest lives. Steven has focused on charity work. "I worked for a humanitarian aid group for 11 years," he said.
Brother David works as a county recycling manager and his brother, John, sells insurance.
But once upon a time, the Skakels were millionaires living a life of wealth and privilege.
"It was a different time, a whole different life back then," said John.
Their father, Rushton Skakel, had inherited a fortune from the family mining company. Forty years ago, the family was growing up in a house in the exclusive Belle Haven section of Greenwich, Conn.
Asked if everyone was rich, Steven told Stahl, "It was a fairly well-to-do area. ...It was a very friendly open neighborhood. There were lots of children. It was a wonderful place to grow up."
In 1973, a cloud cast a shadow over those happy times for this family of six boys and one girl, when they lost their mother to cancer.
"I remember my father said, 'Your mother has died. If you want to go to your room and cry, that's fine.' And it was never discussed again," said Steven.
Unable to cope with raising seven children by himself, Rushton Skakel hired a nanny, and then, in October 1975, a live-in tutor named Ken Littleton.
"He was the football coach, but he was pretty much a loner," said Steven.
On the day after Ken Littleton took up residence in the Skakel home, Martha Moxley, the Skakel's pretty next door neighbor, would be found murdered.
Oct. 30, 1975
Martha Moxley was murdered at the age of 15.
"Martha was an extremely popular, attractive girl. Typical teenager in the best sense of the term," said Len Levitt.
A writer for the Huffington Post, Levitt has spent nearly twice as many years investigating her murder. "I became an old man doing this case," he said.
Levitt's reporting of the case began following Martha's death on Oct. 30, 1975. It was the night before Halloween.
"Martha does not return home and her mother, obviously, is concerned. And she starts making calls at about 1:00 that night," he explained. "The police start searching in the neighborhood early the next morning, and at 1:00, a passing schoolgirl finds Martha under a tree at the edge of her property ... beaten to death with a golf club ... so severely that the golf club shatters into four parts."
The murder weapon - a golf club - was the first clue Greenwich police had to go on.
"The day the body was found, the police found a golf club that matched the murder weapon inside the Skakel home," said Levitt.
But at the time, it wasn't enough to arouse their suspicions.
"Their first hypothesis, nobody from Greenwich could have done this, this is too brutal a crime..." Levitt said. "... some hitchhiker perhaps, off the thruway."
The investigation began by establishing the likely time of Martha's death. Greenwich police consulted forensic expert Dr. Michael Baden.
"It was our opinion that the ... time of death, based only on stomach contents, was somewhere between 9.30 and 10 o'clock," said Dr. Baden.
Police then established who had been with Martha that night.
"Martha turns up at the Skakel house, perhaps around 9:00 that night with some friends," said Levitt.
Martha got into the Skakel's Lincoln, which was parked in the driveway. She sat between Michael, and his older brother, Tommy. A short time later, the Skakels say, Martha then got out of the car with Tommy, while Michael and a few others drove off.
"Somewhere about 9:15, Michael goes with his older brothers Rush Jr., and John and his cousin, Jimmy Terrian, back to Jimmy Terrian's house," said Levitt.
Around the time of Martha's murder John Skakel says they were at the Terrian's house watching the U.S. premiere of "Monty Python's Flying Circus."
"At 10 o'clock Michael was eight miles away with myself, my brother Rush, and my cousin Jim Terrian," John Skakel said.
Meanwhile, back at the Skakel home ...
"Martha's with Tommy. What goes on between Martha and Tommy began as sort of playful pushing back and forth with sexual overtones," Levitt explained. ... friends are so embarrassed that they leave. ... Tommy tells the police he ... last sees Martha at 9.30 that night when she leaves to go home. Martha never gets home ... Tommy is seen again shortly after 10:00 with Ken Littleton."
Littleton was the family's new tutor, who had just moved into the house that day. "Littleton is unpacking, he's watching the 'French Connection' on TV," said Levitt.
Everyone Greenwich police interviewed who saw Martha that night had an alibi. Michael Skakel's alibi was so strong he was not considered a suspect. Several weeks would pass before investigators turned their attention to the person they believed was the last to see Martha Moxley alive: Tommy Skakel.
"Tommy's story is that he last sees her at 9.30 when she leaves him. And he goes inside to write a paper on Abraham Lincoln. The police later find out that no ... teacher at Tommy's school ever assigned this paper. By the late fall, they were focusing on Tommy and they're focusing on him with a vengeance," said Levitt.
"What was it like when you all realized that your older brother was a suspect?" Stahl asked Steven.
"It was shock and disbelief," he said.
"What did Tommy say?" Stahl asked.
"He said he didn't do it. And I know he didn't do it," Steven replied.
Tommy Skakel lived under a cloud of suspicion for years. Now married with children, he was the only Skakel family member who refused to talk with "48 Hours." In the end, police never charged him -- partly because of his alibi that night.
"The problem with Tommy as a murder suspect is that if this happened at 10:00, Tommy's alibi is Ken Littleton," said Levitt.
With no new leads, the investigation went cold. But Dorthy Moxley never gave up hope.
"Well, we knew it had to be one of the boys, either Tommy or Michael," she said.
"Right from the beginning?" Stahl asked.
"Well, you know, the murder weapon came from that house and that was the last place she was seen," Moxley said.
In 1991, 16 years after Martha Moxley's murder, the case was revived when a new investigator started taking another look at the Skakels.
With the focus back on his family, Rushton Skakel did something extraordinary. Trying to clear the family name, he hired his own team of investigators to look into Martha's death. Their results became known as the "Sutton Report." The key findings focused on Ken Littleton and Tommy and Michael Skakel. But the effort backfired because the report, for the first time, pointed a finger at Michael.
"Michael ... lied to police. Michael's story was he's gone to the Terrian's and he comes home at 11.30 and then he goes right to bed," Levitt said of the report.
But he the told Sutton investigators that's not all he did that night.
"He's feeling horny. It's around midnight, he's drunk, He wants to see Martha and he goes out and he climbs the tree outside Martha's window. He throws stones at the window and he masturbates in a tree. He climbs down. Right around where the crime scene is, he hears voices and runs home and he goes to bed," said Levitt.
In fact, Michael even made a tape recording of that story in a 1997 book proposal for a tell-all biography.
Michael Skakel audiotape: "I ran home and I remember thinking "Oh my God, I hope to God no one saw me jerking off. ... and I remember thinking 'Oh, my God, if I tell anyone I was out that night, they're gonna say I did it.'"
When former L.A. detective Mark Furhman, who gained notoriety during the O.J. Simpson case, was leaked a copy of the Sutton Report, he wrote the best seller "Murder in Greenwich," naming Michael as Martha's killer.
Just one month later, in June of 1998, prosecutor Jonathan Benedict called for a special grand jury to hear evidence about the case. The grand jury heard some explosive testimony -- much of it from Michael's former classmates at the Elan Reform School, where Skakel had been sent after a drunk driving incident.
Several of them dropped a bombshell that he had confessed to killing Martha.
Greg Coleman audiotape: The first words he ever said to me was 'I'm gonna get away with murder. I'm a Kennedy.
Former Elan student Greg Coleman told a reporter what Michael told him about the night Martha died:
Greg Coleman audiotape: He had made advances to her and she rejected his advances,and quote unquote, that he drove her skull in with a golf club.
In January 2000, after hearing testimony from several Elan students and others, the grand jury indicted Michael Skakel for the murder of Martha Moxley.
When Michael Skakel finally went to trial, the rest of his family was convinced he would be found not guilty. After all, Michael had an airtight alibi and there wasn't a single shred of physical or forensic evidence that linked him to the crime. His brother, David Skakel, thought that finally the family name would be cleared once and for all.
"We were worried that without a trial he could ... never fully get closure, in clearing of his reputation," David said.
"So you saw this as a way to absolve him?" Stahl asked. "We all did," David replied.
So when the jury returned their guilty verdict, the Skakel family was left shocked and devastated.
Following Michael's conviction, Bobby Kennedy Jr. began his own investigation and made a stunning discovery.
"On the night of the murder, they picked up a golf club or some golf clubs from the Skakel yard," Kennedy explained. "And they said that they were going to go out and get a girl 'caveman' style."
Brother, cousin work to clear Michael Skakel
For the first few years of Michael Skakel's incarceration, his brother, Steven, spent every Saturday morning making the long drive from his home in Connecticut to visit his older brother in prison.
"Just let him know we're still here and still fighting for him," Stephen Skakel told Lesley Stahl.
Now 46, Stephen is the youngest of the Skakel children. He was just 9 when Martha Moxley was murdered.
"There's only so much people can take, and we've taken it for 30 years," he said.
Since the conviction, he has taken the lead in the fight to clear Michael and the Skakel family name.
"I've gone through all the transcripts and all the police reports..." he explained.
"Did you ever look Michael in the eye and ask him directly if he killed Martha?" Stahl asked.
"No. I know Michael. And I know in my heart that he did not," Steven replied.
Even more outspoken is Skakel's cousin, Bobby Kennedy Jr.
"He doesn't deserve to be spending 20 years of his life in jail for a crime that he didn't commit," Kennedy said. "For me to come out publicly to defend somebody that basically everybody in the country feels is guilty of murder is, from a personal strategy, not ... a good choice for me but I know he's innocent."
Although they were not close as kids, as adults Bobby Kennedy and Michael Skakel shared a similar history -- problems with addiction.
"I became close to Michael Skakel in 1983, when I first got sober. And Michael had been sober for a year or two years at that time," said Kennedy.
Kennedy spent six months investigating the case for the Atlantic Monthly article.
"What do you hope this article you wrote is going to accomplish?" Stahl asked Kennedy.
"I really wrote that article for Michael's son, for Georgie, because he's gonna grow up with most people in this country thinking that his father murdered a girl and he didn't do it," he replied.
Kennedy knew he had hit pay dirt when the letter from Skakel's classmate, Crawford Mills, arrived revealing that another classmate, Tony Bryant, said he knew who had killed Martha Moxley.
"Tony Bryant ... was one of the first African American students at Brunswick," said Kennedy.
Bobby Kennedy located Bryant in Florida. "Tony's story has a lot of credibility," he said.
Bryant told Kennedy that on the night Martha died, he was in Greenwich with two friends from the Bronx.
"One of them was black and one of them was white. And that they were, these two people were best friends,' Kennedy explained. "They went up to Greenwich on several occasions with Tony ... that one of them became obsessed with Martha Moxley."
Bryant told Kennedy his friends had a plan. They picked up golf clubs from the Skakel's yard.
"They picked up these clubs and they said that they were going to go out and get a girl 'caveman' style ... and that Tony understood that girl to mean Martha Moxley," Kennedy explained.
"Now what is caveman style? What is that?" Stahl asked Kennedy.
"What he says is that it meant that they were gonna hit her over the head and drag her into the bushes," he replied.
Bryant wanted no part of their plan and claims he left. When he read what had happened to Martha Moxley, he feared the worst.
"He's saying that they confessed to him a couple of days later, that they had killed Martha Moxley?" Stahl asked Kennedy.
"Well, they never actually said that they had killed Martha Moxley, but that they were in some ways boastful about it and were kind of egging him on to inquire to them about the details," Kennedy explained. "...They would say things to him that were suggestive like 'we accomplished our mission' and 'we did it,'" he replied.
Asked why he would wait 28 years, Kennedy said, "His mother urged him not to talk about it publicly." Why? "That was prompted by her fear that as a young, black man in Greenwich that he would be a target for prosecution."
When Bobby Kennedy spoke with the two men, he says neither of them acted as though they had anything to hide.
"I asked them to confirm some of the basic information that I heard that they were friends of Tony's," he continued.
"They did confirm that?" Stahl asked.
"Yes ... that they had been to Greenwich with him on several occasions," said Kennedy.
"They confirm that?" Stahl asked. "Yeah," Kennedy replied.
Bobby Kennedy, however, did not ask them if they had anything to do with Martha Moxley's murder.
"I didn't tell them that Tony had accused them of committing the crime at that point," he said.
Both men have denied any involvement in the death of Martha Moxley. And despite attempts to challenge Tony Bryant's credibility, the man who went to prep school with Michael Skakel stands by his story.
"Somebody decided that a Skakel was gonna go to jail and that all of the other evidence, the abundant evidence against other people, were gonna be ignored," said Kennedy.
Kennedy says these new developments support his arguments that the prosecution simply had the wrong man.
"The strongest piece of evidence is that Michael has an alibi," said Kennedy.
Michael's alibi, that he was across town watching "Monty Python" when the murder occurred, has always been supported by several relatives, including his brother, John.
"I took a lie detector test in which ... I was asked who was in the car that went to my cousins', the Terriens, who live about eight miles away. And Michael was in fact in the car and that was my response," said John.
John's 1975 polygraph results, however, were inadmissible in court. What did make it into the trial though was the testimony of two former Elan students.
"The two most damaging witnesses against Michael were ... Greg Coleman and John Higgins," said Kennedy.
The prosecution contended that when 17-year-old Michael was at the Elan School, he talked openly about the murder.
"Greg Coleman testified that he had heard Michael confess to having murdered Martha Moxley five or six times," Kennedy explained. "When he came up in front of the preliminary hearing, Greg Coleman testified that Michael had only confessed to him actually once or twice."
When Michael's defense attorney, Mickey Sherman, asked Greg Coleman why he had changed his story, Coleman admitted that prior to facing the grand jury, he had taken 25 bags of heroin. Greg Coleman died of a drug overdose just before the trial, but a tape of his previous testimony was played for the jury.
"Higgins was an Elan bully who tortured Michael when he was at Elan," said Kennedy.
John Higgins did testify at the trial and said Michael had also confessed to him. Higgins refused "48 Hours"' request for an interview.
"Why couldn't Michael's attorneys have destroyed their credibility?" Stahl asked Kennedy.
"I think Michael could have gotten better representation," he replied.
"I would ask Mickey 'Why aren't you bringing this or that up?'" Steven said. "'Everything's fine. We're gonna have a good day.'"
But the worst day of all for the Skakels and Mickey Sherman was June 3, the day of closing arguments.
"The prosecutors in the case used a very, very sophisticated multimedia technique," said Kennedy.
Prosecutor Jonathan Benedict transcribed and played Michael's own words from that book proposal over gory photographs from the crime scene.
Michael Skakel audiotape: And I woke up to Mrs. Moxley saying 'Michael have you seen Martha?' I was like "Oh my God did they see me last night?"
John Skakel, who was in the courtroom, feels it distorted Michael's own words into a confession.
"We all felt sick," he said.
Michael Skakel audiotape: And I remember just having a feeling of panic like "Oh s---." Like my worry of what I went to bed with.
The problem, says Bobby Kennedy, was that Michael was talking about being seen masturbating, not committing murder.
"His tape-recorded words were used out of context by the prosecutor to imply that he was confessing to the crime," Kennedy said. "That multimedia display really convicted Michael in the end."
But is the end about to be rewritten? What the Skakel's now have is hope.
Tony Bryant was eventually persuaded to do a 90-minute interview on videotape, confirming what he told Bobby Kennedy. Would this be Michael Skakel's ticket out of jail?
A miscarriage of justice?
To Bobby Kennedy Jr., the conviction of Michael Skakel was a miscarriage.
"We're talking about a case that was 27 years old. Everybody's memories are hazy." he said. "This was the easiest case in the world to win. Reasonable doubt was all over the place."
Turns out that Tony Bryant's story was known even before the trial began.
Remember Crawford Mills? He says he first took the information to the prosecutor's office and Michael Skakel's attorney just before the trial.
"The prosecutor told him to get lost. They weren't interested in pursuing this evidence, this lead," Kennedy told "48 Hours."
In fact, the defense didn't pursue it either. While prosecutor Jonathan Benedict declined to talk to "48 Hours" about Tony Bryant's story, he was clear that he thought the trial was fair and appropriate.
"Is there any part of your brain that has any doubt that Michael did it?" Stahl asked Benedict.
"No. Absolutely none," he replied.
"What in the article, Bobby Kennedy's article, did you feel was simply not true?" Stahl asked.
"Almost all of it, literally paragraph by paragraph," said Benedict.
"Can you give us one or two highlights that you think were the most egregious?" Stahl asked.
"Probably his attack on Ken Littleton," Benedict replied.
The Skakel family originally thought that Ken Littleton, the family tutor, should have been looked at more closely. At the time of the murder, Littleton said he was watching a movie with Tommy Skakel, but there were some inconsistencies in his story.
Gene Riccio was Ken Littleton's attorney.
"He's been diagnosed with having bipolar disorder ... been in and out of hospitals. It's not a secret," Riccio told Stahl. "He's had a number of hospitalizations."
"Is it possible that the illness can be attributed to the murder of Martha Moxley?" Stahl asked.
"I don't think so at all. I think arguments made that Mr. Littleton is responsible for this homicide are ridiculous," Riccio replied.
In fact, the Skakel's agree and now no longer consider Ken Littleton their primary suspect.
Prosecutor Benedict says there was no miscarriage of justice. His case was built point by point, beginning with discrediting Michael's airtight alibi of taking a ride to his cousin's house at the time of the murder. He put Skakel family friend Andrea Shakespeare on the stand.
"Andrea Shakespeare is one of the witnesses from the neighborhood on the night of the murder who was certain that Mr. Skakel never took that alibi ride," Benedict told reporters.
In her testimony, when asked if Michael had gone to his cousin's that night, she replied "he did not."
Benedict continued to attack the alibi, using Michael's brother, John.
"One of the other Skakel brothers, John, had taken a polygraph," Stahl noted.
"Yeah ... and he passed. He was therefore in 1975, 1976 considered to be the most credible alibi witness for Michael Skakel. But a funny thing happened over the years," Benedict explained. "When John came before the grand jury he changed his story to this: He really didn't have any recall of who went to the Terrien's house and who didn't."
Benedict may have succeeded in discrediting the alibi, but ultimately, he says, Michael did himself in.
"The truth of the matter is that Michael Skakel ... couldn't keep his mouth shut for a quarter of a century," he said.
Benedict is referring to those Elan students and others that Michael supposedly confessed to over the years.
"Bobby Kennedy spends some time in the article really shredding their truthfulness and their motivation for coming forward," Stahl commented to Benedict.
"Mickey Sherman did that at trial," said Benedict.
"And they say he wasn't that successful or effective. He didn't push hard enough," said Stahl.
"Mickey pushed as hard as he possibly could. He didn't miss a single issue," said Benedict.
What the defense failed to anticipate was the impact of Jonathan Benedict's closing argument.
"I don't know that the Skakel family realized how many persuasive dots I had to connect," he told Stahl.
Up until that point, both sides thought Michael might be acquitted.
"There were days when I thought 'Oh this is just never going to happen. This is just looking very bleak,'" said Dorthy Moxley told Stahl.
"Were you thinking things were gonna go the other way?" Stahl asked David Skakel.
"Well, yeah we had no doubt about it until we saw this multimedia closing," he replied.
Benedict played a critical passage from Michael's own book proposal to sum up his case. But the passage he used was edited in such a way that what the jury heard appeared to be a confession to murder:
Michael Skakel audiotape: And I woke up to Mrs. Moxley saying, "Michael, have you seen Martha." I'm like "What?" ...I was like "Oh, my God, did they see me last night?" I just remember having a feeling of panic...like "Oh s---."
But here is what Benedict intentionally left out:
Michael Skakel audiotape: And I remember thinking, "Oh, my God, I hope nobody saw me jerking off and I woke up to Mrs. Moxley saying 'Michael, have you seen Martha?'" I was like "Oh, my God, did they see me last night?"
"In hearing this myself, without hearing the preamble about masturbating, is that Mrs. Moxley wakes him up and he says 'Oh, my God, did they see me last night' and over in the corner there's a picture of the battered body of Martha. 'Oh my God, did they see me last night? I had a feeling of panic.' And they're looking at the picture of her and the suggestion to anybody is that he's actually talking about murdering her and isn't that really taking him out of context?" Stahl asked Benedict of what he presented in court.
"No, I don't think so. I think it's a fair," he replied.
"If I did this on '48 Hours' I'd be fired," Stahl pointed out.
"I think it's a fair suggestion based on the evidence of the case," Benedict replied.
It took the jury four days to come back with a guilty verdict. The sentence: 20 years to life.
End of story? Not yet. Thirty-eight years after the crime and 11 years after the conviction, the question of who did kill Martha Moxley is heading back to court.
Reversal of fortune
Dorthy Moxley's only daughter, Martha, would have turned 53 this year.
"Martha was one of these children that was just so easy to raise, to do things with," she said. "She really just was a very, very special girl."
And while Bobby Kennedy says he understands her loss, he has been steadfast in his belief.
"I know he's innocent. I know he's innocent," Kennedy said. "A skillful prosecutor can often put people in jail who are not guilty of a crime."
For the past 11 years, Steven Skakel has been leading his family's efforts to free his brother.
"You have to remain hopeful. I mean, we c -- you can't ever give up hope," he said.
There have been appeals on the state and federal levels, and in 2007, Michael Skakel stood in front of the judge that sentenced him in 2002.
Skakel's team had hoped a video statement from Tony Bryant could help set Michael free.
Bryant described what his friends had told him the night Martha Moxley was murdered:
Tony Bryant video interview: We decided to go up to Greenwich and hang out...I've got my caveman club and I'm going to grab somebody and pull them by the hair and do what cavemen do.

Question: So do you believe they killed her? Either the two of them or...

Tony Bryant: "I think they we're definitely involved ... There is no doubt in my mind they were involved.
The Skakels were sure they had made their case, but in the end, the judge did not agree. Michael Skakel's petition for a new trial was denied.
"It was a subjective determination by the judge that the Tony Bryant information ... would not be enough to sway the jury" said Steven.
But the Skakels were far from done. They filed fresh appeals with a renewed focus on the performance of Michael's first lawyer, Mickey Sherman.
"I think Michael could have gotten better representation" said Kennedy.
"It's -- dumbfounded us as to the amount of information that Mickey did not follow up on. And, as a result," Steven explained, "we're stuck in the situation that we're in. And my brother's sitting in a jail cell."
In April 2013, one more court date -- one more shot. Michael Skakel was back in court, and took the stand, testifying against his former ally.
Skakel blasted Mickey Sherman for botching the case and being more interested in raising his own profile.
"He was hanging out with the press, he said he was a media whore," Michael Skakel testified.
Sherman, a defense attorney, was now defending himself.
Skakel's new lawyer, Hubert Santos, was on the attack:
Hubert Santos: You spent most of your time talking to the media. Right?

Mickey Sherman: No

Hubert Santos:Matter of fact, your billing records are replete, with conversations with reporters that you billed the Skakel's for. Right?

Mickey Sherman: It's one of the reasons they hired me.
And it's not the first time he's been in the hot seat. In 2011, he was sent to prison for failing to pay hundreds of thousands in federal taxes.
Facing the latest challenge, Sherman was grilled as to why he dismissed the information concerning two other possible suspects.
Skakel's lawyer also questioned Sherman as to why he didn't raise suspicion about Michael's brother, Tommy, who had exhibited questionable behavior:
Hubert Santos: Did you know that prior or during the trial that he would puts his fists through doors?

Mickey Sherman: I don't recall.

Hubert Santos: Did you know that prior to the trial or during the trial that he ripped the telephone off the wall?

Mickey Sherman: No

Hubert Santos: Did you know that prior to or during the trial that he strangled a former classmate right in front of his teacher?

Mickey Sherman: I don't recall that.
As Santos finished with Sherman, one last point:
Hubert Santos: Would it surprise you to learn that not once use the term in your summation proof beyond reasonable doubt?

Mickey Sherman: Probably not.
Just this week, in a dramatic reversal of fortune,
Judge Thomas Bishop granted Skakel a new trial and in a 136-page decision, skewered Sherman for failing to adequately represent his client -- failing, amongst other things, to point the finger at others, most notably Michael's older brother, Tommy.
As Michael Skakel awaits the next chapter in his odyssey, his one constant has been his son, who is now 14 years old.
"The one thing that keeps him going throughout this whole thing is his son," Steven said. "That's what keeps him steady during the rollercoaster of the different decisions that have come down this far."
But there's another parent, Martha Moxley's mother, Dorthy, who has to relive what happened to her daughter all over again.
"I'm always going to have Michael Skakel with me," she said. "It really doesn't end ... once you're a victim, being a victim is just part of you forever."
For all the Skakels, the past 11 years that Michael has been in prison have been a test of patience and determination -- one they say they will continue to face together as a family.
"We all want to get our brother freed ... and clear his name and our family's name as a whole," Steven Skakel told "48 Hours." "I know if I was in my brother, Michael's, position, he would never stop. None of us would."
Skakel's lawyer is now working on getting Michael Skakel released on bail.
The state plans to appeal the judge's decision.
Thanks for reading CBS NEWS.
Create your free account or log in
for more features.