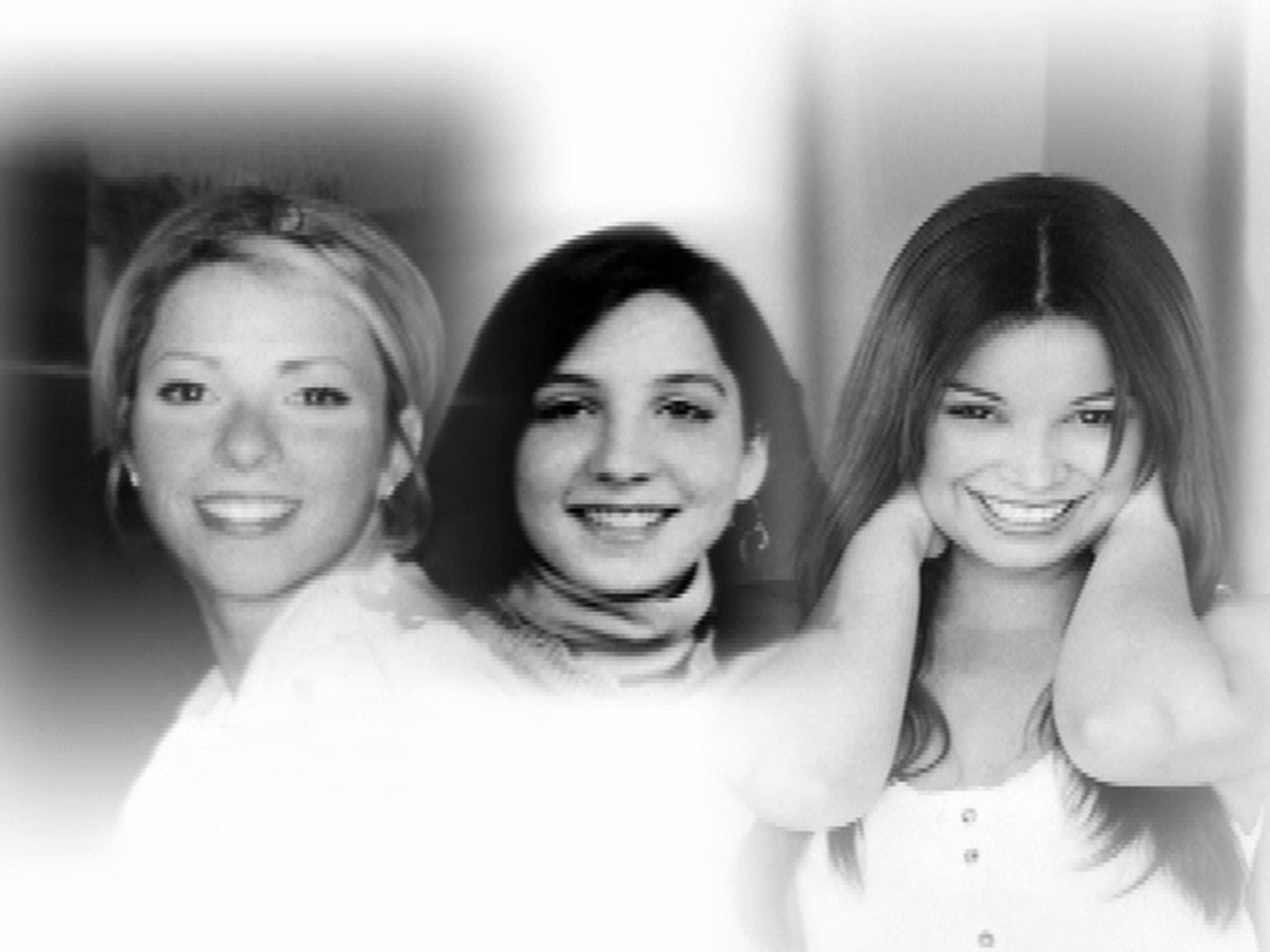 Michael Gargiulo: The serial killer next door?
Produced by Josh Gelman and Doug Longhini
In May 2011, "48 Hours Mystery" reported on the 1993 murder of a young woman named Tricia Pacaccio. Now, because of that broadcast, we can report that there is finally a breakthrough for a family that has been waiting nearly two decades for justice.
The bright lights of Hollywood have always attracted the young and the beautiful. Ashley Ellerin, 22, was no exception.
For this small-town girl from northern California, life in Hollywood in 2001 was a whirlwind of work, friends and fun.
At the center of Ashley's world was a core group of close friends - Justin Peterson, Jennifer Disisto and Chris Duran.
"She was amazing. You know, just amazing," Peterson told "48 Hours Mystery" correspondent Maureen Maher.
"She was just beautiful, and fun, and spontaneous," added Duran.
When the group wasn't out having fun, Ashley spent her days as a student at the Los Angeles Fashion Institute of Design and Merchandising.
"And what were her goals and dreams at that point in her life?" Maher asked.
"I think it was basically, you know, to get into the fashion industry," said Peterson.
But out at night with her friends, Ashley found herself catching the attention of some of Hollywood's rising young stars, including 23-year-old Ashton Kutcher.
"We had hung out with him a couple of times, you know," Peterson said. "And, you know, they had... maybe gone out on a couple dates, or whatever."
"Hollywood is Hollywood," Disisto said." You know, interacting with celebrities - that is how it is. I mean, they live here."
So when Kutcher asked Ashley out for the night of Feb. 21, 2001, no one thought much of it.
"I knew they were gonna be hanging out, going to a Grammy party," Duran explained. "[He was] pickin' her up to take her to a party."
Kutcher arrived around 10:45 that night, but Ashley never answered her door. According to police interviews, before he left, Kutcher looked in the windows and saw what he thought was spilled wine on the floor. As it turned out, it wasn't wine at all.
Ashley was found by her roommate early the next morning.
"I remember it like it was yesterday," Disisto recalled. "I entered the house. And Ashley was laying across the two stairs - absolutely blue and covered in blood.
"A sense of trauma just came over me," she continued. "I thought maybe the person was still there, and I kinda ran out, and getting to the car... and calling from my cell phone, 911. ... It still traumatizes me to this day."
Los Angeles Police Department Homicide Detective Tom Small, working out of the Hollywood division, was one of the first on the scene that morning.
"Ashley Ellerin was just everybody's daughter, you know. Living life and having fun." he told Maher. "She winds up meeting somebody who's the wrong person and lost her life over it."
Ten years later, Det. Small has no trouble remembering what he found inside that house on Pinehurst Road.
"I observed quite a large amount of blood...and not too short a distance was Ashley's body," he recalled. "A lot of anger. a lot or rage. Somebody had isolated Ashley Ellerin to kill her and was very, very angry when he did it... It just was a very bad scene. Probably one of the worst I've seen."
What surprised this seasoned investigator even more was what he didn't see - any evidence that would point to a killer.
"You know, we were just looking for any type of direction or clues that would - to lead to a suspect," Small told Maher as they stand outside of Ashley's former residence.
It was Ashley's friends that gave detectives that first and only clue pointing them to a young man Ashley had met in the neighborhood months earlier.
"The information we have is that he introduced himself as a heating and air guy," Small said. "Ultimately got some additional information. Was able to come up with some photos and identify him as Michael Thomas Gargiulo."
"We had heater problems. He came in, you know, we looked at the heater," Peterson explained. "And he started telling us all the crazy stories that, you know, he was this professional boxer."
In fact, Michael Gargiulo did have a short career as an amateur boxer. But when he first arrived in Hollywood in 1998, like countless others, he had a different dream in mind.
Los Angeles filmmaker Temple Brown gave Gargiulo a small role as a boxer in his graduate thesis film.
"This was in 1999. I was a film student at USC," Brown told Maher. "I think he was perfect for that part as far as, you know, this movie goes," he said as he watched Gargiulo's scene. "He looked it. And he performed it very well."
Gargiulo fit the role of a boxer to a tee, but when the camera stopped, Brown says there was something odd about him.
"I think he was withdrawn, maybe somewhat shy, even, but just kinda very quiet and I would say kinda kept to himself, didn't really talk a whole lot," he said.
And it was that same manner that began to give Ashley and her friends pause as well.
"He really wanted to be your friend more than he wanted to be dating her," according to Disisto, who said she is not aware of Gargiulo ever asking Ashley on a date.
"That's what's weird," Duran added. "He didn't seem obsessed. I mean - it's hard to explain. It doesn't seem like he was obsessed with her sexually, like, 'I want you.' He was just obsessed with...maybe a lifestyle, or her being."
Ashley's friends say he became fixated with her, showing up at the house at odd hours.
"There was one occasion when he was observed sitting in a vehicle," Det. Small explained. "The engine was running and he was just looking in the direction of Ashley's house just sitting there and it was early in the morning."
"I was walking. And then saw him sitting in his car at the end of the street with the motor running," Peterson said. "And I keep calling Ashley, like, 'Where did you find this guy? This is very odd. Why is this guy in front of our house at 2:00, 3:00 in the morning?'"
Peterson confronted him the next day when Gargiulo dropped by for a visit.
"He started to go on about how the fact that he couldn't go home last night, because the FBI was waiting for him at his home to collect DNA samples from Chicago, some case or some murder, his best friend's girlfriend was murdered, or whatever. And I said, 'Well, what do you have to hide?' And he immediately put his leg up on the couch, and started to pull out a knife that was, like, you know, strapped to his ankle," Peterson explained. "At that point, I rushed him out of the house."
Ashley Ellerin and her friends dismissed Gargiulo's story as an unlikely fantasy. What no one realized at the time was it was true.
TRICIA PACACCIO
Besides being an aspiring actor, a boxer and a repairman, Michael Gargiulo was also the prime suspect in the investigation of the murder of Tricia Pacaccio.
It happened nearly two decades ago, but to this day, Doug Pacaccio is still haunted by the moment he found out his sister, Tricia, had been savagely murdered.
"I just remember waking up to this, this blood-curdling scream of my father. ...And it was, 'Doug, call 911! Doug, call 911!" he said. "I don't really want to describe the details of what I saw. I have nightmares about it all the time."
Years later, while investigating Ashley Ellerin's murder, California detectives were surprised to learn their No. 1 suspect, Michael Gargiulo, was closely connected to another murder in his hometown of Glenview, Ill.
"Like any high school girl, she was boy crazy. We all were. We, we'd talk about boys for hours... We had a wonderful time in high school," friend Karen Jones said of Tricia Pacaccio.
She will never forget the last time she was with Tricia. It was an unusually cool and foggy August night in 1999. It was Friday the 13th.
"That night, a whole group of us got together for a scavenger hunt party and we all had dinner at a restaurant ...for one of the final parties of the summer before we all went off to college," she said.
Tricia got home sometime after 1 a.m. With keys in hand, she went to the side of the house to let herself in. She never made it.
The next morning, Tricia's father, Rick, found his daughter.
"I woke up and had a cup of coffee, and I was goin' out to my van," he said. "And I just happened to see two little tennis shoes stickin' up by the side door. And when I saw it was her, I dropped the coffee cup...
"I tried to revive her," he said, crying. "That is the worst feeling in your life, when you can't do nothin' for somebody you love."
Tricia's mother, Diane, was at work. "And I just left work and jumped in the car and came home and I don't remember anything else," she said.
Ray Salihovich was the first uniformed police officer on the scene.
"She had a lot of blood on her shirt or her blouse," he recalled. "I was guessing she was stabbed numerous times.
"I heard a lady screaming," Salihovich continued. "I turned and looked 'cause I was still in the front yard and the mother was running toward Trish. And I basically tackled her. I didn't want her to see Trish like this and remember her daughter like that."
Homicide detectives from the Cook County Sheriff's Office quickly took over the crime scene.
"The crime scene back then," Salihovich said, "I thought it could have been handled better, taped off more."
"You think there were mistakes made that day...that hindered the investigation?" Maher asked.
"I think the crime scene should have been handled a lot better. More secure. Yes," he replied.
While investigators were trying to secure the scene, one young neighbor was paying close attention: 17-year-old Mike Gargiulo.
"I called him. I'm like, 'Hey, you know, what's going on? It's like, 'I know it's crazy,'" said Scott Olsen, who was childhood friends with Gargiulo. "He goes, 'Yeah, I went over there.' He goes, 'You couldn't miss all the sirens and everything, all the commotion.'"
"What was Mike's reaction to all of this?" Maher asked Olsen.
"It was equal to mine," he said. "Just shock. Complete and total shock."
"It seemed appropriate at the time?"
"Absolutely."
Olsen says he met Mike through Doug Pacaccio. "He grew up in their house," he says.
Just two days before her murder, Olsen and Gargiulo had given Tricia a ride to her boyfriend's house.
"We just drove her. She wasn't in the car very long. She got out," Olsen recalled. "And that was the last time, I guess, we saw her."
Asked of Tricia and Gargiulo had any kind of a relationship, Olson replied, "Same as it was with me... You're my little brother's friend."
Scott Olsen says there were two sides to Michael Gargiulo. One side was an awkward, insecure teen.
"The other side of Mike was, he had what I called a crazy switch, where if he really wanted something, he was gonna get it, one way or another. And he flipped a switch all emotions gone," he said snapping his fingers.
Yet nothing about Gargiulo gave the Pacaccios cause for suspicion.
"I knew him to be very quiet and, like, one of the guys in the back," Rick said. "Was never loud or boisterous whatsoever."
The Pacaccios say they never saw him display any aggressive or violent behavior. Asked if Gargiulo was friends with Tricia, Rick and Diane both say "no."
But starting about a year after Tricia's death, Gargiulo began drawing attention to himself with some strange behavior.
"It first started with the flower," said Diane.
"He bought Diane flowers," says Rick.
"I'm like, 'Why is Michael bringing us -' it was live greenery," Diane continued. "At Easter time, he bought us a lily. He bought us [a] dinner certificate to a restaurant. ...And then he even brought [Rick] a shirt."
"It's like, wait a minute, nobody else is giving gifts," said Rick.
"And I said to him, 'Why is Michael giving us all this stuff?'" said Diane.
"And we were tellin' the detectives at the time what was going on," Rick told Maher.
It was enough for Cook County Sheriff's Detectives Jack Reed and Mark Baldwin to take a closer look at Michael Gargiulo.
"One of the psychologists that was talking to us says, 'He's trying to expiate his sin. He's trying to atone for his crime with the presents that he was giving the family."
The detectives discovered Gargiulo had a criminal record, having once been arrested for theft. Then Doug Pacaccio told them about a curious conversation he once had with Mike.
"He looked at me and he said, 'If you knew who did this, would you kill them?' I said, 'Well, what do you think? Ask any father, any brother... I think you know the answer," he said. "The police called me later on - Det. Jack Reed - and said, 'Do you realize Michael Gargiulo called us and told us that you threatened him?'"
According to Det. Jack Reed, "He knew how to play the system, OK? He knew the heat was on."
And it seems that Gargiulo wasn't shy about pointing the finger at his friends.
"When we were finally able to compel Mike Gargiulo to talk to us, he was aware that we had shown interest in one of his good friends, Eric Agazim," said Det. Mark Baldwin.
Eric Agazim was another kid from the neighborhood and a close friend of Gargiulo and Doug Pacaccio... but not so close that Gargiulo wouldn't give him up to the detectives.
"He attempted at that time to lay all the suspicion on his doorstep by telling us that the morning after the murder, Eric came to his home and asked him to come along so he could hide something... a gym bag," Baldwin said. "We asked Mike Gargiulo what was inside the bag. [He said] 'I have no idea.'"
Maybe... but the detectives say Gargiulo strongly implied it contained the murder weapon: a knife.
"Did you get the feeling he was intentionally steering you towards Eric?" Maher asked.
"He did," Det. Reed replied.
Gargiulo's story worked. When Agazim refused to talk with police, he became their No. 1 suspect.
But police were unable to develop any real evidence against Agazim, Gargiulo or any other suspect for that matter. The Tricia Pacaccio case gradually went cold. Then one afternoon, five years after Tricia's murder, Michael Gargiulo suddenly showed up on the Pacaccios' doorstep.
What he did next convinced Tricia's parents that he had murdered their daughter.
"He says, 'I need to talk to Rick,' and I said, 'Well he's at work Michael.' And he says 'Can I wait?' And I say, 'Yes,'" Diane Pacaccio recalled. "He sat and waited for over an hour for him to come home from work...sat at my kitchen table."
"I remember walkin' in the garage door...and I looked at him, and he had this look on his face like he was gonna say something to me," Rick said. "The garage door opens, his father and one of his sisters come in, and say, 'We have to leave, Michael.' And they pick him up and whisk him out."
"You believe that was the moment that you started to think Michael Gargiulo may have had something to do with her death?" Maker asked.
"Oh there was no doubt about it," said Rick.
Rick Pacaccio called the sheriff's detectives to tell them Gargiulo was their man. But it was too late.
MARIA BRUNO
When Michael Gargiulo left Chicago, he may have thought he was leaving the murder of Tricia Pacaccio behind. But wherever Gargiulo went, it seemed that another dead body was just around the corner.
In 2005, 12 years after Tricia's death and four years after the murder of Ashley Ellerin, Gargiulo was living in the Los Angeles suburb of El Monte. By this time, the Ellerin case had gone cold.
But in a frightening coincidence, another young woman was found dead in her apartment just steps away from where Gargiulo lived.
"Apartment No. 20 is where Maria Bruno lived. So, he kind of has a pretty clear shot, if he's looking through the window right down to her place," Det. Mark Lillienfeld pointed out to Maureen Maher as they stood outside the apartment building. "He has a very clear shot at her front door, and both living room window and the kitchen window."
Lillienfeld, a homicide detective with the Los Angeles County Sheriff's Dept., was assigned to investigate the murder of 32-year-old Maria Bruno.
"She was a mother and a wife and a daughter and a sister. She was all those things," Lillienfeld said. "She had come to this country from El Salvador as an adolescent ... She met and married her husband when she was a young woman. ...she had 2-year-old twins and then I believe a 4-year-old and a 5-year-old."
Recently separated from her husband, who kept custody of their children, Maria was just getting her new life started.
"The victim had just moved in 10 days prior to her death," Det. Lillienfeld said. "And she had picked that building specifically because it was very secure. ...You had to either have a pass code or a key the get through the front door. So it was a very secure building."
"What do you suspect happened?" Maher asked.
"A screen was removed from a ground floor kitchen window," Lillienfeld said. "It appears from the evidence that he obtained a weapon there in the kitchen. ...And that he then ... entered into her bedroom, where she was asleep.
"We're talking about a 90-pound, 32-year-old woman ... defenseless, asleep in her bed in her home, where if there's any one place in the world she should feel most secure - that attack is every woman's nightmare."
In fact, it was a seasoned detective's worst nightmare, as well.
"It was unlike any other scene, actually, I had ever seen," Lillienfeld recalled. "The violence that was visited upon her ... was phenomenal. ...After she was dead her body was somewhat mutilated. And you just, you know, that's - that's crap you see in the movies. In real life that is very rare. It just doesn't happen."
Like Ashley Ellerin, Maria Bruno seemed to have no enemies that would do her this kind of harm.
"In your opinion, it looked like she was killed just to be killed," noted Maher.
"Yes," Lillienfeld said. "It was a bit of a puzzle. I mean we're able to eliminate burglary or robbery. And relatively quickly, we were able to eliminate sexual assault as being a motive."
But unlike the Ashley Ellerin case, this time the assailant left something behind.
"Outside of Miss Bruno's apartment was a blue cotton bootie, like a shoe covering. ..."Actually, on the sole of the bootie was a drop of blood," Lillienfeld explained. "DNA testing proved that, in fact, it was Maria's blood."
It was a clue, but it was also a dead end. No other evidence was discovered.
"I knew we would have a challenge ahead of us," Lillienfeld admitted. "I knew it was going to be a difficult case."
What Det. Lillienfeld didn't know at the time was that for investigators to finally solve the murders of Maria Bruno and in turn, Ashley Ellerin, yet another woman would have to come face to face with a killer. In 2008, in Santa Monica, Calif., one woman did just that...and survived.
"I got the call at about 12:30 in the morning ... to come out and respond to a scene of a stabbing where attempted murder had occurred," said Sgt. Richard Lewis of the Santa Monica Police Dept.
Sgt. Lewis was one of first on the scene to question the victim, whose identity "48 Hours Mystery" has been asked to protect.
"What can you tell us about her?" Maher asked Lewis.
"[She] is an incredible young lady. Single at the time... Just someone who's very resilient and decided to fight," he said.
Sgt. Lewis' account of what investigators believe happened that night has a remarkably familiar ring to it.
"It's our belief that around 11:40 in the evening, he gained access into this window, which was open a few inches," he said standing outside the window.
"Once he got inside there, he then opens the front door and kind of stages it as an escape route. Proceeds into the bedroom ... where she is sleeping, and what awakes her is a knife being plunged into her," Lewis said. "She was stabbed multiple times - in her chest and shoulder and right arm. And ... suffered several wounds to both of her hands as she's grabbing this knife as it's being plunged down upon her - where those wounds all required surgery.
"And at some point there's a lull in the action, so to speak," he continued. "And she was able to get her feet up and kick him off of her. And that's where he then took off running and left the location."
"Did he say anything to her?" Maher asked.
"'I'm sorry.'"
"At what point did he say that?"
"Sometime around the point where she kicked him off."
And then the attacker left.
"So he comes out this door, and there's blood on the steps right outside the front door?" Maher asked.
"We have some blood on the steps," Lewis pointed out. "And then blood on the concrete steps here leading out down this walkway and into the alley."
Investigators followed the blood out to the street where the trail ended, leading them to believe that the attacker was long gone. But luckily, this time, he had left a piece of himself behind.
"So, how significant, in your investigation did you think that blood was gonna be?" Maher asked as they stood out in an alley.
"Huge. Huge," Lewis replied. "About 25 days after submitting my samples to the crime lab, I'm informed by a criminalist that ... we actually have a hit, a DNA hit. A profile that was determined I did get a match."
The DNA was a match to Michael Gargiulo.
"I said 'I've got my guy,'" said Lewis.
Twenty-four hours later, Michael Gargiulo was arrested and charged with attempted murder. What stunned detectives was that they found he had been living just across the alley from the woman he attacked.
"He could see right into her bedroom?" Maher asked.
"If she were to have the blinds open, that'd be correct," Lewis replied.
Gargiulo's arrest was only the beginning. Sgt. Lewis' investigation would finally connect a remarkable collection of cold cases going back 15 years.
CONNECTING THE CASES
Apparently, Michael Gargiulo wasn't very surprised when Santa Monica Police Sgt. Richard Lewis arrested him for attempted murder on the night of June 6, 2008.
"His response, once he was put into the police car to be taken to the station for booking was, 'Which agency is this?'" Sgt. Lewis said. "That tells me a lot. It tells me that he wasn't sure which crime he's getting charged for."
It wasn't such an unreasonable question considering that Lewis had found Gargiulo's DNA in the national DNA database. It had been filed there by Cook County, Ill., authorities.
"My first thing is call Chicago and find out why is he in the database," Lewis told Maher.
"And what did they tell you?"
"Well, they say it's 'cause he's suspected of a murder."
With that one phone call, the dominos in the case against Gargiulo began to fall. Lewis learned that in 2002, Cook County detectives had asked the Los Angeles Police Dept. for help collecting a sample of Gargiulo's DNA for the Tricia Pacaccio murder.
"We get a phone call [that] Cook County's in town. And they want some assistance on an investigation," said Det. Tom Small.
Purely by chance, the Chicago investigators had turned to Small, the LAPD detective who happened to be investigating Gargiulo for the murder of Ashley Ellerin at the time.
"It's an extraordinary coincidence that they happened to call you at the exact same time you were looking at the same individual," Maher commented.
"Absolutely," Small said. "It was just, I don't know, a stroke of luck."
It took small more than a year to find the elusive repairman and collect his DNA for the Pacaccio case. Five years later, that very same sample would help Sgt. Lewis tie Gargiulo to the attack in Santa Monica.
Next, Lewis called Det. Mark Lillienfeld on a hunch that the attack in Santa Monica might be related to the murder of Maria Bruno.
"I'm all of a sudden looking at, 'Oh wow, this is very, very similar,'" said Sgt. Lewis.
And so Lillienfeld returned to El Monte to search Gargiulo's old apartment.
"Sure enough, in the attic of the apartment, we wound up finding a matching bootie, a blue cotton bootie just like the same one that we had found at the crime scene, the same manufacturer, the same make, the same model of bootie," he said.
Finally catching the break they needed, detectives Small and Lillienfeld were both convinced they had found their killer.
"We were able to submit our cases to the district attorney here in Los Angeles, who felt there was sufficient evidence to go ahead and charge Mr. Gargiulo," said Lillienfeld.
On Sept. 4, 2008, while already in jail for the attack in Santa Monica, Michael Gargiulo was indicted on two additional charges - this time for the murders of Ashley Ellerin and Maria Bruno.
"We've got ourselves a serial killer," said Sgt. Lewis.
Photos: Michael Gargiulo's L.A. arrest
Photos: The victims
Even with Gargiulo behind bars, California investigators were puzzled by one question: Why hadn't Cook County arrested Gargiulo for the murder of Tricia Pacaccio years earlier?
"It is a no-brainer," Lillienfeld said. "If he were in custody on another matter, he wouldn't be free to harm anybody."
In fact, Cook County had evidence that could have put Gargiulo in custody. In 2003, the Illinois State Crime Lab matched the Gargiulo DNA collected in Los Angeles, to unknown DNA found on Tricia Pacaccio's fingernails.
"He's obviously a person of interest. I can't express what my personal opinions are regarding his guilt or innocence," said Jack Blakey, the head of cold case prosecutions for the Cook County state's attorney. "Based on the fingernails, we have a profile ... of both the victim and Mike Gargiulo."
"They are telling me they have DNA. It's Michael's," said Doug Pacaccio.
At the time, Tricia's brother was convinced that Cook County had found the "smoking gun" in his sister's case and then, inexplicably, "They decided not to act on the DNA evidence," he says.
"The evidence just hasn't been there. I wish we could bring closure to her family tomorrow," said Blakey.
He says no arrest was made because the DNA by itself is not enough to prove Gargiulo was present when Tricia was murdered.
"DNA, actually, it can be left by either a defense wound or it can be left by casual contact," Blakey explained. "He was a friend of the family at the time or at least was present at the house on multiple occasions."
And that appears to be the biggest obstacle in charging Gargiulo with the murder of Tricia Pacaccio. The State's Attorney's Office claims that because the crime lab used a single swab to collect the DNA from Tricia's fingernails, it is impossible to determine where the DNA was originally located - on top of the fingernail or underneath it. And that, they say, is a critical distinction.
"There certainly is an evidentiary advantage to having ... a DNA match underneath the fingernails," said Blakey.
If the DNA was found under Tricia's nails, it could be argued that it got there as she fought against her attacker.
"Would it have been better if the swabs had been done a different way? Certainly," said Blakey.
So a simple-but-ultimately-flawed laboratory procedure appears to have tied the prosecution's hands.
"We have DNA evidence and the experts cannot testify that it was anything other than casual," he said.
That is exactly what Michael Gargiulo wants investigators to believe about Tricia Pacaccio, as he told "48 Hours" from jail.
"DNA does not prove that someone - somebody committed a crime," he said. "DNA just pretty much says that the person was present."
As for the attacks on the women in California, it seems Gargiulo has only one thing to say: "I'm 100 percent innocent."
MORE VICTIMS?
Michael Gargiulo has spent more than four years in the Los Angeles County Jail awaiting trial.
During that time he has had several meetings with a "48 Hours Mystery" producer to consider the possibility of an on-camera interview, all of those meetings were recorded by the jail.
"My truth is being 100 percent innocent, being wrongfully charged," Gargiulo said on Feb. 12, 2009.
Gargiulo would not discuss any of the charges against him, but it's clear from these recordings given to "48 Hours Mystery" by authorities that he is convinced jail is the last place he belongs.
"Like, everything good about me and the fair person that I am, and everything, is-- is not even out there, and that's just wrong," he said on Nov. 16, 2010.
Video: Excerpts of Gargiulo's jail interview
Photos: The victims
"In 30 years of being in law enforcement have you ever dealt with someone like this?" Maureen Maher asks Det. Mark Lillienfeld.
"No. He's pretty remarkable," he replies. "I've met some sick puppies and some unique people and some brilliant people ... but I've never met anybody quite like Mike Gargiulo."
While the investigators in California are sure they've got their man, there is still one troubling question that concerns them greatly.
"Do you think there are other victims out there?" Maureen Maher asked.
"I think there's a very real chance," said Det. Tom Small.
"We've got evidence, some statements from Mr. Gargiulo and from other statements that indicate that... 10 might be the magic number," said Lillienfeld.
"We know that Michael Gargiulo traveled a little bit - between Illinois and California," Small explained. "We would certainly love to hear from investigators or other witnesses, people that have knowledge that maybe knew him or ran into him, at some point."
In the mean time, with Gargiulo finally behind bars, Los Angeles investigators will wait for justice to run its course.
Asked what he's hoping for, Det. Small said, "whole nine yards, whatever the jury finds appropriate."
"The whole nine yards in this state is the death penalty," Maher pointed out.
"Yes, ma'am."
But for the Pacaccios, that won't be nearly enough.
"If he's convicted of murder in California, even if he is sentenced to die, is that enough for you?" Maher asked Rick Pacaccio.
"No," he replied.
"I'm happy that the DNA off of my sister is helping these other families," Doug Pacaccio said. "But at the same time, it's not good enough for that to stop there. It's not fair to her. And this man needs to be held accountable for what he did."
Since this story first aired, there has been a remarkable development in the Tricia Pacaccio murder investigation.
While watching that episode of "48 Hours Mystery," a viewer -- who years earlier had worked with Michael Gargiulo at a Los Angeles nightclub -- remembered that Gargiulo had once bragged to him and others that he had killed a young woman in Chicago. "48 Hours Mystery" put that witness, along with another co-worker, in touch with Chicago authorities and shortly thereafter, a Cook County grand jury finally indicted Michael Gargiulo for Tricia's murder.
Cook County press conference: "Late yesterday we filed a criminal complaint in court charging Michael Gargiulo with first degree murder in the brutal slaying of Pacaccio."
It was an announcement the Pacaccio family had been waiting 18 years to hear... certainly welcome news and yet bittersweet.
"For me ...the witnesses coming forward to '48 Hours' after the show -- was the first step. And then getting it to the police and having them validate the claim is when we really started to feel a sense of accomplishment," said Doug. "It doesn't take away the pain, but there is some sense of relief -- not closure yet. ...It's a start. And that's all it is, it's a start."
"Do you have hope at this point, he will see a day in court here?"
"I wouldn't say hope, I would say, I have the -- tenacity to keep goin' after 'em until it does happen," said Rick.
"You're not going to give up?"
"I'm not gonna give up, no. My daughter is gonna get the representation that she deserves," he said.
"It's not over," Doug Pacaccio said. "...it'll never be over for -- for the victims. It'll never be over for the victims' families. The only thing that's over is he's off the streets. And young women can sleep a little better at night."
Prosecutors are hoping to have Michael Gargiulo's trial for the murders of Ashley Ellerin and Maria Bruno in court before the end of the year. He is now acting as his own attorney.
If convicted, he will face the death penalty.
Regardless of the outcome in Los Angeles, Chicago prosecutors intend to try Gargiulo in Illinois.
Thanks for reading CBS NEWS.
Create your free account or log in
for more features.