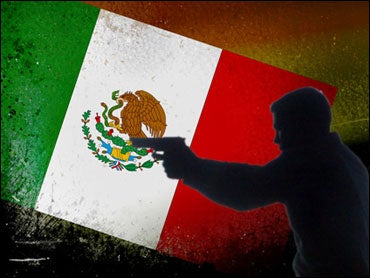 Mexico Confirms Border Teen Died From Gunshot
HERMOSILLO, Mexico - Mexican officials said Friday there is no doubt that a teenager involved in a shooting with U.S. Border Patrol agents in Arizona died from a gunshot wound.
The government of the Mexican border city of Nogales initially said Ramses Barron Torres, 17, was killed when he fell off the border fence and hit his head on a rock as he tried to climb back to the Mexican side, and that he had been throwing rocks at the U.S. agents.
But city spokesman Alejandro Palacios said that explanation was based on erroneous information, and an autopsy shows Barron was killed by a gunfire.
The autopsy determined a bullet went through Barron's right arm, entered his chest and punctured a lung, according to a statement from state police in Sonora, where Nogales is located.
The body had numerous scrapes and bruises — apparently from falling onto a gravel pile on the Mexican side — but they were found not to be the cause of death.
"State forensic experts determined that he died from a gunshot wound, and that's what happened," Palacios told The Associated Press.
What exactly prompted the shooting remains unclear.
Border Patrol spokesman Eric Cantu said an agent who fired a gun during the incident has been placed on leave. He declined to provide any other details or say whether Barron had thrown rocks.
"That's not our place to confirm this," Cantu said, noting the investigation has been turned over the FBI.
FBI spokesman Manuel Johnson declined to give details of that agency's investigation. "We are not releasing anything at this point," Johnson said.
Sonoran police said Barron's three companions left his body outside the emergency room of the General Hospital in Nogales on the Mexico side of the border at around 3 a.m. and then left in a vehicle with tinted windows.
Before the unidentified companions left, they told hospital guards that Barron had been climbing a border wall when a Border Patrol agent fired a single shot that hit the teen.
One of Barron's companions told police that the youths crossed into Nogales, Arizona, to visit a girlfriend and were warned to stop by Border Patrol agents, according to a high-ranking Sonora state official, who spoke on condition of anonymity in exchange for revealing details about the sensitive investigation.
The companion said the youths fled back to the Mexican side and Barron was the first to climb over the fence, the official said.
The witness claimed that it was only after Barron reached the Mexican side that he started throwing rocks over the fence, the officials said. A gunshot rang out and Barron yelled, "I've been hit, I've been hit!" according to the witness account.
The official said surveillance cameras captured the incident but it was too far away and the images were too blurry to confirm the witness's story.
It was the latest in a series of shootings this year that have raised tensions along the Mexico-U.S. border.
In June, a Border Patrol agent fatally shot a 15-year-old Mexican boy after authorities said a group trying to illegally enter Texas threw rocks at officers in El Paso, across the border from Ciudad Juarez, Mexico. That boy also died on the Mexican side of the border.
In September, Border Patrol agents fired gunshots into Mexico after coming under attack during a half-ton drug bust and giving chase to a truck along the Rio Grande. Border Patrol officials said the agents came under gunfire from the Mexican side.
Last month, Border Patrol agent Brian A. Terry was killed in a shootout between agents and border bandits about 13 miles north of the border near Nogales.

Thanks for reading CBS NEWS.
Create your free account or log in
for more features.