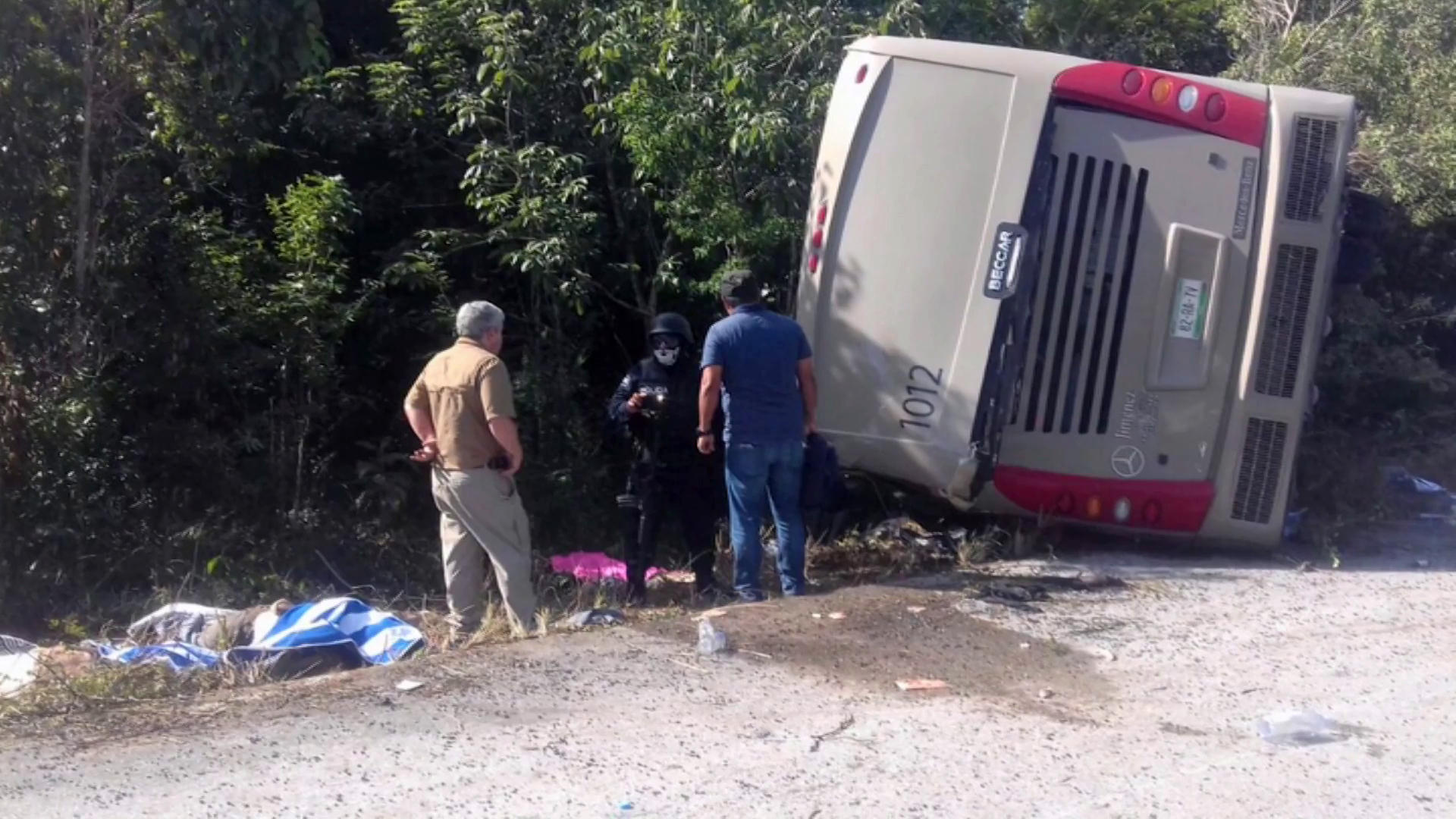 At least 12 dead in tourist bus crash in Mexico, according to officials
MEXICO CITY -- At least 12 people died when a bus carrying cruise ship passengers to Mayan ruins in eastern Mexico flipped over on a highway early Tuesday, officials said. At least seven Americans are among the multiple injuries that could number as high as 20, CBS News' Don Dahler reports.
A U.S. embassy spokesman confirmed to CBS News that several Americans were injured. CBS News Radio reporter Scott Mayman reported from the ship that the "tragedy has left a lot of people heartbroken."
"For those who were on, what was supposed to be an epic 8 hour once in a lifetime journey," Mayman reported. "Our dining room tonight had so many empty places, you just knew what had happened to those people. "
In addition, two citizens of Sweden are injured, according to Quintana Roo state Civil Defense spokesman Vicente Martin, who said authorities haven't yet established the nationalities of the dead.
Costa Maya Mahahual, the bus company involved in Tuesday's incident, says the nationalities of the passengers are: American, Italian, Swedish and Brazilian.
The Quintana Roo state prosecutor's office reported that the fatalities were 11 tourists, including one child, and a Mexican tour guide.
Mayman happened to be onboard one of the cruise ships.
"There are some very grim scenes at the guest services area onboard the ship. People consoling each other, still trying to figure out who was involved, as some of the tour buses have yet to return to the ocean liner."
The tourism ministry of Quintana Roo state government says there were 31 people on the bus.
A spokesman from the U.S. Embassy in Mexico said U.S. officials were working with local authorities to determine whether U.S. citizens were involved.
"We express our condolences to all those affected by this tragedy," the U.S. Embassy said. "We are in contact with local authorities and are working with them to determine if there were U.S. citizens on board. We will continue to monitor the situation."
The U.S. Embassy in Mexico also added: "The protection of U.S. citizens overseas is one of the highest priorities for the State Department. We stand ready to provide all appropriate consular assistance to affected U.S. citizens. Any U.S. citizens who require assistance may reach the Consular Service Center in Monterrey at +52-81-8047-3145."
The U.S. State Department said during its briefing Tuesday that it's aware of the situation and that U.S. officials are traveling to the site.
Video images from the scene showed the bus on its side in vegetation off the two-lane highway, with some survivors lying on the pavement while others walked around. The road was narrow with no shoulder or guardrail.
One body lay on the roadside covered by a white sheet or other object, as the crash scene was cordoned off with yellow police tape.
Martin said the crash occurred as the bus was on its way to the ruins at Chacchoben, about 110 miles south of Tulum.
The cause of the accident was under investigation.
An American cruise passenger visiting Mexico says the bus flipped over on a dry road and he didn't see any sign that other vehicles were involved. Chris Brawley of Haslet, Texas, says he didn't see the accident, but his bus of tourists came upon the scene minutes after the crash.
He says a convoy of buses was carrying people from the cruise port at Mahahual and heading to Chacchoben. He says they were driving about 35 to 40 minutes before the accident.
"The bus clearly lost control somehow as there was swerve marks all over the road surface," Brawley said.
Brawley said his ship departed Fort Lauderdale, Florida, on Friday for a seven-day cruise. They were in Roatan, Honduras, on Monday and were scheduled to be in Cozumel on Wednesday.
Michael Schuenemeyer, a minister from Cleveland, was on another bus that passed the crash about an hour later.
Tow trucks were lifting up the bus when they passed by, he said. "It was in pretty sad shape," Schuenemeyer said.
Costa Maya Mahahual, the bus company involved, said in a statement that the bus was carrying tourists who arrived to the coastal town of Mahahual.
In addition to the tourists, a guide and driver were aboard the bus, the company said.
The General Director of State Transit, Jorge Cesar Santana Poot, says injured people were transferred to hospitals in Bacalar and Chetumal.
Royal Caribbean said in a statement the accident is "heartbreaking."
"The news from Costa Maya about a bus accident involving our guests is heartbreaking," the statement said. "Our hearts go out to all those involved. We are doing all we can to care for our guests, including assisting with medical care and transportation."
Royal Caribbean reports that the tour bus involved was carrying guests from Celebrity Equinox and Serenade of the Seas.
Royal Caribbean has been active on social media in regards to the accident and its 27 guests who were on the bus:
CBS News' Peter Martinez, Tony Cavin, Jose Diaz and Kylie Atwood contributed to this report.
Thanks for reading CBS NEWS.
Create your free account or log in
for more features.