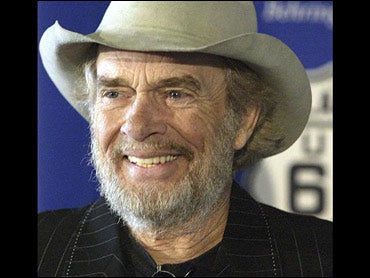 A new Merle Haggard song that is critical of the media's coverage of the war in Iraq is being rushed to thousands of radio stations around the United States.
Tom Thacker, vice president of Hag Records, says the song "That's the News" is generating intense interest around the country from media and fans.
"We're mailing it out as we speak," Thacker said. "It's going to a broad range of stations."
"It's another one of Merle Haggard's social commentaries," he said. "This time it's kind of opposed to the tone of 'The Fightin' Side of Me."'
That 1970 song was a pro-America anthem at the height of the Vietnam War.
Haggard also scored a hit back in those days with "Okie from Muskogee," which slammed anti-war protesters and boosted his popularity in some quarters to the point that he got a full pardon in 1972 from then-California Gov. Ronald Reagan.
He was already out on parole at the time, after being a model prisoner at San Quentin serving time for a burglary conviction.
Haggard's new song chides the media for focusing on celebrity news and the death of Laci Peterson and her unborn child while fighting continues in Iraq. Murder charges brought against Scott Peterson for allegedly killing Laci and their unborn son have attracted wide media attention in much of the United States.
Haggard sings, "Suddenly it's over, the war is finally done/Soldiers in the desert sand still clinging to a gun/No one is the winner and everyone must lose/Suddenly the war's over, that's the news."
The song ends with the lines, "Politicians do all the talking, soldiers pay the dues/Suddenly the war is over, that's the news."
The single will be included on Haggard's new album, "Haggard Like Never Before," to be released in October.
Haggard's song strikes a different tone than two recent country hits that supported war with Iraq: Darryl Worley's "Have You Forgotten?" and Toby Keith's "Courtesy of the Red, White & Blue (The Angry American)."
It also follows a sharp backlash against the country music trio Dixie Chicks earlier this year after singer Natalie Maines made a remark about President George W. Bush at a London concert shortly before the Iraq war.
"Just so you know," Maines said, "we're ashamed the president of the United States is from Texas."
Maines apologized for the phrasing of her remark, but sales of the Texas trio's discs plummeted and some radio stations banned their singles.
In an essay on Haggard's Web site, the 66-year-old singer writes, "I don't even know the Dixie Chicks, but I find it an insult for all men and women who fought and died in past wars when almost the majority of America jumped down their throats for voicing an opinion. It was like a verbal witch-hunt and lynching."
Thanks for reading CBS NEWS.
Create your free account or log in
for more features.