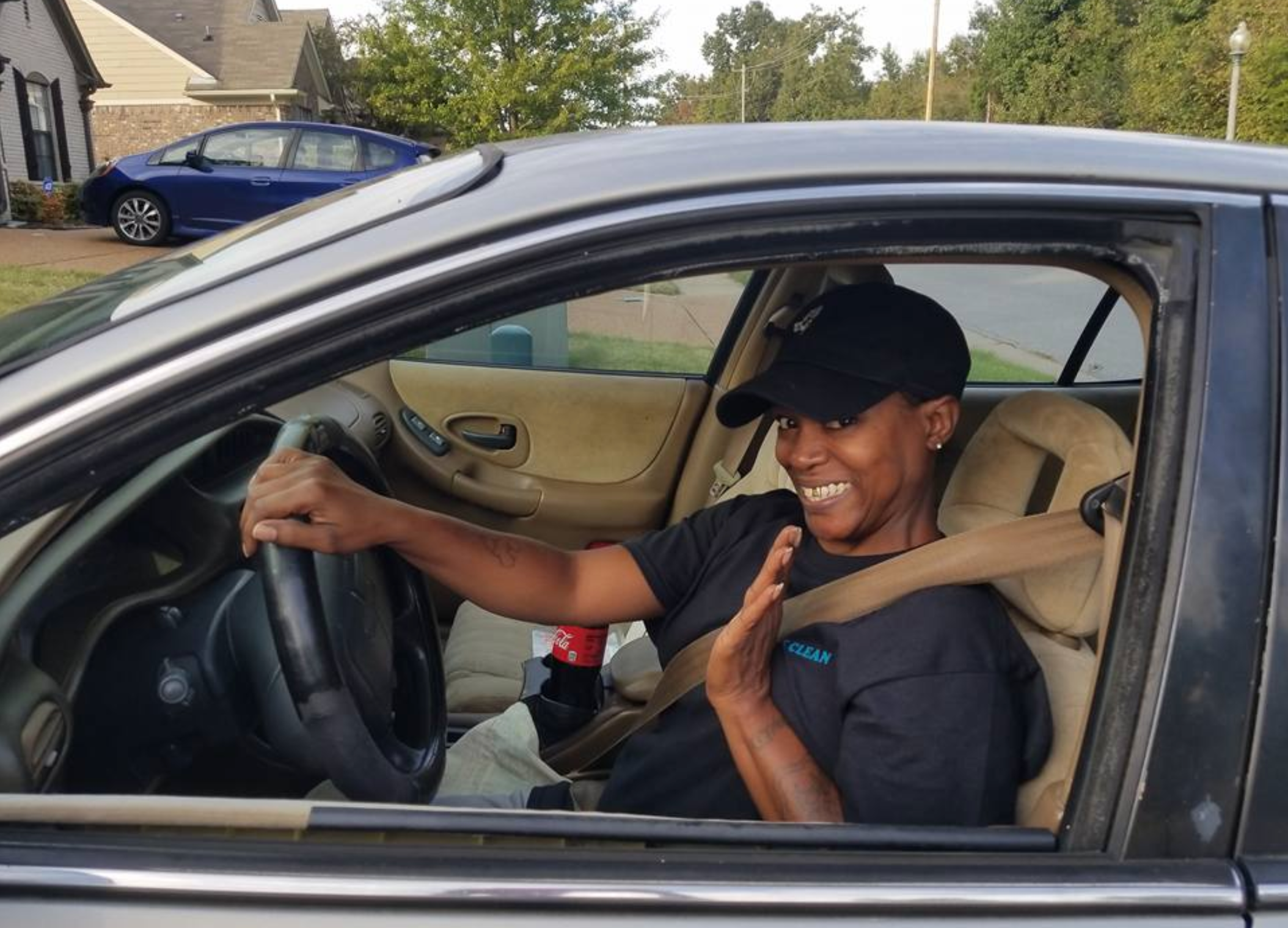 Woman who spends 6 hours a day traveling to and from work surprised with car
Every day for the past two months, Linda Walton has followed the same routine.
She wakes up at 5:00 a.m., walks over a mile to the nearest bus stop, then rides on the bus for two hours to make it to work by 8:30 a.m. sharp. The woman from Memphis, Tennessee, spends a total of about 6 hours a day in transit.
"I get up a few hours early just to be on time," Walton told CBS News. "It's just the last few years I've been going through a struggle."
But she didn't complain. In fact, her coworkers at the cleaning company Pristine Clean didn't even know how long it took her to travel back and forth to work — until one day, a team leader offered her a ride home.
"She realized when she took her home from where she got on the bus from her house, she was walking about 40 minutes. It was a 12 to 13 minute drive from the bus stop to her house," Krissy Tammaro, owner of Pristine Clean, told CBS News. "She came to work the next morning and told me about it."
As soon as Tammaro heard about it, she decided to get to work.
"We knew what we had to do," Tammaro said. "As a group, we came together."
First, one of Tammaro's employees found a used car for sale. Then a group of six employees took a look at it, pooled together some money and made the purchase.
"It took 9 hours to get the whole deal done," Tammaro said. "I'm gonna be honest — we said prayers."
On Friday, Tammaro invited Walton over to her house, where she was surprised by the entire staff with a 1998 Pontiac Grand Prix.
"It's a cute little thing," Walton exclaimed as she broke down in tears. "It's mine!"
The group also pitched in to pay for new tires, an oil change, the first month of car insurance and $100 in gas cards.
The shocked woman covered her mouth as she cried and hugged each employee, one by one.
"I was totally surprised, totally surprised," Walton said, "It's like night and day. It's like night and day. You would never understand. It's a hard, long commute."
Walton lost her mother recently — the only close family member she had left.
"My coworkers, they are my family," she said.
Tammaro said Walton's "smile" was the best gift she's ever gotten.
"She deserves it. If anyone deserves it, it's her," Tammaro said.
Thanks for reading CBS NEWS.
Create your free account or log in
for more features.